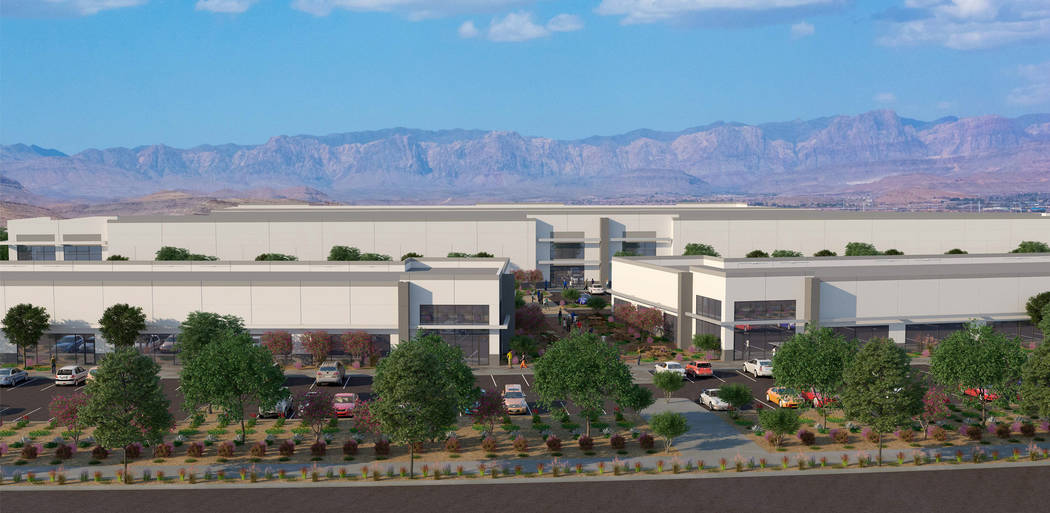 Further fueling the evolution of the greater Las Vegas industrial market, Matter Real Estate Group recently broke ground on Matter Park West Henderson, an industrial-focused business park to be comprised of light industrial, showroom, flex and amenity retail space located along Executive Airport Drive in West Henderson. Matter acquired the land from Eliot Holdings LLC in April 2018 for $12 million.
When complete in late 2019, the modern 300,000-square-foot project will span 17 acres, with four flex/showroom and warehouse/distribution buildings and 444 parking spaces. Buildings one and two along Executive Airport Drive are divisible to 2,700 square feet and buildings three and four to 24,000 square feet – with 32 foot clear height, as well as ample dock high and grade-level loading doors.
"We are thrilled to begin the development of this cutting-edge project, which will help meet a growing demand for industrial, showroom and flex space in the area," said Jim Stuart, Matter partner. "The Las Vegas region's industrial market continues to see broad demand from both out of state and locally growing businesses, and we anticipate West Henderson will continue its lead as one of the most attractive business addresses in the greater Las Vegas Valley."
Adding to the property's attraction, said Stuart, is its street-front location.
"What we love about this project is its appeal to businesses that are both consumer facing as well as logistics, showroom or warehouse users. Add to that having the headquarters of the Las Vegas Raiders next door and you have a unique opportunity."
Lee & Sakahara is the architect for the project; Burke Construction Group, the general contractor; Slater Hanifan Group, the engineer and Nuvis Landscape Architecture, the landscape architect.
Doherty Industrial Group, Colliers International will handle all leasing.
Recently, Matter has emerged as a major player in the Las Vegas industrial market. In addition to Matter Park West Henderson, the company broke ground on Matter Business Park Warm Springs, a light industrial office/warehouse project in Las Vegas and is anticipated to break ground on Matter Logistics Center West Cheyenne, a warehouse project in North Las Vegas in April.
Also in development is "UnCommons" — a curated office, retail and lifestyle center designed to attract top talent to forward-thinking companies by offering an environment designed for work and life. Currently, the company has over $500 million in development projects underway in the Southwest.
Matter Real Estate Group is a real estate development company that combines practiced creativity with proven capability to execute transformative real estate projects based on opportunities and changing trends. The company combines design, construction and operating strategy under one roof, so every part of every project reflects a unified vision. Headquartered in San Diego, California, Matter focuses on developing within the Western U.S. with projects in planning or under construction in major cities, including Austin, Las Vegas, Los Angeles and Phoenix. To learn more, visit matterrealestate.com.