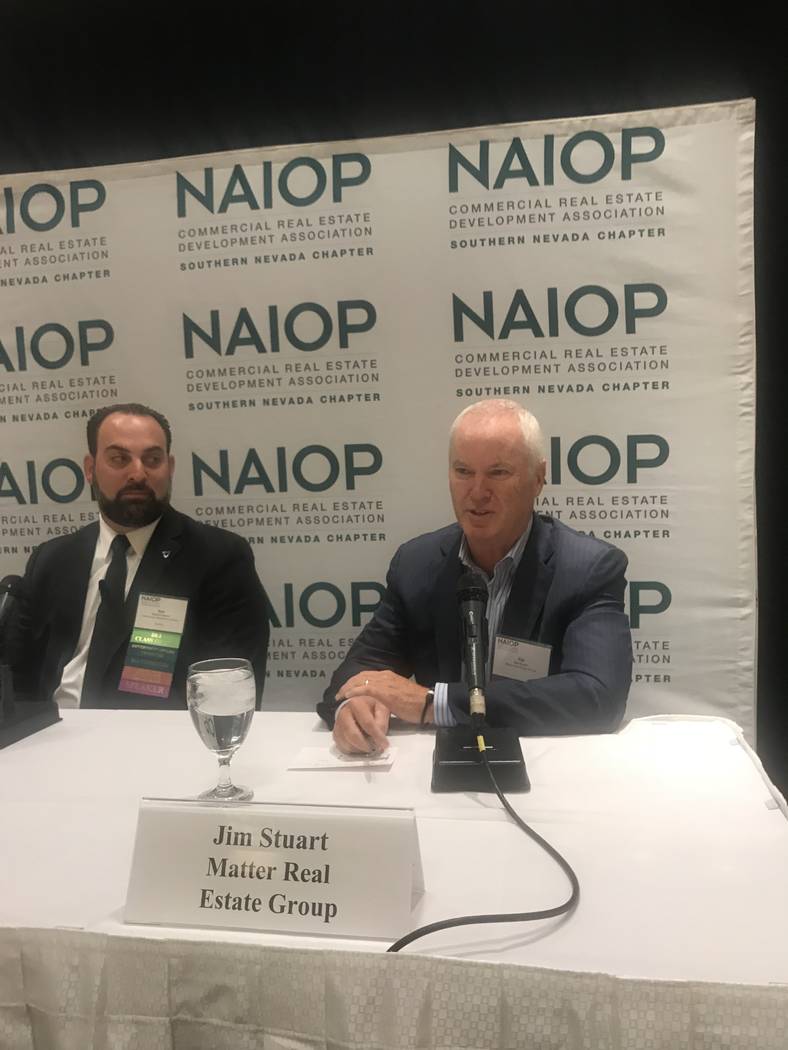 When Jim Stuart talks, the audience in the room resembles the old E.F. Hutton television ad: There's silence waiting for his insights and wisdom about the commercial real estate market.
Commercial brokers and others in the development industry seemed to hold onto his every word when he appeared Sept. 20 at The Orleans during a panel discussion on commercial real estate hosted by NAIOP Southern Nevada.
In 2007, Stuart and his development and real estate company, Centra Properties, announced they were liquidating their real estate holdings, including its 26-acre, 400,000-square-foot Centra Point office complex along the Las Vegas Beltway in the southwest valley for $97 million. Prior to that, Centra garnered attention by selling 25 acres north of Harmon Avenue between Paradise Road and Koval Lane for more than $200 million.
The 51-year-old Stuart packed up and moved to San Diego at a time the commercial market was still booming and a move today many think was insightful and foretelling of what was to come with the real estate bust and Great Recession.
More than a decade since he departed, Stuart has returned to Las Vegas as part of a new company, Matter Real Estate Group, that he formed again with partners Matt Root and Kevin Burke. The company has about 1.5 million square feet of projects, including space next to the planned Raiders' practice facility in Henderson.
Stuart has legendary status in Las Vegas development history and his reputation has gotten a further boost by Goldman Sachs honoring him as one of America's most intriguing entrepreneurs from 2014 to 2016.
Stuart said he doesn't want to hear any suggestions that he's a genius.
"Somehow, the legend of me, that somehow, we predicted the last great crisis, I did not," Stuart said. "I just knew the fundamentals lost their way. I was no longer able to underwrite a project, and we started inflating our rents. The warning sign is that when you start doing things that are performa development and not real development, you're leading to the abyss."
Dan Doherty, executive vice president of the industrial division at Colliers International and former next-door neighbor of Stuar, who moderated the panel discussion, told the audience whether "we call it luck or insight, you sold several hundred millions of dollars' worth of real estate right before the market crashed in 2007. There has to be something to that."
Stuart quickly corrected Doherty that it was more of a "sense" than any analysis and not some "magical numbers." He reiterated that he was no longer smart enough to underwrite development at the speed the market was changing.
"I just pulled up my tent," Stuart said. "It started with a place of ignorance and not intelligence. The only other option was the market was going to be crazy. Either one was a binary choice. Those were two easy reasons to say let's go to the beach and not fight it."
That ended, Stuart said, with the urging from his wife, who he said told him she married him for life, but not for lunch. It was time to get out and work again.
"I didn't like sitting around doing nothing," Stuart said. "I have been busy doing other ventures. I have long loved real estate development. And this is a community I have been in love with and a business I always found in my blood. Like all of us, you start to reach a chapter and reverence and nostalgia for the good old days."
The last decade, Stuart said, has given him a chance to do a reset and now has a greater sensitivity and more maturity. What he once thought was important isn't, he said.
"It was the idea of building a company that is a little soft tissue and leads with compassion and empathy and try to do good for the community as well as our projects," Stuart said. "This was a small chance to make a little bit of a dent on the world. This is a bit altruistic, but my children are gone, and I had this innate desire to be part of something that feels important with people I care about. I wish I could say something a little more intellectually."
Stuart said Matter is focused on the Southwest U.S. with mixed-use in Los Angeles and office in Texas.
They're working on "trying to get a foothold with some projects in Phoenix" as well, he said.
"Locally, we have roughly 1.5 million square feet of projects, principally industrial, and the market we're most excited about and taking a meaningful look at is mixed-use projects once again. We're hard at work at that."
Stuart said he had nothing to talk about publicly on that front but there's only one place to put a Class A mixed-use project — the 215 Beltway in the southwest valley.
Stuart said he doesn't understand why Las Vegas hasn't been more progressive in building highly amenitized Class A office space. In every market he goes to, that's the "default answer for any occupier of space," he said.
"I think that is part of the problem of Las Vegas," Stuart said. "It's not the reputation of Las Vegas, but these occupiers that come from out of state don't see what's familiar. What is familiar to them is highly amenitized innovative office-like campuses where they know their employees will thrive. They can't recruit without that space. They can't retain without that space. It's such a big limitation of this town. We all need to spend some time as stewards of the economy focusing on bringing interesting and innovative properties that are designed around the experience and work life of today's millennial. If you're not doing that as a developer, you're building for last year's generation."
Stuart said people don't buy their cars by the pound but by how it performs and the same concept should apply to office buildings. Measuring office by price per square foot "is the most absurd thing," he said.
"You are putting in 1,000 square feet for four people who probably earn $300,000 to $400,000 collectively," Stuart said. "They are single-handedly responsible for the performance of your company, and you're going to base a decision on 10, 20 or 30 cents a square foot. That is the wrong question. The right question is how do I put my people to work in an environment where they are going to be at their best every single day and help our business grow, think, collaborate and innovate. That is what modern occupiers want, and it's not in Las Vegas."
Stuart said he wouldn't want the Hughes Center business park east of the Strip that has long been the premier site in town. Those who weren't there 15 to 20 years didn't count, he said.
"If somebody offered that up today, I wouldn't buy it," Stuart said. "Juxtapose that with what the Hughes Center means to the community. We are completely void of the type of office space that progressive companies want. If Facebook comes passing through this town, they are not stopping. They are on their way to Salt Lake or Phoenix."
Stuart said Las Vegas is still a great marketplace and sees, when meeting people, that there's "still a lot of scar tissue of what this market went through. He said that he "has a gift" of not having to experience that up close and personal, although he has friends that did.
That doesn't mean there wasn't pain. Centra was partners in the development of Town Square, the retail and office complex that they were unable to sell before it was foreclosed upon during the recession.
"I hope you guys all leave today with your shoulders pinned back and your heads held high," Stuart said. "This is an amazingly resilient and rebounding market. The people I know from out of state that are all looking here, the fundamentals of this town are in many ways definitely better than we were when I first started developing out here. It's time for you guys to dust off. If you have any type of hangover of what you went through, leave it at the table and get back to work. This town is on its way to another amazing run, and the only shame would be if people didn't take part in it because they kept looking over their shoulder of what used to be. That is over, and this is an exciting time. I'm glad to be part of it."
Doherty said the scar tissue that people still have in Las Vegas is a great point, and many spend so much time focusing on the downside and overlook the upside.
One audience member, however, said one of the prevalent conservations in the marketplace is when is the next recession going to occur. They asked Stuart for his opinion and advice.
"It's a waste of energy," Stuart said to applause. "Every day I picked up the paper and read the pundits from the Wall Street Journal to CNBC. You have one saying the end is near and another saying this is going for another decade. At the end of the day, no one knows. All we need to think about is to look within the reach of our headlights for the next two to three years. Absent some external event that catches us all off guard, there's nothing to talk about. I have learned that the more energy I give to regret and thinking about things that may happen stops me from making progress. I think we need to be mindful that there's going to be a slowdown, but our new reference point is the tragic slowdown of the last crisis. That was an anomaly that we will never experience in our lifetime. A slowdown might get slow, but it won't be what it was."
Stuart said Las Vegas was late to the recovery so the warning lights will flash in other marketplace before they start flashing here.
"We're at the tail end of the rest of the economy, and not the front of it," Stuart said. "New York, LA and port cities you will see their slowdown, and we will experience it later."
Matter recently competed and sold a 156,000- square-foot Class A industrial building in North Las Vegas for $16 million to a stage lighting company.
Stuart said Matter did that because it got its return it wanted and suggested that its the start of a trend of users in Las Vegas and other markets buying assets instead of investors because prices have exceeded points investors are willing to pay for real estate in Las Vegas, particularly in the industrial sector.
"This will be another dynamic that will solve the problem of how much to you pay for this land and how to afford rents," Stuart said. "The new exit is to sell to the user, and the users, increasingly, because of the change in tax laws and how leases are treated on their balance sheets, are increasingly inclined to buy. They are the new competition to institutional investors and pricing out the institutional investors. They want to own their real estate, and they are buying."