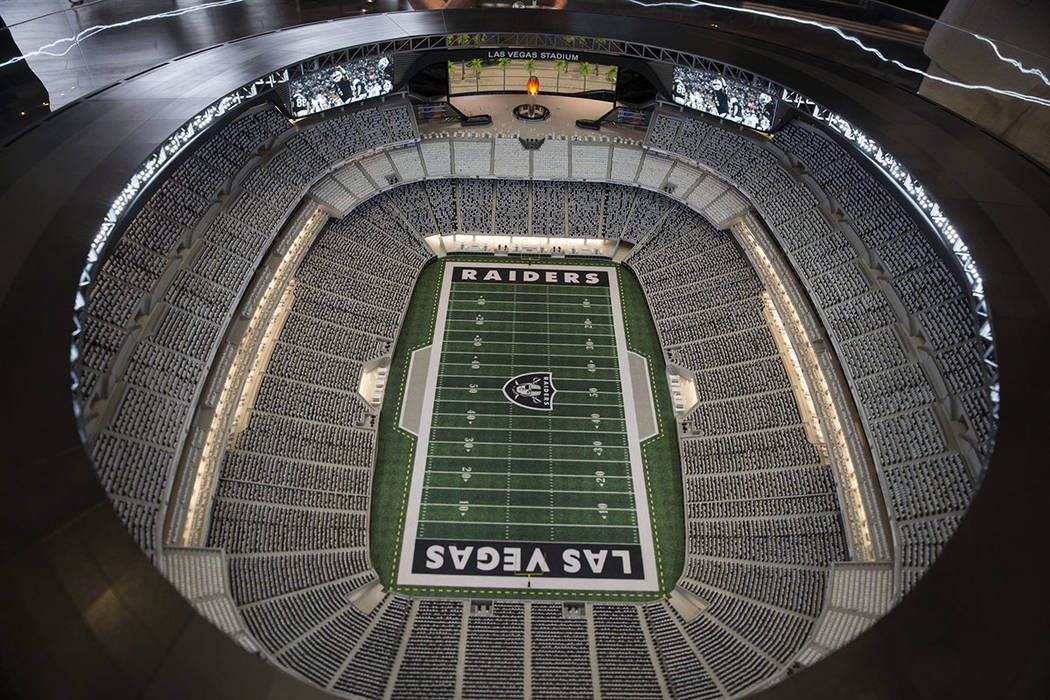 As Henderson prepares for the Raiders to start construction on the practice facility this fall, North Las Vegas Mayor John Lee shed some light on what went into the decision-making process for the team and how his city in the end had no shot.
Lee appeared alongside Henderson Mayor Debra March, who also talked about the Raiders coming to Las Vegas in 2020 and what it means to her city as part of an Aug. 16 breakfast meeting of the Southern Nevada chapter of NAIOP, the development organization.
Lee said the cities work together and do what's best for the region. Everyone knew the $1.9 billion stadium would be built near the Strip and "none of us tried to get into the county's way." But when it came to the corporate headquarters and practice facility, Lee said that was an open competition.
When city officials showed land and sat down to talk with a Raider representative to pitch why North Las Vegas should get the project, Lee said they realized the city wouldn't land it based on parameters of what the team was looking for.
"He goes: 'You need to know something that when the Raiders travel, they have a lot of enemies and a lot of friends,' " Lee said in recounting the conversation. "We all meet at the practice field, and we get in five buses and take off going down the freeway. You are too far from the airport."
Lee said he asked how that can be since it's not that far and much of the drive being via freeway access.
"He said: 'You don't understand the security that goes along with it," Lee said. "We have employees drive next to the buses all the way down. It is like a caravan going down the freeway.' Those are valuable people to that organization and security is paramount."
The discussion over the Raiders emanated from a question posed about cities competing against each other. Lee said he wouldn't entertain a company moving from Henderson to North Las Vegas, for example, if company officials were angry about something a municipality did.
"If someone wanted to leave Henderson and they called me, I don't want them to come to North Las Vegas," Lee said. "We need to bring new companies to town. Harming their general fund helps me for a minute but then they would steal one of my companies. We don't do that to each other. The mayors get together to talk to each other. There's no animosity."
Henderson sold the Raiders 55 acres near the Henderson Executive Airport for $6 million, half of its appraised value. The Raiders plan to spend $75 million and have 250 full-time jobs for nonplayers.
March, who touted the ground breaking in November, defended the sale of the land to the Raiders in response to a question of it going for a reduced price when other uses were possible.
"I wouldn't say it was a low price, and we knew it would stimulate other investment and opportunity adjacent to them," March said.
In July, Henderson sold 8 acres at St. Rose Parkway and Spencer Street for $8 million to Las Vegas-based Stable Development. The sale of the Raiders land has increased property values and stimulated interest in investment, March said.
"We're hearing from a lot of businesses that want to come into the Raiders complex area as well," March said. "It has a real impact. We will see over the next 30 years $14 million in property tax revenue come in as a result of the investment and likely more."
There's a lot of excitement about the future of West Henderson not only with the Raiders but the opening of Costco on St. Rose Parkway and Smith's building a 500,000-square-foot distribution center.
There are plans for 103 acres of retail, offices and housing at St. Rose Parkway and Bermuda Road in a project known as Henderson West. The plan calls for nearly 3,000 in residential units, 670,000 square feet in office space and a 250-room hotel.
"We are excited about the potential we see, especially in the West Henderson area," March said. "And every council meeting we get six or seven restaurants coming into our community. To me, that is telling about the health of the community when restaurants are willing to make an investment. It brings a wonderful, vibrant energy to the community, and one of the things we are seeing a lot happening. My hope is we see more of that in the West Henderson as well."
March agreed with Lee that cities try to work together rather than compete, and that's especially true when it comes to transportation projects that will help the entire region. She said
Henderson residents live "regional lives" because they may live in the city and work in Las Vegas or North Las Vegas.
"I know in Henderson, every day 75,000 people leave and go work somewhere else in the valley and everyday 45,000 come into Henderson to work," March said. "Something may not fit in Henderson but may fit in North Las Vegas. We are competitors, but we collaborate."