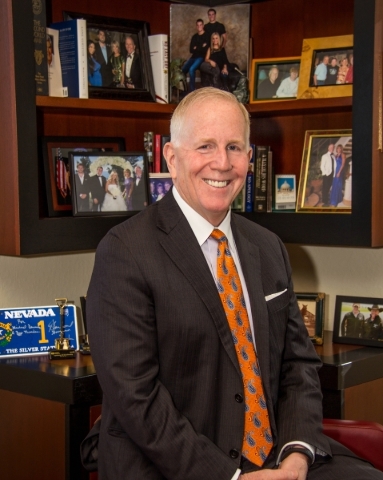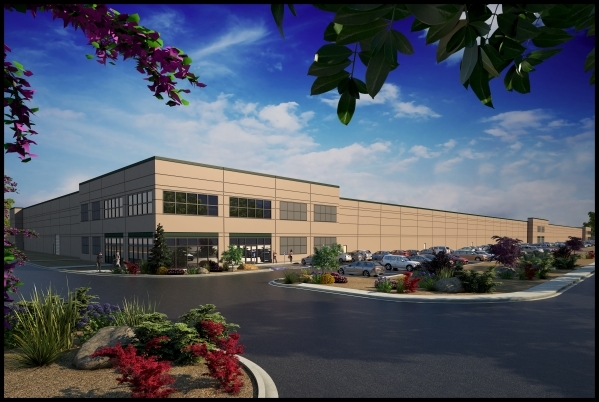 North Las Vegas will soon have more industrial space available for its bullish submarket.
Dermody Properties is scheduled to finish its nearly 400,000-square-foot, 20-acre LogistiCenter at Cheyenne project next month at 4025 East Cheyenne Ave., between Las Vegas and Lamb boulevards.
The building is partially leased.
"Las Vegas is where the heart of the Nevada economy is and it's important to be very complementary to that," said Michael Dermody, president and CEO of Dermody Properties.
Dermody said Las Vegas' logistical needs come out of its large economic base — the leading economy in Nevada — and its centralized Southwestern location, putting it in good proximity to Los Angeles and Phoenix.
Dermody said Northern Nevada, where his company is based, also has unique qualities: It sits in the middle of the Western United States, he said.
But the market is primed in Southern Nevada right now.
According to Colliers International's second quarter report on the industrial space market, industrial space has had a positive net absorption in Southern Nevada for 12 out of the past 13 quarters. And the North Las Vegas submarket had the highest net absorption, according to the report.
LogistiCenter is Dermody Properties' signature brand. Some of the unique features of the brand include additional clear height and extra trailer and parking space, according to the website. The Cheyenne project will offer its new tenants an interior clearance of 32 feet, along with 80 trailer stalls and 248 car stalls.
The facility will be available for clients looking to have national, regional or local logistics operations. It can also accommodate light assembly operations.
Dermody Properties has built more than 4 million square feet of industrial space in Las Vegas since its first project in the city in 1974, according to the company website.
Dermody Properties was originally named John A. Dermody Inc. — after Michael's father arrived in Reno in 1950 and bought into a regional franchise, Philco Appliance Co. By 1960, John Dermody had sold the appliance franchise but kept his building. He became a landlord and turned his attention to warehousing and distribution.
In 1976, Michael Dermody, a graduate of the Gonzaga School of Law, joined his father's two-man-firm. Dermody employs a staff of more than 25, said Michael Dermody.
He and his father worked together for more than 30 years.
Two years after Michael came on board, Dermody Properties entered into the speculative industrial market — building on top of an already successful build-to-suit venture.
Dermody argues that the term "speculative" didn't exist until after the "Great Recession" of 2008.
On his side of the argument, building without a client was a way to show off existing product, much the way people shop for cars or shoes. He used the term inventory to describe his buildings — presenting his current and future clients with tangible items to choose from.
That process has helped Dermody Properties fill its space, often before build out.
Dermody said his company's mantra fits the Las Vegas industrial market today: Dermody Properties wants to create innovative real estate solutions, or build a building without a client. After obtaining a client, a long-term relationship is formed along with the potential for new ones.
"Las Vegas, for our business, it's good for building inventory buildings as long as you have the customer base to back it up," Dermody said.
Strong relations are something that Dermody has come to live by, especially during down times.
"You came back to center court being thankful to the long-term customer relationships that you had and try to protect that very foundation of your business," said Dermody. "The other thing you learn from a recession is how fragile economies are."
Dermody talked about the difficulties of preparing to bring new companies to Nevada. He went on to say that Nevada officials are doing a better job at attracting new industry.
"It's a reaction to the recession that we know we have to do things differently," Dermody said. "We are learning."
In the latest recession, Dermody Properties could say it dodged a bullet. The company sold the entire portfolio — 25 million square feet — to ProLogis in 2007. But, the company website notes, Dermody still held onto more than 500 acres of land for future development.
According to Dermody, the company now holds 9 million square feet of space, built just in the last four years. Dermody is on pace to build 4 to 5 million square feet of space per year in speculative or build-to-suit, he said.
Dermody was not always a large national entity.
Dermody's push to go national started about 1988, he estimated.
He pointed to the Reno-based-company's relations with national companies as clients as to how it began.
"They saw we were a nimble, responsive company and they wanted to do business with us," Dermody said.
That led Dermody to do business with these national companies elsewhere in the country.
Today, Dermody Properties has offices in Portland, Reno, Chicago, Philadelphia and Phoenix.
Dermody has done work for several Fortune 500 companies, including Wal-Mart, Xerox, Office Depot, OfficeMax and UPS. In total, Dermody Properties has developed or leased moire than 45 million square feet of space. It has a subsidiary company, DP Partners, to represent its national reach.
Dermody is still a private company despite its size.
"That's important about us," Dermody said. "We're not public, so we're real people."
Dermody Properties is also into charitable giving — offering more than $100,000 annually on average through The Dermody Properties Foundation to several nonprofits.
The funding decisions are not made by Dermody; a committee of employees decides where the money goes.
Some of the organizations chosen in the past include the Boys & Girls Clubs, Big Brothers Big Sisters, Northern Nevada Food Bank, The Rescue Mission and the Committee to Aid Abused Women.
Dermody also helped form the Children's Cabinet, a public-private partnership that helps more than 11,000 Nevada families annually.