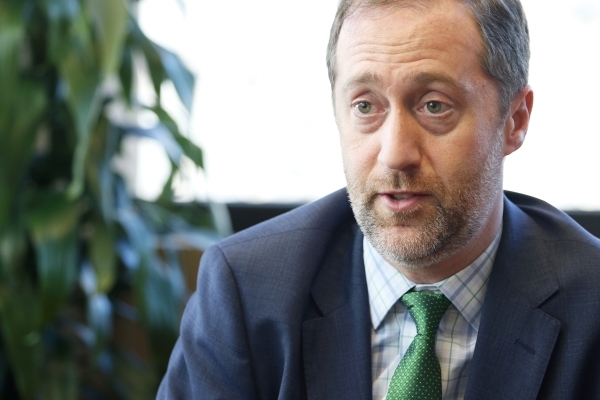 Mike Shohet, NAIOP Southern Nevada's 2016 president, sees sweeping changes ahead, both within the organization and in the deals that shape the Valley's commercial real estate world.
At NAIOP, he is looking to bring new blood to the organization's leadership, attract younger members, strengthen ties to UNLV and extend its diversity efforts.
He's building this agenda against the backdrop of sweeping changes he sees coming in some sectors of the commercial real estate realm in Southern Nevada.
From the Jones Lang LaSalle offices downtown, Shohet, a vice president at the international commercial real estate firm, chatted about a wide range of topics, starting with what he sees ahead for the commercial real estate market.
Industrial growth
One of the strongest markets Shohet sees is the industrial sector.
In general, industrial has kept its stable vacancy rates in a market being pounded with new product. A recently announced industrial project at Lamb and the I-15, will bring 1.5 million square feet to the sector.
The plans show a 785,000-square-foot building, which would make it second behind the TJ Maxx store as the largest building of its kind in the valley, said Shohet.
Some areas are more favorable for industrial property growth than others. Submarkets such as North Las Vegas are attractive because of lower land prices than areas like the southwest, said Shohet.
And when Faraday Future arrives, Shohet said, it will be a boon for the Southern Nevada economy.
"I think you'll see more companies investing there and more national tenants looking for space there," said Shohet.
Shohet said the development of the Apex industrial center fills a growing need for more land in the industrial sector — something he said may have been limiting Nevada's appeal to outside companies looking to migrate here.
But Shohet said Apex coming online still isn't enough, and other factors can lead to limiting new land coming online for industrial users.
Often, Shohet said, newly available land that is sent to auction by the Bureau of Land Management is picked up by home builders because they're able to bid more than an industrial investor could. The price limits the expansion of the industry capacity.
Changes in retail
Retail should also expect more growth, focused in underserved submarkets, said Shohet. Some of those regions include Mountains Edge and parts of North Las Vegas. On the other hand, pockets of North Las Vegas like the Craig Road Corridor were overbuilt, resulting in higher vacancy rates in that area.
The uptrend will also bring a certain type of deal.
"I think you're going to see more retail projects in the next year. They're not going to be large in size, but I think you'll see more single-tenant, triple-net buildings. Those are fast food, Walgreens, Starbucks. You're going to see more repositioning in older shopping centers," said Shohet.
On top of pockets in North Las Vegas and the southwest, the northwest is has also seen development in the retail sector.
"The trend has definitely moved away from the last four years; there was a lot of value-add redevelopments," said Shohet.
No more are investors running to buy undervalued, under-tenanted and under-leased retail and office properties and repurposing them or re-tenanting them. This has sparked a renewed interest in development, said Shohet.
One market investors could run to is medical space. Shohet said that sector is doing extremely well. He pointed to one of his clients at Jones Lang LaSalle who can't build enough clinic space to keep up with demand.
However, office space is lagging behind many other space types, said Shohet, adding there are pockets where new product is needed.
Las Vegas has been a leader in call centers. Shohet said there are two types of call centers — company operated and third-party call centers.
With the demand from new entrants such as Sutherland Global, which is taking over space that Citi Bank vacated on Sahara, the need to meet adequate parking requirements is an issue around the valley.
Shohet said many buildings only have around four stalls per thousand square feet of space in the city — where the average needed to house a third-party call center operator is seven stalls per thousand.
Developers are looking at creating viable space for that type of environment. But, Shohet explained, the costs don't pencil at this time. Developers are close, but not quite there based on land prices.
It works for company-owned projects, but third-party users have thinner margins to work with, he said.
Changes at NAIOP
The NAIOP organization itself could also be changing — at least the voices that lead.
In December, when Shohet took over as president, he pitched several initiatives to NAIOP board members that would open the door to putting new faces on the board and within NAIOP itself.
"We've been pretty successful in recruiting young membership into the leadership positions in the organization, but our board has not been as dynamic as it could be," said Shohet. "We've had a lot of the same faces."
To change this, Shohet began a leadership development task force, so the organization could create ways to inject younger perspectives onto the board. Sallie Doebler, president-elect of NAIOP Southern Nevada, is heading up the initiative, along with senior members of the organization and some past leadership.
The second change Shohet wants is to create a tighter bond with UNLV, renewing a once stronger collaboration NAIOP had with the institution. Shohet's goal is to recruit more student members into the organization.
Shohet himself was a product of a NAIOP program connecting to the younger core. Shohet, in trying to dive deeper into the development world, joined NAIOP and went through its Developing Leader's Institute program. The year-long program for members age 35 and under gave Shohet "exposure to the industry and the organization," he said.
"If it hadn't been for that program, I think I would have been just another guy at the back of the room at a NAIOP meeting and wouldn't have had as much interaction with other people in the industry as I have," said Shohet.
Shohet said the group he went through the program with are still some of his best friends.
Shohet had pushed his way into the development world—something that wasn't easy coming from a different field. Shohet started his career as an engineer building large industrial project such as oil refineries. He spent much time on the road, traveling within the U.S. and places like South America and his home country Canada.
Shohet was born in London and moved to Toronto at a young age. He came to Las Vegas to work as a project engineer on a remodel job for the MGM. Following that, he made his move into the development world, getting a job with a local development company. But as things slowed in the economy, he had to seek other employment.
Shohet would land on his feet again, getting a position managing the development of the Zappo's project downtown under Jones Lang LaSalle.
Shohet also plans to grow diversity within the organization and the real estate industry in general.
"Over the last five to 10 years, we've done a good job of promoting gender equality," said Shohet.
Shohet said the board is strategizing ways to go further and has been in talks with organizations such as the Urban Chamber of Commerce along with others to figure out ways to solidify that goal.