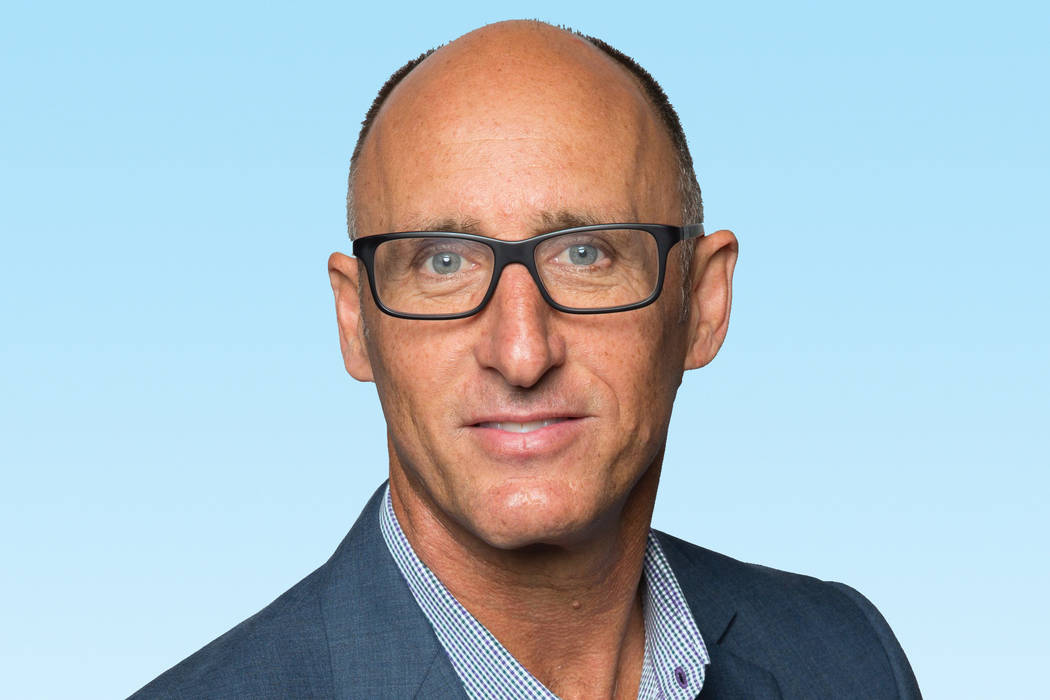 The Las Vegas Valley's commercial real estate sector and the local economy are ever-changing. The valley has seen its share of potential shifts on the horizon as of late, including reports that a national recession could be on the horizon and a push by Clark County commissioners to open new areas for residential and commercial development has been on the forefront.
Mike Mixer, 2018 president of NAIOP Southern Nevada, Commercial Real Estate Development Association, a leading organization for the commercial real estate industry in the Las Vegas Valley, spoke about several facets of the commercial real estate industry and his thoughts on the potential expansion into new areas.
Mixer is also the executive managing director and co-founder of the Colliers International Las Vegas office and has been in the commercial real estate industry for roughly more than three decades.
POTENTIAL LANDS EXPANSION
Clark County commissioners approved a resolution in June to call on Nevada's congressional delegation to draft federal legislation that would increase the amount of developable land in the Southern Nevada area. Commissioners called on the delegation to open over 44,000 acres of public land to future commercial and residential projects.
The majority of those proposed acres sit south of the valley, along the Interstate 15 Corridor. The plan also calls for land adjacent to Red Rock Canyon National Conservation Area to be opened for development.
County commissioners approved a second resolution in June that supports "smart growth planning strategies" on lands the county is looking to open to development near Red Rock. The strategies were designed to protect the conservation area.
Nearly 83,000 acres of new wilderness would be designated by Congress under the proposed plan by Clark County. The plan also calls for nearly 292,000 acres to be designated as new areas of environmental concern in Clark County, which would put the county in compliance with the Endangered Species Act that protects several species, including the desert tortoise.
NAIOP Southern Nevada is in support of the resolution.
"We think it provides solid preservation. There's a lot more acres that are coming out of the U.S. Bureau of Land Management that will be preserved in various different ways in terms of tortoise habitat, environmentally sensitive lands, to do a lot of things that our community needs, besides just development," Mixer said. "We think it's a balanced approach."
Some environmentalists and off-road racers have spoken out against the resolution. The county had been developing the resolution since about the middle of 2017, gaining input by meeting with several stakeholder groups, before releasing the proposal to the public in June.
Mixer, who sees any plan to open new public land to development occurring over decades, explained the positives that adding additional developable acres would bring to the local market.
"I think, just under commercial real estate, combined with residential real estate, you've got to have places for folks to live; keep having more land available for homebuilders will keep prices down; because, you know, the less land we have, the more the price goes up, and that's starting to increase the cost of each home, and make us kind of uncompetitive. Businesses might not want to come here if they're employees, they're cost of living is too high, so it's all kind of interrelated."
Mixer went on to say that "the more land we have, we can share it with industrial developers, and office developers, retail, residential, kind of a balanced approached to what the community needs. I think that's a smart way to go for the future of Las Vegas."
The new acres could help Las Vegas compete with other Western cities.
"We're really at a disadvantage, competitive-wise, to our neighboring competitive cities because we don't have a lot of large land holdings to choose from, so that could really open up our ability to stay competitive in the Western U.S.," Mixer said.
Nevada's senators are open to working with county leaders and others in the process.
"When a local government passes a resolution in support of improving land management and promoting economic development, I have always been willing to work with the state, counties, cities, general improvement districts and numerous stakeholder groups to achieve that goal. The development of any legislation, however, has consistently been the product of a thorough, public process that includes local input, public meetings, support from local officials and extensive outreach to the residents who live in the communities that would be impacted by the bill," said U.S. Sen. Dean Heller, R-Nev., in a written statement.
Heller went on to state that "since approximately 85 percent of Nevada's lands are managed by the federal government, it is critical that we collaborate at all levels of government to provide the state with the tools it needs to encourage economic opportunities and increase affordable housing options, I will continue working with Clark County and stakeholder groups to introduce legislation that will do just that."
In a written statement earlier this year, Catherine Cortez Masto, D-Nev., said, "these resolutions are an important first step in addressing Clark County's needs as its population continues to grow."
"I look forward to working with the commission, members of our Congressional delegation, and stakeholders across Nevada to develop balanced federal legislation that meets the county's needs, prioritizes smart growth and invests in conservation," Cortez Masto said.
IVANPAH VALLEY AIRPORT
Clark County commissioners voted in September to have an environmental impact study move forward on building a supplemental airport in Ivanpah Valley, which sits between Jean and Primm, on roughly 6,000 acres of land about 32 miles south of Las Vegas. That study will be overseen by the Federal Aviation Administration and the U.S. Bureau of Land Management and is approximated to be completed within the next two years.
No timeline was given during the meeting on when the airport could be built.
The roughly 6,000 acres in Ivanpah Valley was purchased by Clark County through federal legislation known as the Ivanpah Valley Airport public Lands Transfer Act of 2000. An additional 17,000 acres surrounding the proposed airport were "designated to become an airport noise compatibility area" through federal legislation known as the Clark County Conservation of Public Land and Natural Resources Act of 2002, according Chris Jones, chief marketing officer at McCarran International Airport.
"The transfer is predicated on a successful record of decision following an EIS (environmental impact statements) administered by the FAA (Federal Aviation Administration) and BLM," Jones said in an email.
CURRENT AND FUTURE MARKET CONDITIONS
The Ivanpah Valley Airport could impact on what is built on the new acres in the south, according to Mixer.
"An airport that size could really become a logistics center for the West," he said. "We'd probably see a large portion of that area go industrial."
"But that also creates jobs, and the people that get the jobs have to have a place to live, so, like I said, I think it would be a balance," he added. "It would be a certain percentage of those lands that would go residential and then once residential comes in, they need a place to shop, so it's natural that some of that land goes to retail and office. It's all kind of an ecosystem with commercial real estate."
Growth in the industrial market has been a large part of an increase in the valley's commercial real estate scene.
"We're really excited about the demand side of the industrial market," Mixer said. "We're seeing more and more bigger companies bringing a lot more jobs, (and) really see(ing) Las Vegas as a crucial location to provide products and services to the West Coast. We're seeing the benefit of that in big-box development."
That has helped reshape the local market.
"We've never built as many big-box buildings as we have over the last few years," he said. "And they have, up until now, all have been leased. Into the foreseeable future, we expect that to somewhat continue. I don't think we're seeing a tremendous overbuilding yet."
More than 6.5 million square feet of industrial space — a post-recession record — was completed in 2017. According to a second quarter report from Colliers International Las Vegas, more than 2.8 million square feet had been completed through that period.
Another 1.9 million square feet is slated for completion in the latter half of 2018 with that same number of square feet pegged to come online in the first quarter of 2019, according to the report.
Vacancy was also on the decrease for the industrial sector in the valley in the second quarter. Vacancy fell to 5.1 percent in the second quarter from the first quarter's 5.5 percent; vacancy had also decreased from the second quarter of 2017 when it was at 5.3 percent.
Mixer also pointed out positives occurring in the retail commercial real estate sector and in the office sector.
"I would venture to say we're starting to see more growth in the retail sector — despite all of the news nationally about how retail is going out of business," he said. "There's still certainly a demand for retail as our city grows. We're seeing some modest growth there."
The vacancy in the retail sector is down to about 8 percent as of the second quarter.
The office sector has been the area lagging the other product types, which still sits at more than 15 percent vacancy, Mixer said.
But that could create opportunities.
"But I think that's where a lot of people see opportunity as well, because there's a lot of office product that's vacant that will probably always be vacant in certain areas, because it shouldn't have been built or now the areas have changed," he said. "Maybe those office properties will get repurposed and there's developers and we have folks that see opportunity in some of these older office markets that are really dragging down that particular product type."
The office market is having some successes in some markets,such as Summerlin.
"They're building more and more buildings on a spec basis and finding a lot of success with leasing them before they're finished," Mixer said.
Mixer was also positive on the area's multifamily market that sat at just over a 3 percent vacancy rate in the second quarter, he said.
The 2018 NAIOP Southern Nevada president is also less concerned about a potential slowdown in the Las Vegas market.
"If you ask me how Las Vegas is going to fair with any national downturn that's coming: Because Las Vegas was a little bit late to the recovery party, so we're still in my mind, still, in some ways, in a good recovery. Other major markets have been a little bit longer in their recovery and are now talking about a slowdown," he said. "I think if a slowdown occurs, especially as we get closer to 2020, it'll be more muted in our Las Vegas economy because we've got a lot (of) new projects coming on board in the 2020 time frame," he said.
Mixer pointed to the Raider's Stadium, additional convention space and new casino projects that are set to come online in the time frame.