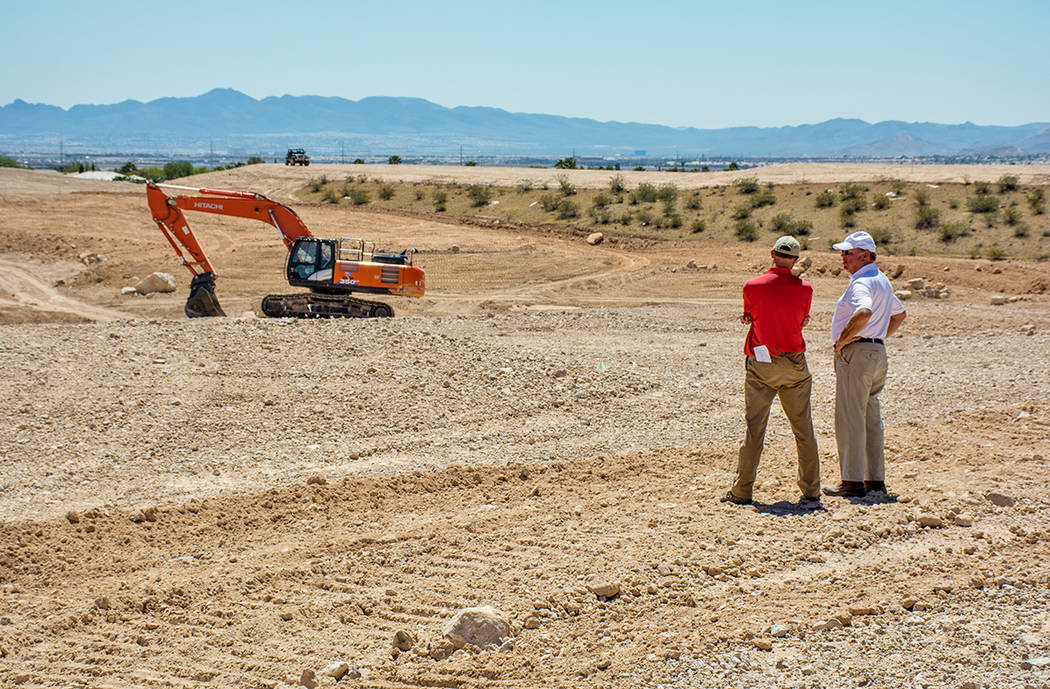 Wow!
That's what acclaimed golf architect Tom Fazio wants people to say when they see or play Southern Nevada's newest golf course at The Summit Club when it opens in mid-April.
Fazio, the designer of the famed Shadow Creek in North Las Vegas and the Wynn Golf Club off the Strip, said the valley will soon be adding another crown jewel. This one is set against the backdrop of Red Rock Canyon National Conservation Area and a course layout with canyon and valley settings and an elevation that ranges between 2,800 and 3,100 feet.
"I'm looking for a three-letter word for something people will say when they come in and see it, and that's a big wow," Fazio said. "When it opens, the buzz will be ringing people's ears off. It will be one of those must-see kinds of places and kind of place that it will be a treat to get invited to take a look at."
The first reaction when people see it is they won't realize that "anything of this beauty existed out here," Fazio said. They will be surprised at the elevation changes that adds to the variety of golf, and how it traverses through the valley area and has dramatic 360-degree views.
"You start off right up against the Red Rock Mountain (Spring Mountains)," Fazio said. "The golf course goes up and down and every place you turn, to the west there's Red Rock and to the east is the skyline and buildings of the Las Vegas Strip."
Construction on the course started more than 15 months ago, and Fazio said he came to Las Vegas every couple of weeks to oversee the work. The 10th hole was the last one completed in February with the laying of the turf for the fairway.
The course is part of a 555-acre, high-end residential development joint venture between California-based Discovery Land Co. and the Howard Hughes Corp., the developer of Summerlin.
Fazio, a friend of more than 20 years of Mike Meldman, Discovery's chairman and CEO, has served as golf architect for other new Discovery projects across the country, including The Madison Club in Palm Springs.
Tony Renaud, vice president of sales and marketing at The Summit Club, said the par-72 course cost $40 million to build and measures 7,400 yards from the back tees. It has a driving range that extends 340 yards and two short-game practice areas. When completed, there will be two comfort areas on the course with a bar and chef in place.
"People can't wait to see it," Renaud said. "Fazio has done such a phenomenal job. The fairways are really wide, and he has beautiful bunkering, white Augusta (type of sand used at the Masters course) that contrasts it and sets it off. It's going to be spectacular. It has exceeded expectations."
Holes No. 1 through No. 7 have a canyon feel, and once players take a tunnel to reach the 8th tee it opens up to a valley, Renaud said.
There are temporary facilities above the driving range where a pro shop and golf house will be located. There will be dining, retail and hitting bays at the range, Renaud said.
Construction on the $90-million clubhouse will start in the second quarter and take 22 months to complete. Once the clubhouse opens, the main dining will move there, he said.
While Fazio calls it a championship course; difficulty was not an objective in creating it.
"If you're (major champion Irish golfer) Rory McIlroy, nothing is too difficult," Fazio said. "If you're Rory Smith, everything is difficult. Our goal is to always have a golf course that's fun and enjoyable, spectacular, unique and one-of-a-kind. We want it to be one that everybody enjoys playing and can't wait to go play again."
Because the course plays to an elevation around 3,000 feet, the ball will fly a little farther than other courses at lower elevations, Fazio said. The strong Southern Nevada winds will play a role on some spring and fall days, and that's why there's a minimum of five tees per hole to provide options. Some holes have six or seven tee options, he added.
Fazio said any superstar PGA Tour golfers who might live in the development or have been to other Discovery Land properties will enjoy playing there. Fazio said people who are fans of his courses at Shadow Creek, Wynn Golf Club or two courses he designed in Primm will want to play the course open only to members (homeowners at The Summit Club) and their guests.
"Anybody that's anybody that has every played golf wants to play at Shadow Creek, but there are restrictions there on who can get to play," Fazio said. "It will be the same thing with Summit. Trust me, Summit will be known as one of those must-play areas. They will have to find someone who's a member and property owner because it will be one of those experiences and distinctive properties you have to see."
About 4 million cubic yards of dirt were moved on the site to create the golf course and build pads for the construction of homes, sitting on ridges looking down the course. Hillsides were cut to build a site for the clubhouse construction, Renaud said.
The topography goes from east to west in terms of elevation with the higher side on the west. The course has a stream that runs through the property, a pond that golfers must drive their ball over and two ponds near greens, including a large one near Town Center Drive. There's desert landscaping just off the fairways.
"Building it was big time," Fazio said of the grading, infrastructure and drainage placed underground and revegetation. "We replanted what it looked like naturally so it didn't look scared. Someone who goes there won't know mass grading occurred. The revegetation of the land to get it back to that natural desert look was major in terms of cost."
Fazio said he loves Las Vegas and learned some of his best lessons in building courses here. He said Wynn Resorts CEO Steve Wynn, who hired him to build Shadow Creek and Wynn Golf Club, taught him well and helped him understand the Southern Nevada environment.
"I started with him in 1987, and all of the courses are very different," Fazio said. "My industry is not a lot different than others. It's what have you done lately that matters. I can live on the laurels. If I would have done any golf course in the desert in Shadow Creek, that would have been OK. It would be hard to beat that one, but The Summit will be one of those places that's the new wow — the new guy on the block."