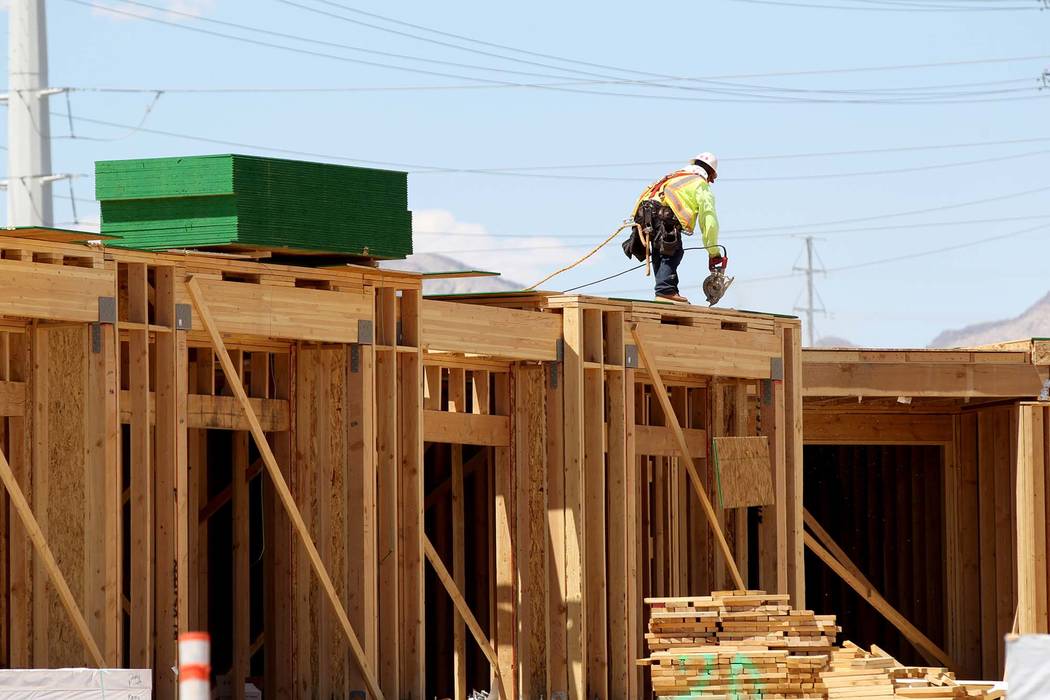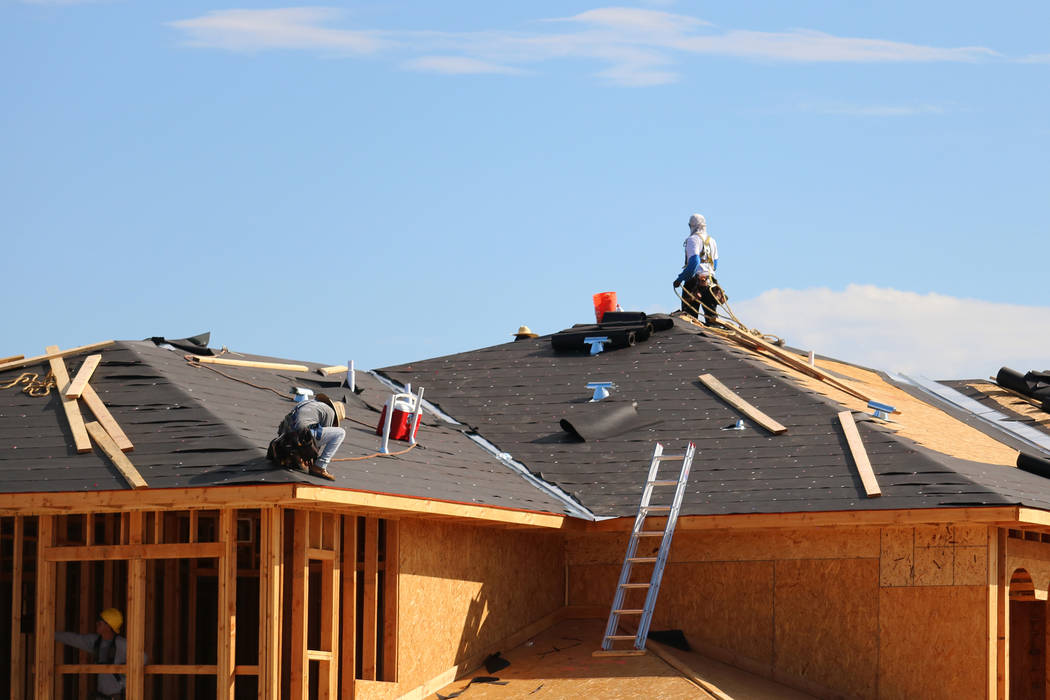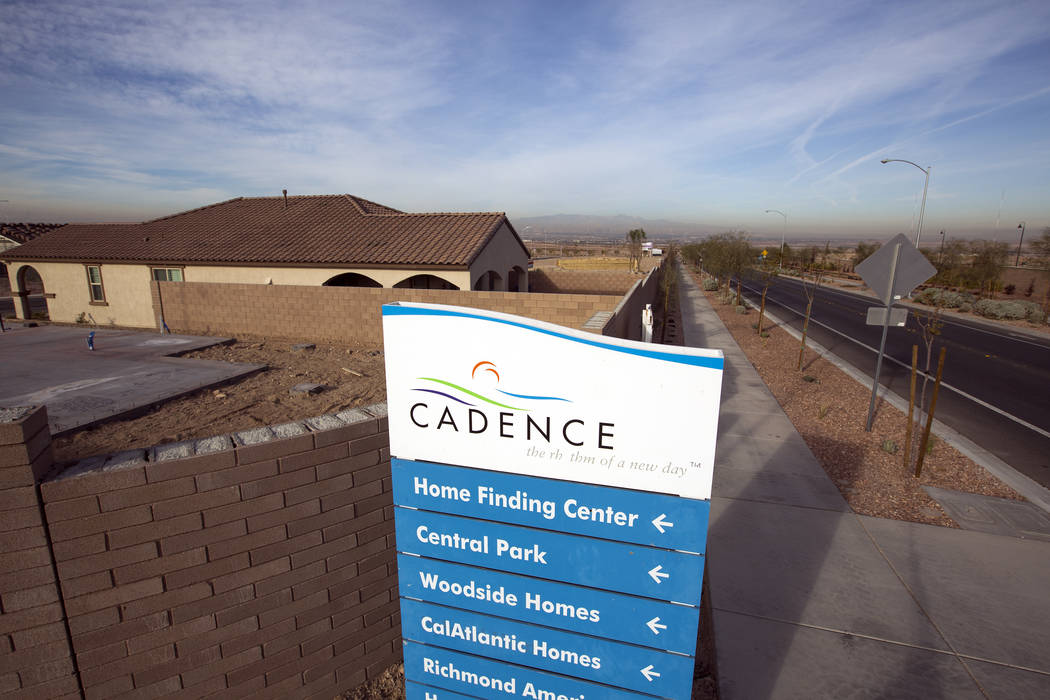 Las Vegas is bucking the national trend when it comes to new home sales and shows no signs of slowing down based on the latest numbers and projections from Las Vegas-based Home Builders Research.
Sales of new single-family homes nationwide fell to an eight-month low in June, and numbers were revised down for previous months by the Commerce Department.
There's a different story in Las Vegas.
New home closings are up by more than 19 percent in the first six months of 2018 compared to the same period in 2017 at 5,156, and Southern Nevada will blow by its 9,401 closings in 2017, according to Andrew Smith, president of Home Builders Research. It even surpassed the 2,401 closings during the first quarter, which was the highest first quarter in 10 years.
"Based on what's happened in the past (with the housing downturn a decade ago), people are waiting for that negative news, but it hasn't happened," Smith said. "Based on the economy, there's no imminent sign a downturn will take place. Everyone was thinking in the past eight months or so that interest rates were going to go up and that would equal more cancellations, but sales have still been strong. You would have thought things would have cooled off a little bit. I don't feel we're going to see a huge dropoff."
In what's been most impressive, builders are on pace to pull more than 12,000 permits, surpassing the 9,575 in 2017, Smith said. The 6,106 permits is 30 percent higher than the first six months of 2017, Smith said.
Smith said he expects home closings to finish the year up at least 15 percent, surpassing his prediction earlier this year of 10 to 12 percent. He originally said permits would be up 8 percent before adjusting it up to 12 to 15 percent based on the first quarter. Smith said that number is going to be higher at this point.
"We wondered if the labor force would be able to keep up with these orders, but so far we haven't seen any change," Smith said. "No way did we think back in November and December that halfway through the year we would be on pace for 12,000 permits when we didn't even make 10,000 last year."
It's a long way from the more than 18,000 permits in 2007, before the recession, and more than 32,000 permits pulled in 2004.
Nat Hodgson, executive director of the Southern Nevada Homebuilders Association, said he's nervous that the 30 percent increase in permits might not continue through the end of year because of the lack of labor.
"I expected to have a 12 to 14 percent increase this year, so that has more than doubled it," Hodgson said. "The building industry finds a way to reach down when it needs to and get it done. All the metrics and economics are going in the right direction."
While based on history there should be some dropoff the rest of the year, Smith said master planned-communities accounted for 52.8 percent of net sales in the second quarter and are likely to increase their sales the rest of 2018.
"These builders have a lot of projects in the pipeline," Smith said. "Summerlin, Skye Canyon and Inspirada have all opened new phases of development recently and Cadence in Henderson is continually gaining traction with buyers. Lake Las Vegas is slowly but steadily increasing volume, the villages at Tule Springs in North Las Vegas is off and running, and old stalwarts like Rhodes Ranch, Mountain's Edge and Sun City Mesquite continue to consistently sell new homes each month. Larger parcels outside of master-planned communities are hard to come by these days, so sales volumes are just not going to be there."
A lack of inventory in the existing home resale market continues to push people toward new homes. Existing home sales have been flat in 2018 compared to the first six months of 2017.
"It's a lack of supply because you don't have resale or new homes," Hodgson said. "If there are that many less resale, you are steered toward new if you want a house."
None of the home construction is speculative, Smith said. Builders aren't throwing up 20 houses without a contract, he said.
"That's a really good sign. They are not falling back into that habit of building (speculative homes) where we were 10 to 15 years ago," Smith said.
"The demand seems to be strong. The inventory of existing homes is low, and builders are taking advantage of that."
What builders are also taking advantage of is that opportunity and what buyers want. Town home closings made up 11 percent of closings in June compared to 3 percent in June 2017.
"The builders are adjusting well to the market and not overdoing it," Smith said. "A couple of years ago, they started building big houses that were very expensive to adapt to the price of the land. Now, that is saturated and (they) have to scale back and go denser in order to do the business they need to do. They are gaining market share because of the lack of inventory of resales."
Despite the strong economy and lack of existing home supply, rising prices of new homes and rising mortgage rates could always cut into sales and remain a concern for Hodgson and Smith.
Earlier this year, Home Builders Research projected prices would jump between 5 and 8 percent this year. The median price of single-family homes was $389,393 so far in 2018, up 14.5 percent. Town homes and other attached homes were $289,900, a gain of 2.8 percent.
"The prices are still a bit of a concern, and we would like the numbers get down to the single digits," Smith said. "With the new, denser product coming out, I feel that might affect that in the next few months."
Hodgson said costs are going up with land, labor and lending and local building code upgrades. There are concerns tariffs imposed by other countries in response to the U.S. imposing tariffs will jack up the price of lumber, copper and steel.
"Steel and copper is going to hurt, but nothing like the lumber (coming from Canada)," Hodgson said.
"Because of the disasters in Florida and Texas last year, we have a lack of labor and lack of drywall and concrete. I think there were more houses destroyed in Texas and Florida than we have built in 10 years."
Among highlights for builders, Smith said LGI Homes, a newcomer to the marketplace this year, pulled their first building permits for affordable single-family homes on Lake Mead Boulevard and Molly Road in the east valley.
Pardee Homes is acquiring choice parcels in Henderson and in the Stonebridge village of Summerlin, Smith said.
Lennar has added its name to the list of builders moving into the former RC Farms site in North Las Vegas that's now known as Sedona Ranch.
Pulte Homes has finished a deal for another parcel in Skye Canyon.
Century Communities in joining DR Horton and KB Home in the southwest, south of Blue Diamond Road and west of Mountain's Edge, Smith said.
Homebuilder sales for second quarter
• Lennar Homes merged earlier this year with CalAtlantic Homes. The combined builders were No. 1 in Las Vegas with 439 net sales.
• DR Horton — 331
• KB Home — 316
• Richmond American Homes — 278
• Pulte/Del Webb — 221
• Century Communities — 204
• Pardee Homes — 190
• American West — 159
• Beazer Homes — 154
• William Lyon — 118