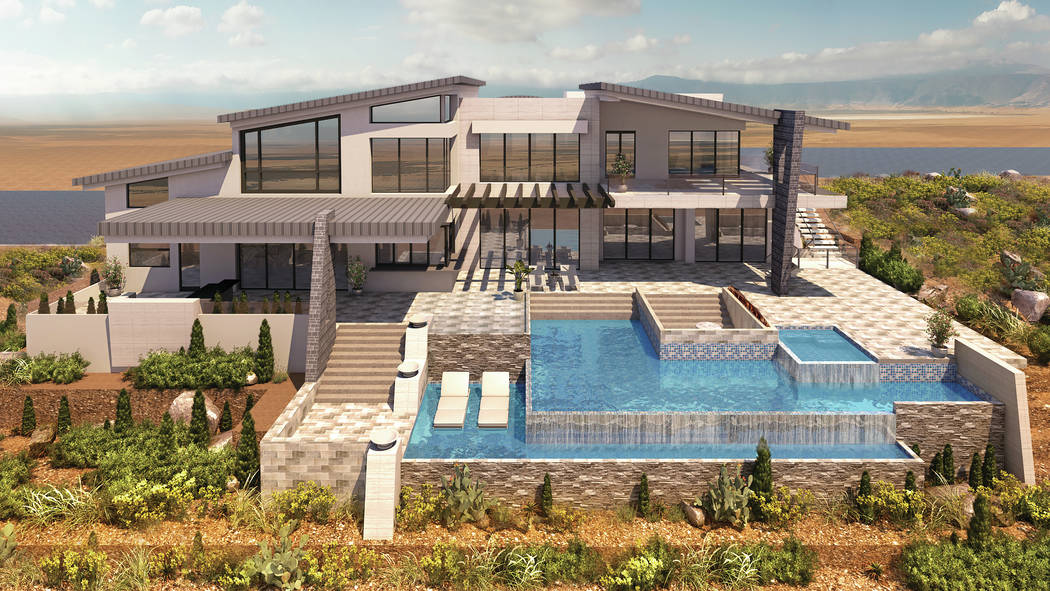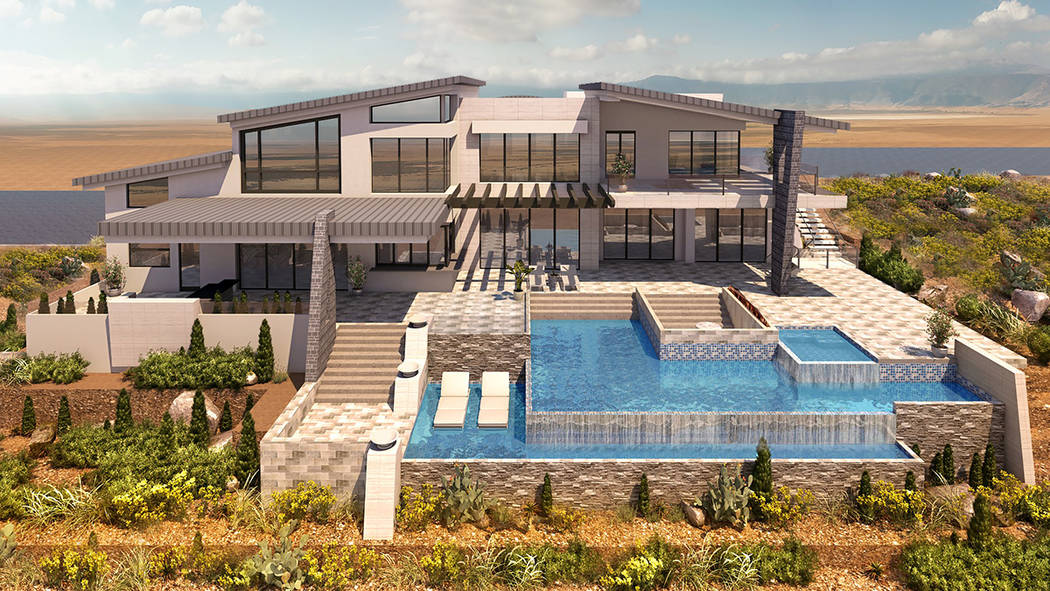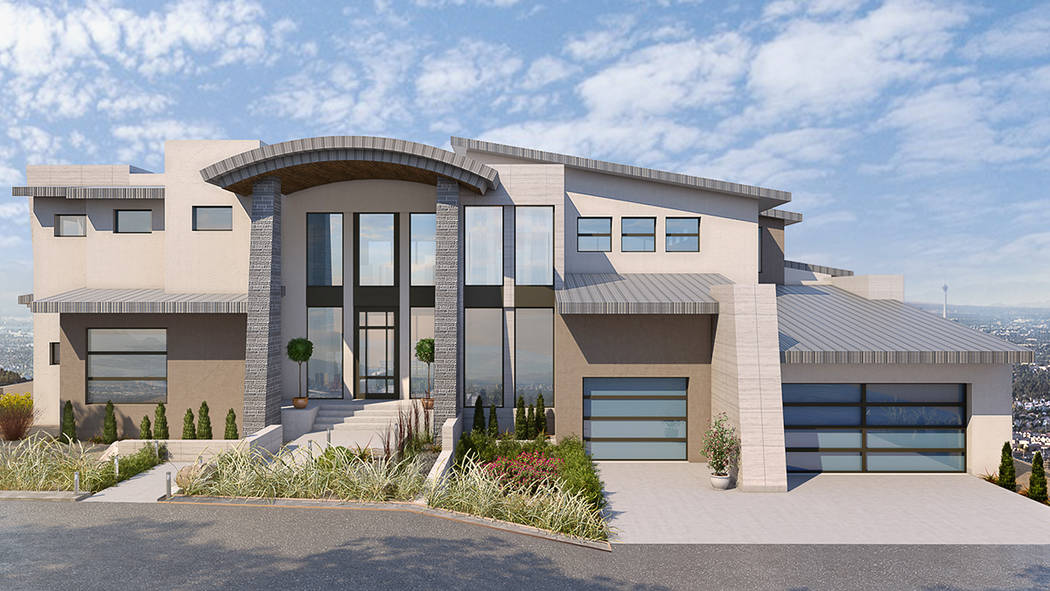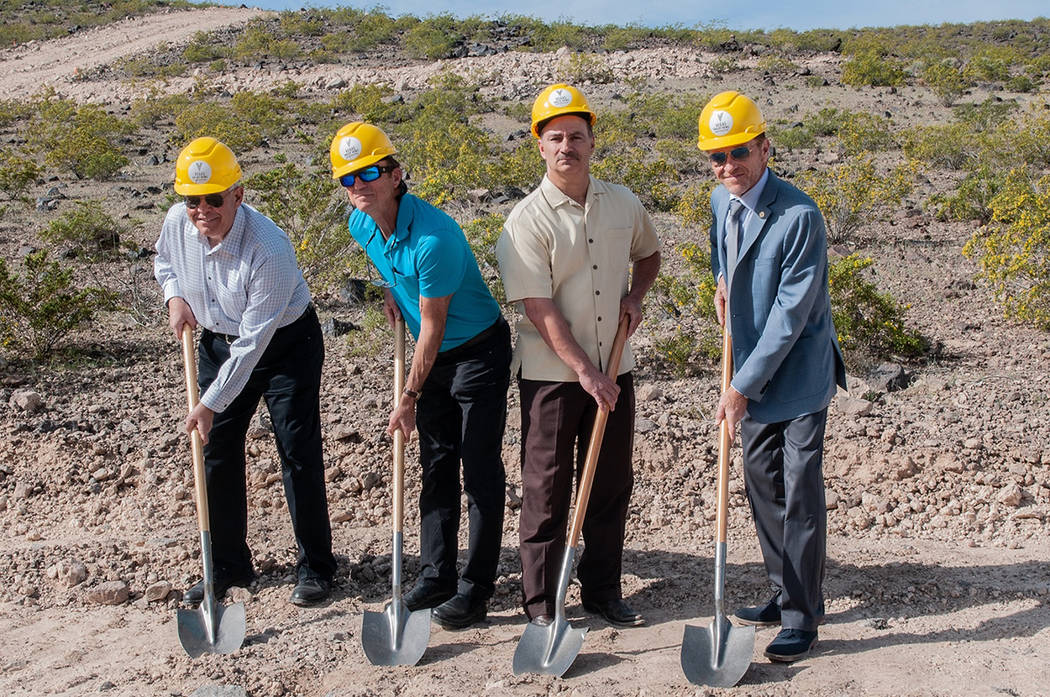 A new luxury custom-home community nestled on the hillside in Green Valley has broken ground and is expected to start construction on a model later this spring.
The Bella Vista Estates community will consist of 25 individually gated homes on 15 acres just east of MacDonald Highlands in Henderson. The new development is south of West Horizon Ridge Parkway at Pancho Via Drive between South Stephanie Street and South Gibson Road.
The homes start at 4,000 square feet, with prices starting at $275 per square foot.
Bella Vista Estates is a project by Vegas Valley Views, whose founders include developers Chris Malandrino, the project manager, and his partners, doctors Edward Campagna and Louis McNabb.
Malandrino, who has been in Las Vegas for 12 years, is a former project manager for builders. Campagna and McNabb have been based in Orange County, California. McNabb recently moved to Las Vegas, Malandrino said.
"I retired some years ago, and my partners were retired. When Bella Vista came across my desk, I went to my partners, who I had done some real estate investing with. I have a history in this business and built at Inspirada and other places, and said let's look at it. We looked at it and put an investment group together and acquired the property. That's where Vegas Valley Views came to light. It's a land development partnership."
The partnership acquired the raw land for $1.7 million two years ago, according to Malandrino, who owns a general contracting firm that will be doing the construction.
The trio were doing real estate flips together and buying condominiums and holding them for a couple of years and turning them over, Malandrino said. The two partners decided Las Vegas was on the rise again, and Malandrino said they wanted him as a broker and investor to show them any project that he felt would be noteworthy.
Malandrino said he didn't show them anything for nearly a year, and when the property for Bella Vista Estates came across his desk, he called them and told them the partnership had 24 hours to make a decision.
"They came over in 12 hours and made a decision, and then we started the development process," Malandrino said. "The only level we wanted to get in on was the luxury market. I have a history of that from upstate New York, Connecticut and Massachusetts and built many custom-level homes.
We knew we didn't want to compete with the big boys, like Pardee and Toll Brothers, who are monsters at it. We knew we didn't want to do track houses. My background was the custom-home market. We decided to pick a more high-end product because there's a much more limited competition scale on that. We're looking for that top 5 percent client."
Malandrino said he walked the hillside property several times before the group came up with a layout that would not only benefit them as developers but every homeowner who buys there. Some 75 percent of the lots will have unobstructed Strip views, and the other 25 percent will have a view of Sunrise Mountain.
No lots are being sold for people to build their own homes, but buyers will use Bella Vista Estate's own construction company and go through a design and custom-home build process.
"We have an in-house design team unless they have a plan they wanted to build for years," Malandrino said. "We will talk to them about that, too."
There were 17 names on the interest list, and Malandrino said he has spoken on a regular basis with seven, which he added is an indication to him they are interested in moving forward with building a home. The developers aren't accepting deposits at this time.
"A lot of people don't want to put money down until they start seeing dirt pushed because of what happened years ago," Malandrino said. "A lot of people would take deposit money, and the customers would be out when they go bankrupt."
Of the people on their interest list, six are from California, and two are from England, Malandrino said. He said they are anticipating a lot of interest from California transplants and baby boomers who are retiring.
"They will sell their house for $5 million or $6 million and come over and spend $2.5 million with me and be happy to do it," Malandrino said.
Because it's a hillside project and there's a need to cut in pads, it will take time before home construction can start, Malandrino said. The design and construction of a home will take 12 months, and homes can be occupied by the summer of 2019, he said.
"We will have four to seven houses going within the next six months," Malandrino said. "If we have seven homes and a model going at one, we will be one of the top custom builders from day one."
With the interest list, Malandrino said they just started marketing through luxury magazines and other publications in California and Las Vegas. And their website is up.
"We feel the local market here can support our production," Malandrino said. "Down the road, Ascaya is starting at $7 million, and I will be happy to take their clients between $2 million and $4 million that don't want to go to that price point."
The lots vary from 10,000 to 35,000 square feet and are 195 feet in depth on average, Malandrino said.
"Many people on our list love that because if they are 195 feet deep, and the property behind them is 195 feet deep, they won't even see their rear neighbors. The seclusion is what is prompting all of the interest."
The homes will start at 4,000 square feet and go up to 10,000 square feet, Malandrino said. The $275 a square foot cost is a base home. People get a budget and pick their kitchen, flooring, light fixtures, master suite and landscaping, Malandrino said.
"It's quite a value at $275 a foot," Malandrino said. "Our model is $3.3 million, and we went a little overboard. We estimate homes will be between $1.5 million and $4 million because we're talking to people right now about an 8,500 square-foot house.
We have some non-Strip view lots that will start at $1.5 million. There will be a lot premium depending on the view. In theory, if somebody wanted to stick with the budget for a 4,000-square-foot home on the dot, they could get it for $1 million or $1.1 million. But nobody does that. They want upgrades. They want a pool and upgraded landscaping."
An HOA is being established, and the cost will be somewhere between $200 and $300 a month. The community will have standards and try to maintain a look and not have homes in different styles, Malandrino said.
"There will be classic Mediterranean, Tuscan, Santa Fe and desert contemporary," Malandrino said.
"We're not going to let in ultra-contemporary. We will have stylish homes. We needed that limitation because they're fully custom."
Though other developments are getting away from the Mediterranean and Tuscan styles, Malandrino said there is continued interest in those homes, especially from people moving into the marketplace. He said desert contemporary will also be a popular choice.
"If we get 25 percent asking for Mediterranean homes, that will be huge because everyone wants a desert contemporary," Malandrino said.
Malandrino said the master-planned communities in Summerlin and MacDonald Highlands are great, but not everyone wants to live in them. There are people who like smaller communities and a "true hillside project," with the depth of lots they offer.
Some 80 percent of the lots are terraced, which means lots to the left or the right will be above or below, and people don't have to worry about neighbors peeking through their windows, he said.
"It has an eclectic feel to it," Malandrino said. "We have 25 to sell and not 300. We are getting a small-community feel with people we are talking to."
Among the features of the custom homes are porte cochere entrances, home theaters and media rooms, sports and game rooms, private massage and meditation rooms, custom skylights, smart technology, floor-to-ceiling glass panels, fireplaces with wraparound staircases, wine cellars, custom kitchens with state-of-the-art appliances, master suites with view-oriented Jacuzzis, and oversized walk-in closets.
Landscape specialists will work with homeowners to customize outdoor spaces with individually designed pools, spas, wet decks, lounging decks, outside dining areas, fire pits, and outdoor kitchens with barbecue pits.