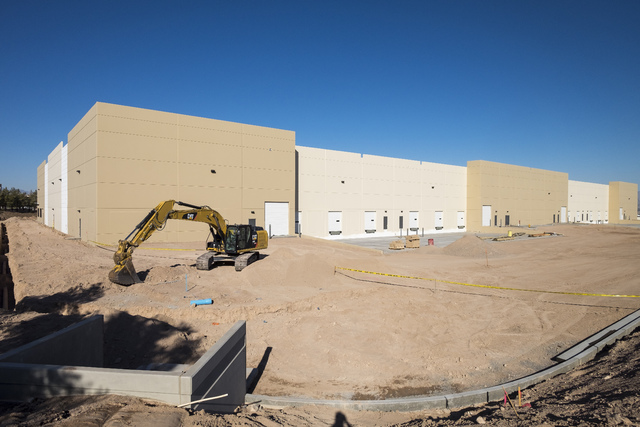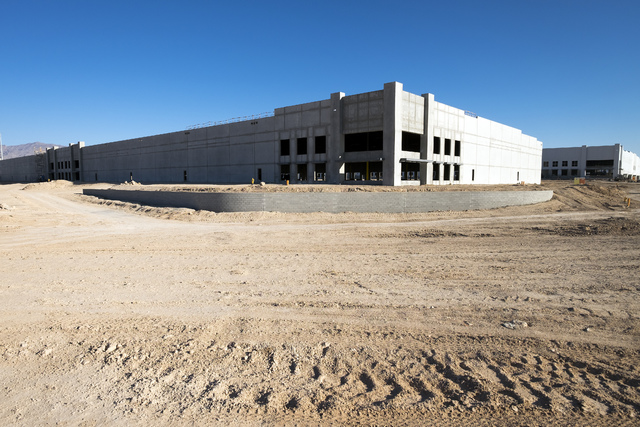 The industrial sector dominated the list of projects — especially in North Las Vegas — on display during the annual bus tour of the Southern Nevada chapter of the Commercial Real Estate Development Association, a guided journey of some of the valley's new commercial real estate projects.
One major development showcased during the three-hour guided journey on Oct. 6 was the Northgate Distribution Center in North Las Vegas. The development is set to reach new heights for the industrial sector on its 120-acre campus near Lamb Boulevard and Interstate 15.
Keith Earnest, executive vice president of VanTrust Real Estate's Phoenix office, said the project's plans have increased from just under 1 million square feet planned to more than 3 million, the largest spec project being developed since the industrial boom started in 2014. That's when Prologis launched its 464,203-square-foot Las Vegas Corp. Center No. 19 at Pecos and Gowan roads, which was quickly leased right after construction began.
In February, VanTrust announced the groundbreaking on two Northgate buildings: one of just under 250,000 square feet and the other at about 558,000 square feet.
Both of those projects are set to come online in November, with 400,000 square feet of the larger building already leased to Florida-based Fanatics, a sports merchandise company. Earnest said VanTrust is in negotiations on the remainder of the larger building, along with the smaller 250,000-square-foot warehouse distribution space.
In addition to these two buildings, VanTrust last month started construction on a third building with more than 800,000 square feet. The opening for this building is planned for April 2017.
There are plans for another 570,000-square-foot building across Lamb Boulevard from these buildings that Earnest said his company is in the process of making a deal on. VanTrust hopes to break ground on this site in December and to have a tenant there by July or August.
VanTrust now has 11 buildings planned, under construction or nearing completion at Northgate Distribution Center.
"The Las Vegas industrial market is really active," Earnest said. "We're going to take advantage of the big guys while we've got the big guys going."
This is the second year the association's Southern Nevada chapter has put on the expo and tour since it was shuttered during the recession from 2010 to 2014. This year's event was dubbed "A Whole New Ballgame."
On its northern leg, the tour also showcased other major players in the industrial sector, including Prologis, Dermody Properties, Pauls Corp. and SunCap Property Group.
Prologis had more than 2.3 million square feet completed or under construction across several projects in North Las Vegas area. That's nearly half of the more than 5.3 million square feet being developed in North Las Vegas.
These projects include Prologis Las Vegas Corp. Center at Corporate Center Drive and Pecos Road; Prologis North 15 Freeway Distribution Center; Prologis I-15 Speedway Logistic Center at Ann and Sloan roads; Prologis Cheyenne Distribution Center No. 3 at 3355 N. Lamb Blvd.; and Prologis Sunrise Industrial Park at 4800 E. Cheyenne Ave.
Henderson also had its share of large industrial projects: Harsch Investment Properties, Nevada's 240,000-square-foot industrial project at Henderson Commerce Center, which broke ground earlier this year; Panattoni Development's 452,710-square-foot industrial project at Henderson Freeways Crossing; and Prologis' Black Mountain Distribution Center at 855 Wigwam Parkway.
The southwest valley also had several projects in the industrial sector: Jeff LaPour's 165,000-square-foot building near the 215 Beltway, which was completed earlier this year; Panattoni's two buildings amounting to 400,000 square feet at Jones Corporate Park; and Prologis' 211,000-square-foot, plus Prologis Beltway Distribution Center.
According to Colliers International Las Vegas' third quarter industrial report, the local industrial market is flying high, having absorbed most of the recently completed projects.
For the third quarter of 2016, Colliers' report showed total net absorption at over 1 million square feet of industrial, including the 640,000 square feet of new construction.
Since the fourth quarter of 2014, completions have outweighed net absorption only once — in the first quarter of this year. In that period, completions reached over 1 million square feet of industrial space, with just over 800,000 square feet in net absorption in Las Vegas.
According to the report, vacancy was down to 5.2 percent. In the third quarter of 2015, vacancy was 5.9 percent. The current figure is more than 2 percentage points lower than that of the fourth quarter of 2014, when the industrial market started to take off.
Colliers' report showed 3.9 million square feet of industrial space under construction in the third quarter of 2016, with 36 percent of those developments pre-leased or build-to-suit. In the fourth quarter, Collier's researchers expect 1.3 million square feet in completions, with 32 percent pre-leasing.
Also showcased on the tour was the 4.2 million-square-foot, mixed-use Union Village project, where Henderson Hospital will open later this month, and other retail- and health-care-related developments are coming online soon thereafter.
Office projects were also showcased on the tour, predominantly in the southwest: a 9,600-square-foot building for One Nevada Credit Union; Panattoni's redevelopment of International Gaming Technology's old headquarters, which it purchased at the beginning of 2016; and MDL Group's nearly 17,000-square-foot Jones Beltway Business Park.
Taber Thill, a senior vice president in Colliers International Las Vegas' office division, said "there hasn't really been any development in office since 2008, with the exception of some projects that were defunct, that started construction and completed in 2015."
Some of these projects included One Summerlin and the Gramercy on the southwest side of town.
"They've had tremendous lease-up since, so there's still a demand for quality office space," Thill said.
In addition, Thill said, Howard Hughes Corp. is planning a six-story, 125,000-square-foot office project on the perimeter of One Summerlin.
Also on the positive side for office space, the vacancy rate has decreased for the last nine quarters. Vacancy now sits at 17.1 percent, down from 27 percent at the height of the recession, Thill said.