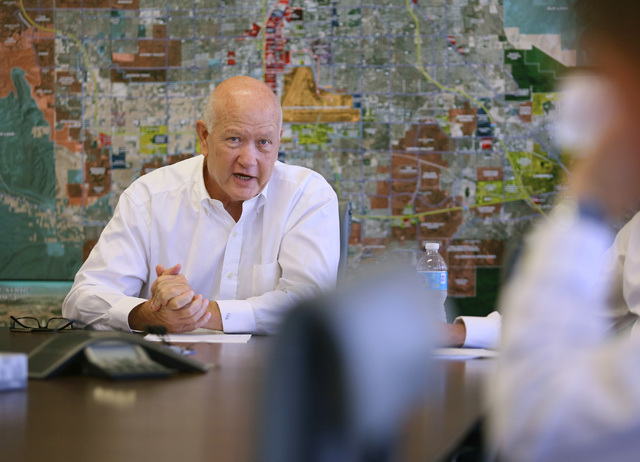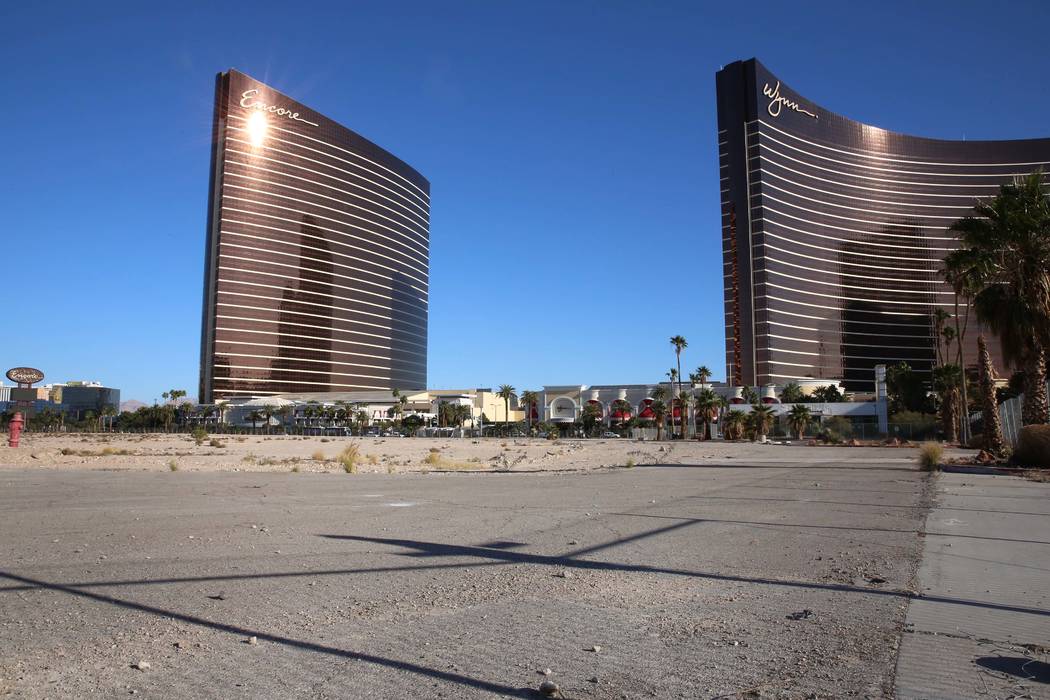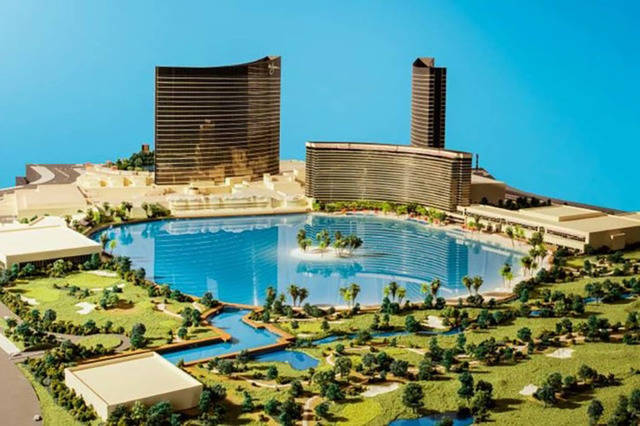 John Knott couldn't withhold his excitement talking to his colleagues about the north end of the Strip and how that will help drive Las Vegas tourism in the future.
The executive vice president and global head of gaming for CBRE in Las Vegas, Knott, who grew up in Las Vegas, has brokered many sales in the resort corridor through the years, including the North Strip. The most recent deals were the sale of the former Alon site to Wynn Resorts in December and the sale of the unfinished Fontainebleau in August.
That paves the way for further development along the northern corridor despite his concerns about rising construction costs that's affected commercial and residential building. That will increase tourism numbers.
"If the right projects are built (on the North Strip), people will come in droves," Knott said. "I don't think we will be doing the same themes. You define who your customers are by what you build and much more so than we have ever done in the past."
The north Strip starts at the Wynn Resorts north of Spring Mountain Road and extends to the Stratosphere. Knott said it's exciting to think about what the north end of the Strip is going to look like from Wynn's planned Paradise Park and its west resort to the completion of Genting's Resorts World and The Drew. There are even plans for an 18,000-seat performance center east of The Venetian that would bring more people to the corridor.
"It's clearly the most exciting property in our marketplace," Knott said Feb. 21 during a forum on "The Up and Up on the North Strip" hosted at the Palms by the Southern Nevada chapter of CCIM.
"The center of the Strip is defined. The north end of the strip is undefined, and Las Vegas is going to move forward to bigger and better things. There's only one location where the biggest and best things can be done in this economic engine, and it's the North Strip."
Knott said Caesars Entertainment has 90 acres north of Flamingo Road, but generally there isn't a lot of available land and properties at the central and south end of the Strip because it's developed with existing resorts.
"The older central part of the Strip with all the vibrancy, as it gets older and can't come up with new concepts without destroying valuable buildings, you will have a difficult time competing with the North Strip from my perspective. Every time we open something new, the world wants to come and see it."
There's the Wynn West on 38 acres west of the Wynn and Encore. There are plans for 2,000 to 3,000 rooms that will be connected via an air-conditioned hallway to the eastern resorts. Wynn acquired two parcels for a combined $336 million in late 2017.
The Wynn Paradise Park behind the existing resorts will feature a 36-acre lagoon and have 1,500 hotel rooms with convention space, casino and restaurants, Knott said.
Wynn officials said they remain committed to the projects even after the resignation of former CEO Steve Wynn, who in January was accused of sexual misconduct.
"This project is breaking ground unless circumstances change or it is derailed, which is quite possible," according to Knott who called Wynn the best developer of gaming properties anywhere in the world. "The question is you have the great mind of Steve Wynn and his vision versus others in the organization. He has a team and design team, and I'm hoping they're able to continue that process as they go forward."
Knott said there's another 80 acres of the Paradise Park site that would remain undeveloped and be available for future use as well.
Knott represented Crown Resorts in selling 34.6-acre Alon casino site north of Fashion Show Mall to Wynn Resorts.
Knott, who called it an "exciting deal," said the original offer for the site was $100 million, which later grew to $175 million. None of those offers were accepted because there was a buyer negotiating for the site as well.
"I told them I have someone offering $350 million, but it's not a real deal like you guys calling us and saying and here's your cash," Knott said. "He needs some help to get to the goal line. They asked what is he going to build. I said I don't know, but I assumeit will be pretty good. It's a $350 billion land investment."
Knott said then-Wynn President Matt Maddox, who is now CEO, called the day before Thanksgiving and offered "$300 million and not a penny more," a deal that was later accepted.
"They don't want someone capitalizing on what they had in investments and created with Wynn and Encore," Knott said.
Speaking to an audience of real estate professionals, Knott, describing how he acted like a typical broker seeking their commission, said he got nervous when the story broke about Wynn in the Wall Street Journal. He said he was out of town and called back to the office to make sure the deal had closed in January.
Knott spoke glowingly about the Genting Group, a Malaysian multinational company, which will ultimately complete the unfinished Echelon casino it acquired from Boyd Gaming for $350 million. It's building an Asian-themed resort with 3,000 rooms. It's expected to be completed in 2020.
"If you ask me what's going to happen, Genting is going to have a fabulous property, probably its best in the entire world," Knott said.
Knott said executives who have no projects on the Strip now could buy land and "become a big players," such as downtown developer Derek Stevens.
"He could say he's going to step up and take what he's doing downtown and put it on the Strip like Steve Wynn did from the Golden Nugget to the Mirage," Knott said.
Knott praised the plans for the $1.4 billion renovation and expansion of the Las Vegas Convention Center as critical to the North Strip development.
Knott represented Carl Icahn in the sale of the unfinished Fontainebleau for $600 million. The buyer, New York developer Steve Witkoff, has renamed the resort The Drew Las Vegas and plans to open in late 2020. Witkoff has partnered with hotel company Marriott International that will manage the property.
The 60-plus story hotel will have close to 4,000 rooms and more than 500,000 square feet in convention space. Knott said the property with the price paid for it and having Marriott as a partner to fill the rooms means it will be a success. It will have a pool that's unrivaled and be surrounded by nightclubs, he said.
"He's going to fill it up with Marriott customers for conventions and every Friday and Saturday it will be filled by people coming here to have fun," Knott said.
Nevada's tax system is making a difference in allowing casino companies to renovate rooms and be successful, Knott said. Of its 150,000 rooms, Las Vegas has about 20,000 rooms that need to be renovated every year at a cost of $20,000 a room.
That's a lot when casino companies carried a lot of debt during the recession and couldn't make the investment for rooms that have a life expectancy of seven to eight years, he said.
"Most of the rooms weren't touched for a decade and are being done now," Knott said.
The tax system allows Nevada casinos to send $67,500 to government for a million-dollar gambler,
Knott said. That same player in Macau would have nearly $400,000 go to the government. Other states are much higher than Nevada, he said.
"That's why people can make these investments here to keep these property up and keep reinventing them," Knott said. "No other market allows you do that. Look at Pennsylvania. It's hard to remodel when you're burdened with high taxes."
Total revenue per room hit its highest level in 2017 and most since 2008.
Knott said 2017 marked the 10th consecutive year that gaming revenues accounted for less than 40 percent of total revenue, as Las Vegas relies on visitors increasing their percentage of spending on restaurants, shopping and entertainment. The percentage of gaming revenues fell to a new low of 34 percent in 2017 even though gaming revenues continue to grow. It grew by 1.3 percent in 2017 over 2016.