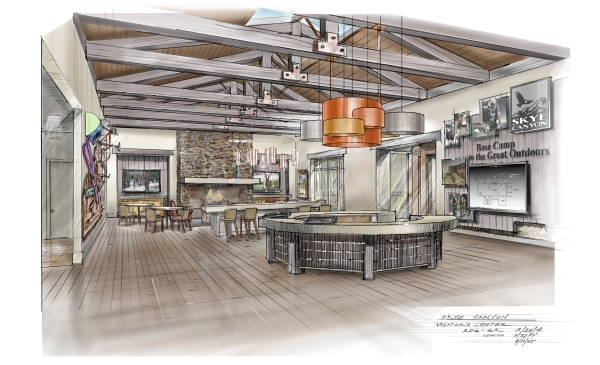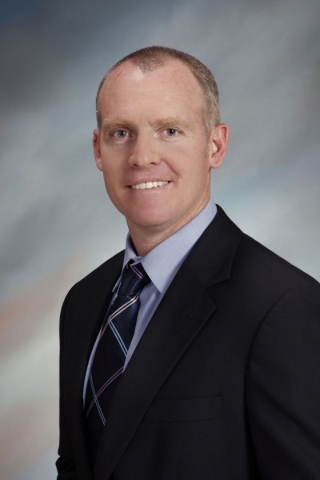 Las Vegas soon will be adding a new street name to its map.
Olympia Cos., a local real estate development company, is working on changing the exit sign at Horse Drive and U.S. 95 to Skye Canyon Park Drive. The renamed road will connect to Olympia's new community, Skye Canyon, in the northwest part of the valley.
Skye Canyon eventually will bring 9,000 new homes.
Chris Armstrong, vice president at Olympia Cos., said Skye Canyon offers residents access to U.S. 95 so they can get to the Strip in 15 to 20 minutes. Skye Canyon's location also offers access to Red Rock National Conservation Area, which sits next to the communities' western boundary. Skye Canyon is also close to Mount Charleston, he added.
"€œWe'€™re really are right next to the great outdoors, and we see ourselves really as the base camp to the great outdoors, given our location,"€ Armstrong said.
The community will connect to an existing network of horse trails that run throughout the northwest valley, Armstrong said.
And all of the major streets inside the community will have bike lanes on each side of the road, some measuring 4 feet wide on smaller streets but most with a standard 5-foot lane, he said.
Skye Canyon adds to Olympia's portfolio in Northern and Southern Nevada, including its signature project, Southern Highlands, which spans across 2,750 acres at the south end of the valley.
Southern Highlands began development in the 1990s. The project was startedwith the building of the Southern Highlands Golf Club, which was followed by residential development.
To date, the project has brought about 9,000 new homes to the valley, and Olympia Cos. is finishing off the development now, Armstrong said.
Olympia Cos. began as a partnership in 1988 between Garry Goett, CEO and president, and Guy Inzalaco, principal and executive vice president. The duo became one of the largest land holders for more than a decade during the 1990s, according to the company's website. The company's principals have also led developments in Canada and Arizona — in the Phoenix and Scottsdale areas — Armstrong said.
The Skye Canyon development will have 10 model homes completed at the end of July from the community's first two builders, Pulte Homes and Woodside Homes.
On Aug. 1, models at Skye Canyon will be available for preview from 11 a.m. to 3 p.m.
According to Pulte officials, the company's Evergreen at Skye Canyon collection will span 165 planned home sites and will be built in two phases.
Evergreen will have six floor plans (four modeled)—one single-story design and five two-story designs. The homes will range from 2,400 to 3,800 square feet, he added. Pricing is estimated to be at the mid $300,000s to the low $400,000s, but pricing still hasn't been determined.
Century Communities is slated to bring more than 200 new homes with floor plans ranging from 1,700 to 3,600 square feet.
They are Skye Canyon'€™s beginning phases, and Armstrong said there has been an interest by the communities'€™ builder lineup to offer their services in future progressions of the community.
There has also been an interest by other builders in being a part of the project, he added.
The overall project will have homes ranging from $200,000 to $600,000.
But, Armstrong said, the home prices in the first phase probably will be closer to $300,000 and up.
The subsequent phases will be developed as the market allows.
"€œIf the markets remain strong, we're probably talking about 12 years or so,"€ Armstrong said. "€œIt'€™s a large project, it's got a good time horizon, and we'€™re excited about it, obviously, and very optimistic."€
Community parks augment an 8,142-square-foot home-finding center and community center, which will have a juice bar, a coffee shop and an open-air cantina and wine bar. There will be a nearly 10,000-square-foot fitness center, which will include a pool and splash park. The centers are slated to open in February of next year, Armstrong said.
Several parks — one in each subdivision and a larger neighborhood park — will include amenities such as basketball courts and water play structures, Armstrong said.
"€œOne of the biggest things that we are trying to do with the building of these facilities right at the beginning is we're really trying to get people to feel emotionally connected to the community by creating opportunities for interaction amongst people,"€ Armstrong added.
Skye Canyon will have commercial components, but they may take longer to develop than the residential and amenity sides. Armstrong said a rule is that most commercial entities don't want to open up shop until some homes have been built.
The commercial component might not show up for two to three years at Skye Canyon, Armstrong said. Olympia is in talks with some major grocery chains, he added.
Gaming might also be in the future for the Skye Canyon development.
"€œWe acquired this property from another developer, and the previous developer had a gaming enterprise district, which is gaming approval on the site — at the interchange of Kyle Canyon and the 95,"€ Armstrong said. "€œWe have those approvals, and the intention is if the demand is there at some point in the future, but that would be quite a way off."