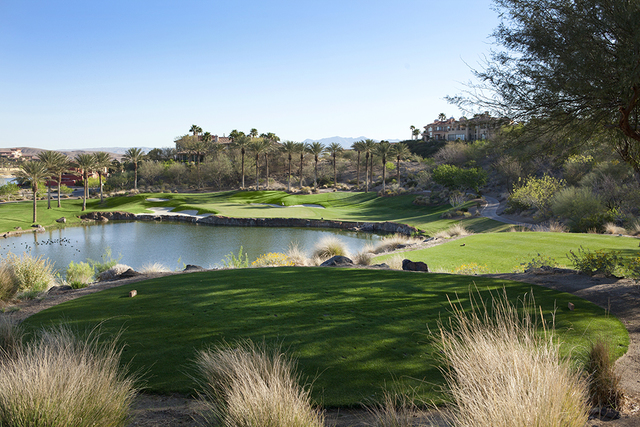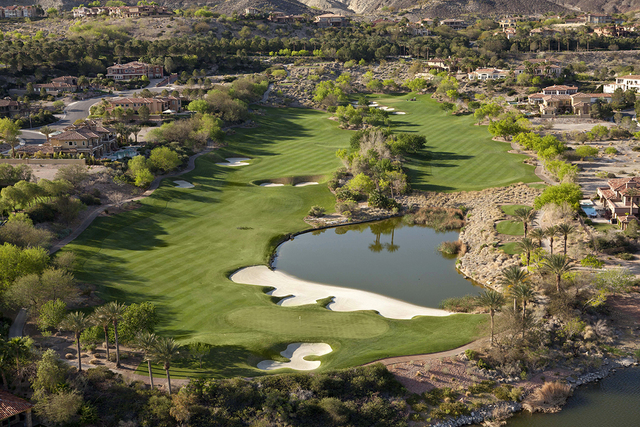 When you mention real estate in Las Vegas, the first images that often come to mind are fancy suites on the Strip and trendy homes in the Summerlin area.
On June 14, Colliers International announced its position as exclusive agent for the sale of the Golf Club at SouthShore in Henderson's Lake Las Vegas. In 2011, Canada-based Pacific Links International purchased the golf course, which was built in the late 1990s, for $6 million.
This is the last of three Las Vegas golf courses the company is selling. Earlier this year, it sold MacDonald Highlands Dragon Ridge Country Club in Henderson and Southern Highlands Golf Club back to their developers, according to the Las Vegas Review-Journal. The details of those transactions were not disclosed. Both MacDonald Highlands' Rich MacDonald and Southern Highlands' Garry Goett have said they will keep the golf courses as amenities in their luxury home communities.
Pacific Links International was founded in 2009 with a mission of creating an international network of private clubs. In six years, it has accumulated 450 courses worldwide.
"We are very spoiled in the Las Vegas market compared to other cities, because we have a lot of quality courses in demand," says Keith Cubba, listing broker and national director of Colliers' Golf Course Advisory Services Group. "We have a very attractive market because of the physical features, but also because Las Vegas has excellent golf course operators that have earned a stellar reputation across the industry."
The year-round golf schedule in Las Vegas has required the industry to recruit the best in talent for operators and superintendents. Many course owners hold golf courses in their commercial real estate portfolio as another investment.
"Typically a golf course would get 10 to 12 confidential agreements, serious inquiries about purchasing the course," says Cubba, who is also a member of the National Golf Course Owners Association and the National Golf Foundation. "But for the last course sold at Tuscany, we received 50 confidential agreements. That shows the deep interest and demand that is always affiliated with the Las Vegas golf course real estate market."
Although the golf course real estate market remains popular, not every location is following the trend.
At Wynn Las Vegas, its longtime golf course is likely to be transitioned into a lagoon and social club to reap the benefits of growing non-gaming spending by tourists.
Wynn established several non-gaming spending trends in the last decade, from Tryst nightclub to introducing several new retailers to the Las Vegas market, so the conversion does not surprise local industry experts.
"Non-gaming revenue will continue to grow on the Strip but for us we have seen sales growth for four straight years," says Steven Zyla, spokesperson for Sterling Golf Services. "It has been a steady increase but it is totally dependent on discretionary spending, so it is to our benefit that our golf course operations have earned such a stellar reputation."
The key to all golf course real estate transactions is the deed restriction that determines if the golf course can be transitioned to residential use.
Industrywide, there have been three major eras of golf course development in the United States. In the 1920s, 1950s and 1990s. Most of the golf courses built in the 1990s have deed restrictions that prevent them from being transitioned to residential or commercial real estate.
When golf course owners have an opportunity to transition a golf course into commercial or residential real estate, they often jump at the chance because of the obvious higher profit margins. Residential real estate transitions are more common than the smaller-profit margin of golf course deals. The SouthShore community has 490 homes and there is room for more than 800 additional units.
"There are a lot of moving variables in the economy, but the golf market in Las Vegas, Arizona and Southern California will always be in high demand," says Cubba. "However, the trend of best use of property is here to stay so people will always convert real estate for best use and highest profit margins."
Both Cubba and Zyla believe the Las Vegas market will remain strong because of the high number of golf courses in the valley They also said they believe Southern Nevada has talented operators and superintendents passing along efficient operational strategies from the top down.
"People still want into the Las Vegas market," says Cubba. "Sometimes, as Las Vegas residents we take for granted the glamorous reputation people across the world have of our city."
The sport of golf is an attraction for Las Vegas as old as the slot machine itself, and no matter the real estate trend, the demand is built-in like sand in the desert.
"We see continuous growth in sales revenue from that ongoing demand," says Zyla. "The Las Vegas golf industry holds itself to a high standard and it shows."