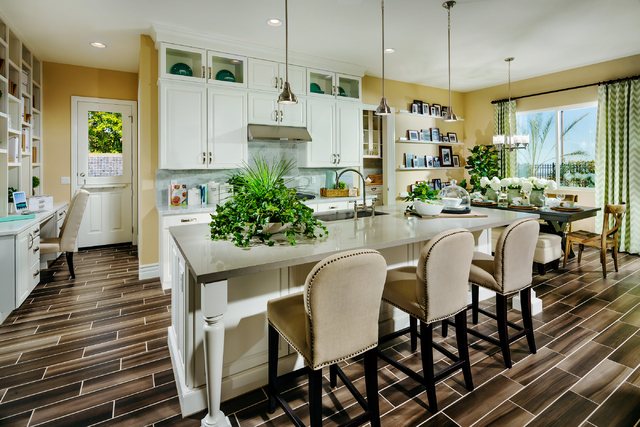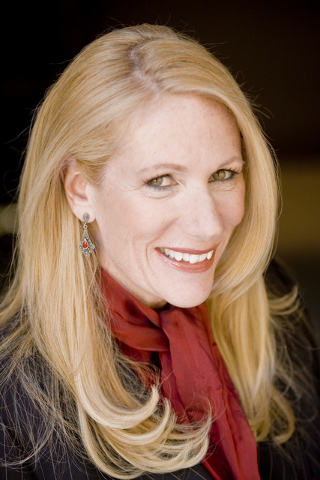 Toll Brothers will start construction this month on Regency at Summerlin, an age-qualified community that will sit inside Summerlin's newest planned village — The Cliffs, which held a groundbreaking June 10.
Regency is Toll Brothers' first age-qualified community and will bring about 425 new homes to Summerlin, but this number could fluctuate, company officials say.
The development will serve an area thirsty for this type of development.
Toll Brothers division President David Straub said 2,000 people have gone to Regency's website and joined a waiting list for more information on the community.
"What it tells us is that there's pent-up demand," Straub said.
There has been a lot of time since a community such as Regency has come on line in Summerlin — the last age-restricted development was put up in the '90s. The Cliffs is also the first village to break ground in Summerlin since The Mesa in 2004.
Straub attributed the pent-up demand on a low selection in new construction.
"The existing 55-plus communities — Sun City Summerlin, Siena, Sun City Anthem, Sun City Aliante, for that matter – were hugely successful conservatively, but are all minimum 10 years old, up to 20 years old," said Straub. "We think we have a captive audience who wants new construction, forward thinking design, and the Summerlin ZIP code."
Toll Brothers' project will cover just over 100 acres of the planned 450-acre Cliff's village and rest south of the village's beginnings near Hualapai Way and Patrick Lane.
At completion, Regency could equate nearly 25 percent of the 1,700 single-family and multifamily projects planned across 11 neighborhoods inside The Cliff's village.
Age-restricted housing is a growing phenomenon around the valley.
Lennar Homes is planning 500 age-restricted, single-family homes in Cadence in Henderson. Lennar's planned community, Heritage, will offer homes with 1,700 to 3,000-square-foot options.
Shea Homes is also offering options on new age-restricted homes at its Ardiente community in North Las Vegas near Tropical Parkway and Pecos Road.
Regency's floor plans will include nine single-story options ranging from 1,700 to 2,400 square feet. Straub said it's too early to determine pricing, but sales for Regency will begin in early 2016.
Construction will likely begin in July and the project could take around two years to complete, company officials say.
Toll Brothers put a similar community in Reno — Regency at Damonte Ranch. That community is selling homes from the mid-$300,000s to the low $400,000s.
Industry insiders gave Regency a strong outlook for sales.
"People do want one stories and these are all single stories," said Diane Varney, a Coldwell Banker real estate agent. "I do believe that this will sell very well."
Varney also said Summerlin is one place in the valley that thrived during the recession.
"Summerlin survived the downturn better than any other community," Varney said. "Yes, everybody got hit hard, but Summerlin got the least impact and also came back the strongest. It continues to be in very high demand."
In a 2014 national survey by RCLCO to identify top selling master planned communities across the country, Summerlin ranked 15th, with 437 homes sales. Home sales were down 23 percent in 2014 from the 566 sold in 2013. During 2013's survey, Summerlin ranked 11th and was positive by 20 percent over 2012's numbers.
Varney said the 55-plus group is also interested in other property types — such as high-rises — because of their low-maintenance qualities.
As an example, she pointed to One Queensridge Place, where $100 million worth of property was sold in one year. A large portion of that figure came from California buyers, she noted. But local buyers also purchased there.
"There were people in Summerlin that decided they wanted a more low maintenance life style," Varney said. "They did liquidate their pool and their lot and opted for high-rise living because it's easier for them to travel; it's more secure and no maintenance, no yard to take care of and so on."
Buying at places such as Regency brings alternative benefits.
Along with the clubhouse, which will reach over 16,000 square feet, the community will have an on-site lifestyle director who will schedule community events.
"Our lifestyle activity director is really important for the resort lifestyle that we are going to be bringing to Summerlin," Straub said. This is "someone that can be there at the forefront," he added.
"The best friend of our buyers, organizing clubs, organizing groups," Straub said. "They are the biggest cheerleader and band leader to community cohesiveness."
The facilities will include an indoor swimming pool and gathering space for fun, clubs or events, Straub said. The community will also offer a resort-style outdoor pool, pickle ball courts, tennis courts, bocce ball, putting greens and barbecue pavilions, he added.
The region is also home to other amenities including Wet 'n' Wild water park and a 25,000-square-foot aquatic center, scheduled to be built by the summer of 2016 at Faiss Park adjacent to Wet 'n' Wild. Residents will also have access to 150 miles of surrounding walking and biking paths.