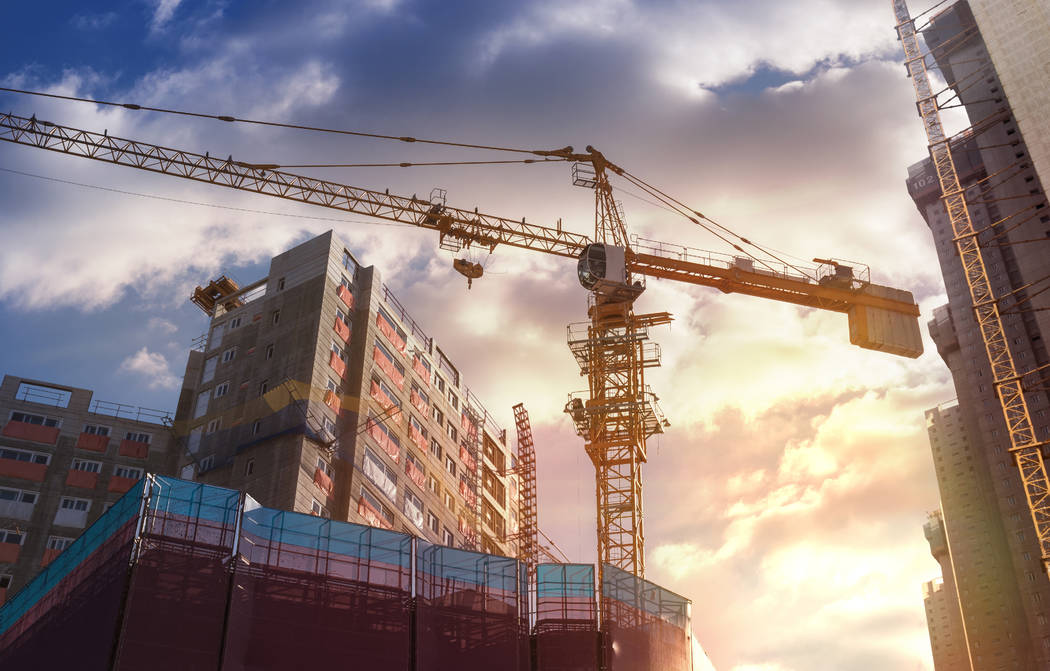 Thanks in part to hard money lending, a 17-story hotel, apartment and retail project east of the Palms is becoming a reality.
In December, CAI Investments broke ground on mixed-use project at the southwest corner of Flamingo Road and Valley View Boulevard. The company's founder, Chris Beavor, bought the nearly 9-acre site — one of the failed luxury condo project sites during the Great Recession — for $13.5 million in 2016. The county approved plans for a 290-unit apartment that will be built by The Calida Group, which bought 3.7 acres of the site. The remainder will feature a 250-room hotel, Delta Hotels, and more than 25,000 square feet of retail and restaurant space where there will be a Walgreens, Denny's, Del Taco and Wahoo's Fish Tacos.
The project was made possible in part by Las Vegas-based Capella Mortgage, a hard money lender that raises capital from investors. It brokered a $16.5-million loan for the land acquisition and recently did a loan for the hotel pad for $2.5 million, according to Troy Freeman, Capella's chief investment officer. Freeman said the 16.5-million loan has since been paid off by the developer.
From commercial to residential, it's helped customers acquire office buildings and is currently doing two construction loans on luxury custom homes in Southern Highlands. It's part of the reality in Las Vegas that even after the recovery from the recession that it's not always possible to get real estate and construction-related bank loans at all or in a timely manner to suit developers.
When you drive around town and see projects spring up on corridors that has long been vacant and on in-fill sites, it's possible hard money lending has played a role.
The issue was highlighted for the second straight year when Southern California-based Geraci Law Firm recently held its second annual private money conference in Las Vegas for connecting lenders with investors — essentially high-net worth individuals who are looking to close their next business deal. Capella Mortgage executives were among those who attended.
"Borrowers come to us for a number of different reasons," Freeman said. "One may be that they had trouble in the past and can't get conventional financing. But a lot of times, it's because the borrowers need to move quicker than the bank can. We are able to fund deals a lot sooner than the bank can normally fund after we've done all the underwriting that the bank has done. We just move quicker."
How it works is borrowers come to Capella, which underwrites the loans and finds private investors and high-worth individuals who invest in those deals and lend the borrower the money. Capella acts as the broker in between, and those interest rates range from as low as 8 percent to high as 14 percent, Freeman said. Banks are usually anywhere from 4 to 7.5 percent, he said.
Anthony Geraci, managing shareholder with Geraci, said nonconventional lending can be a great resource for commercial projects. Many entrepreneurs who are in need of a construction loans, have credit issues or it's investors that need to close quickly turn to alternative lending options to make their projects come to fruition.
It's not directly affected by rising federal interest rates. Lenders are private entities who control their own rates and approval criteria, Geraci said.
"This allows the industry to be competitive and creative," Geraci said. "It arms the buyer with the ability to close same as cash and to close much more quickly, sometimes in as little as a few days. This puts the power in the hands of the buyer and allows them to be more aggressive with negotiations, particularly if they are bidding against another cash buyer."
There's plenty of lending opportunities with Las Vegas growing again, Freeman said. He said it looks like the 2003 and 2004 era with the growth, people moving here but this time there are businesses moving into market that have nothing to do with gaming.
"With the Raiders stadium under construction, that's adding a number of employees, and it's going to add a wealth of new tourists into the market," Freeman said. "All of the new hotels and casinos being built that are supposed to open in 2020. We're just seeing tremendous growth across town. All of those areas that sat vacant for years are now being filled and houses are being built and apartment complexes are going forward. We're seeing great opportunities in this market and even better borrowers than we normally have."
Corinne Cordon, the company's founder and owner, said they were lending money before and during the crash, and this is the first time in 10 years they're seeing land development — someone is taking a plot of land, entitling it and selling those to homebuilders.
"There was a couple of false starts over the last couple of years, but now it's moving along," Cordon said. "That's exciting because there's a housing shortage."
The loans are starting to get larger with the land development, apartment complexes and casino and hotel projects, Cordon said. For residential, Cordon said the average loan they broker is about $200,000. It's about $1.5 million for commercial.
Cordon, who's been in business for 22 years, said she was one of the smaller hard money lenders in town and that's what saved her company during real estate crash in Las Vegas because she didn't lend to the large land developers who went bust. She said her company was working with individual builders and buyers and doing about 20 to 30 deals a month and about $40 million to $50 million a year at the time.
Cordon said they're brokering a greater value in loans now, but the one change is there's a lot more equity in deals today to provide protection.
"Back then it was extremely easy to get a bank loan, conventional loan and Federal Housing Administration loan," Cordon said. "It's not easy anymore. Dodd Frank (federal banking regulation law passed after the recession) changed all of that. Even on commercial there are changes because of Dodd Frank."
Despite the rebounding economy, there's still a need for hard money lending, Cordon said. It's not always easy for everyone to get prompt financing even if they're in a good spot financially.
"I got a call from someone who has been in business for nine months and got turned down because he makes only $100,000 a year and has for a while," Cordon said. "He's buying a house for $315,000 and the loan amount is $200,000, and he can't get a bank to close it because he's only been in business for nine months. That is a perfect hard-money loan."
There's a lot of interest from investors in wanting to put up money for loans, Cordon said. In the past those investors were garnered from ads in the newspaper and seminars to attract them but the internet has made that much easier to find them, Cordon said.