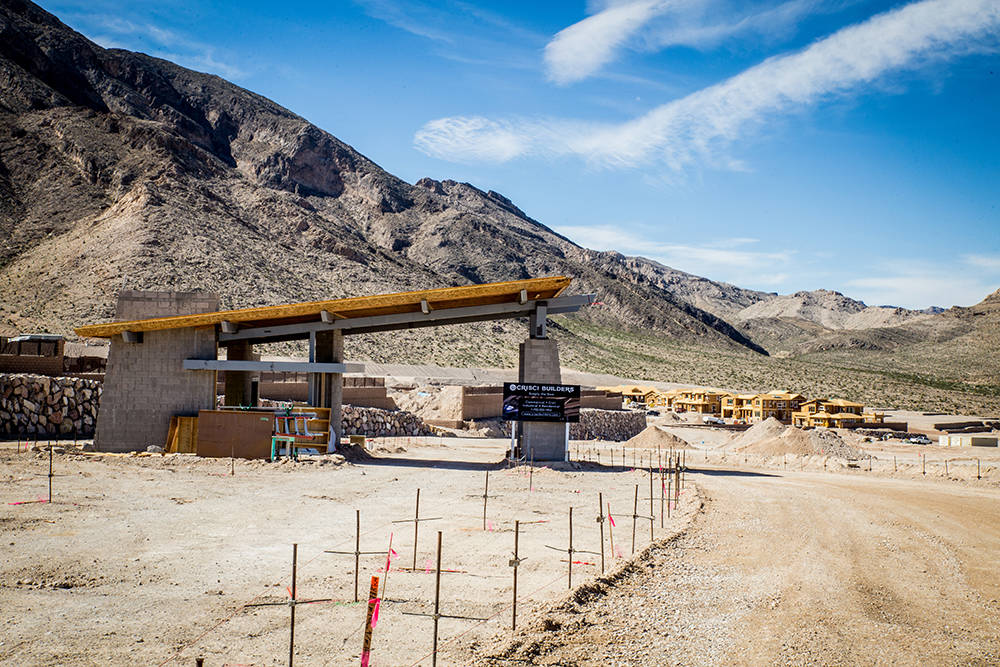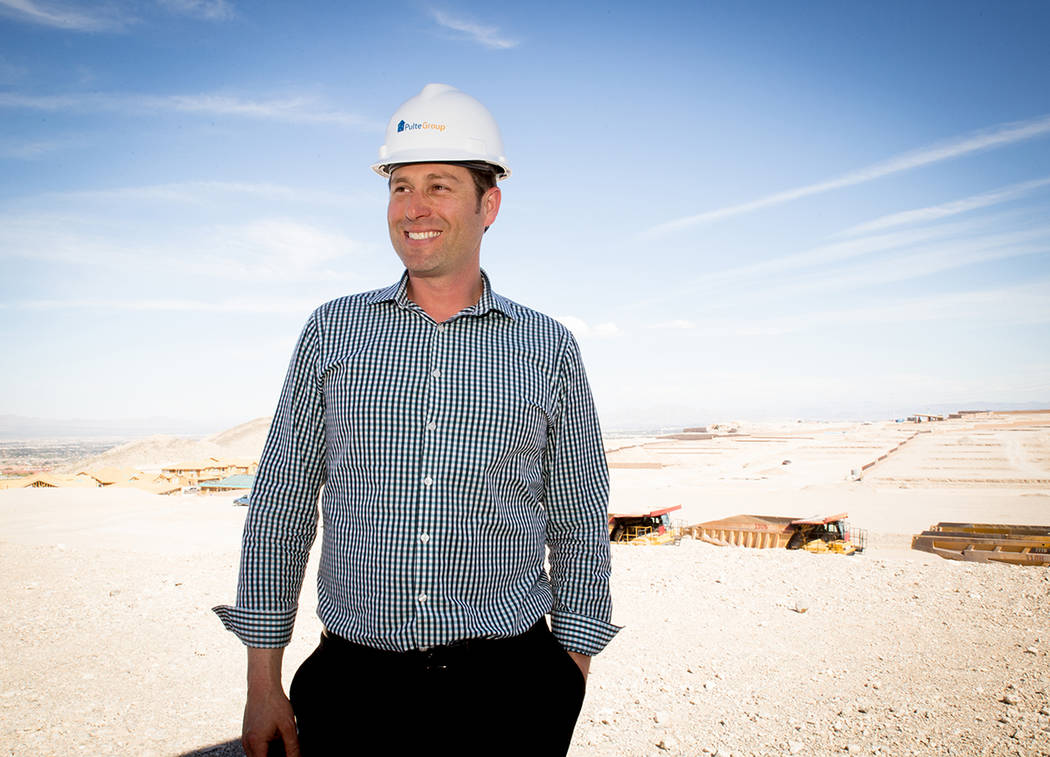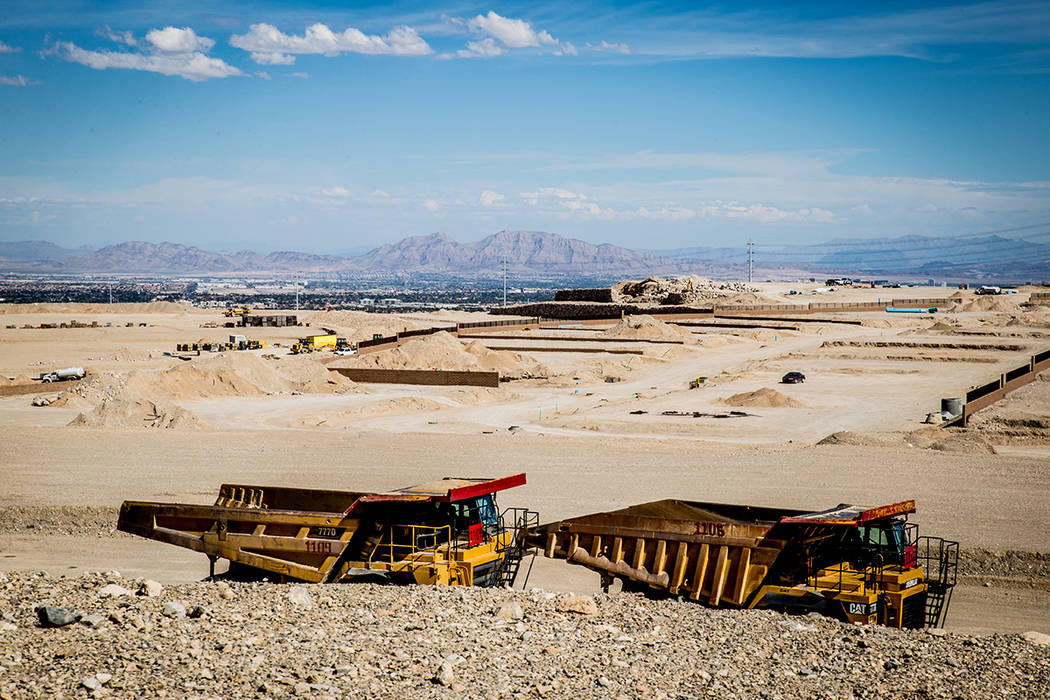 A 300-acre housing development stalled during the recession in Summerlin is moving forward once again, with a grand opening on several models planned for late spring.
Pulte Homes is laying the groundwork on its Reverence project at the northern border of Summerlin. The development sits along the west side of the 215 Beltway, between Lake Mead Boulevard and Cheyenne Avenue.
Jason Demuth, division director of marketing and market intelligence for Pulte Homes' parent company, PulteGroup, said the project is still in its early stages, and crews are working on retaining and village walls, along with other infrastructure. Construction crews are also building model homes, which are expected to be ready in late spring.
Demuth said Pulte is expecting a wide variety of demographics to purchase at Reverence.
The community will be featuring floor plans in a gated area, which sits on the east side of the main drag, Reverence Parkway. Layouts will range from approximately 1,550 square feet to 2,775 square feet, with two collections of homes.
On the west side of Reverence Parkway, a guard-gated neighborhood will feature larger floor plans ranging from approximately 2,150 square feet to 4,850 square feet. That area will feature four collections of homes, with one- and two-story options, including estate homes.
Overall, the community will offer over 20 floor plans, with up to 11 model homes. Pricing has not been set at the community at this stage. Demuth estimated the community will have about 900 homes at buildout, but he added that some of the community has yet to be designed.
The project's history dates back to late 2006, when Pulte purchased 150 acres at the Reverence site for $123 million from Summerlin developer Howard Hughes Corp., according to records at the Clark County Assessor. Then the Great Recession hit and plans slowed for the project.
Pulte purchased the remaining 147 acres in March from Howard Hughes for $40 million, according to county records. Pulte is the only builder inside the new village
"As a single-builder village, Reverence has a unique and special opportunity to execute on its comprehensive vision on what is an exceptional Summerlin location," said Kevin Orrock, president of Summerlin, in a written statement. "Pulte has an extensive and rich history of building popular and quality homes in our community. We are confident Reverence is poised for success, and we look forward to welcoming its residents to Summerlin."
Sales in the Summerlin area have been on the rise for new homes in 2017.
There were 97 closings in Summerlin through February on new homes — a 26 percent rise over 2016's pace, said Andrew Smith of Home Builders Research.
The Summerlin area culminated 8 percent of the valley's new homes sales through February — the same as in 2016, Smith said.
Construction is also expected to rise valleywide in 2017, according to data from Homebuilders Research.
There were 8,702 building permits issued in 2016, and Smith sees between 9,250 and 9,500 for 2017.
There are 21 neighborhoods being built in Summerlin, not including custom homes. That's a rise from 17 neighborhoods being built in the Summerlin area in March 2016, along with the 12 neighborhoods being built in March 2009, data from Homebuilders Research show.
Delmuth said there is no estimate as of yet as to when the community will be completed.
"The market will dictate that," he said.
The future residents of Reverence will enjoy several amenities, however.
The new Summerlin Village will feature an 8-acre park, which includes an amphitheater, walking trails and volleyball, basketball and tennis courts.
The community also will feature a 9,500-square-foot recreation facility, set to break ground April 6.
The future resident facility will feature a fitness center, an outdoor resort, lap pools and pickleball and tennis courts.