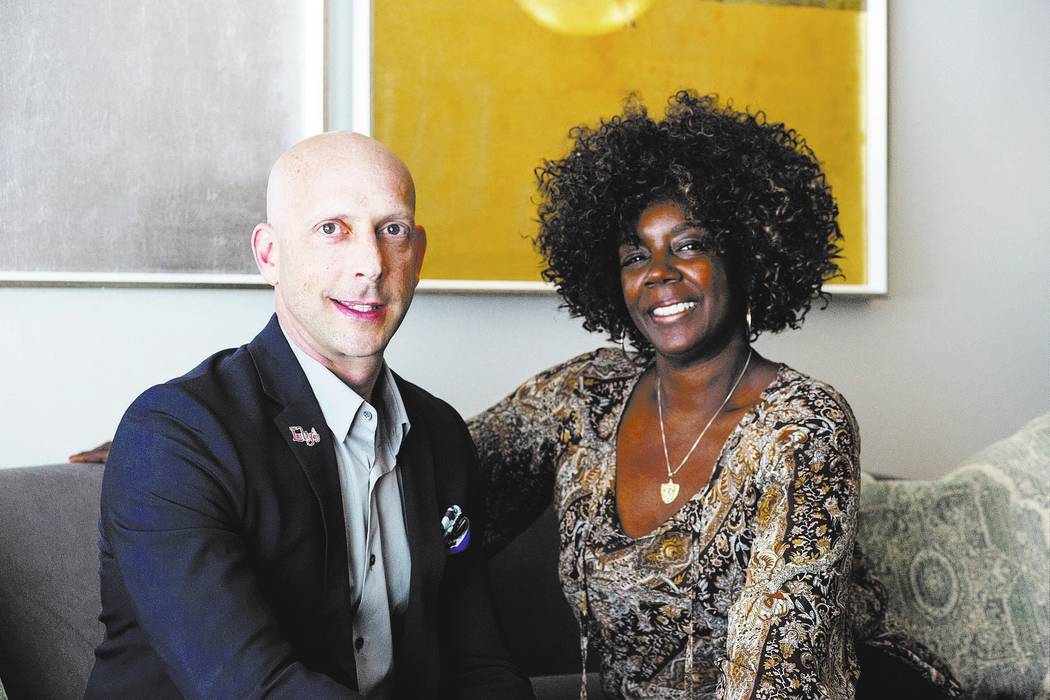 The Raiders' plan to move to Las Vegas could give a boost to sales and pricing to the city's high-rise market and other housing product types across the valley. The team's ownership and some of its fan base have already purchased or shown interest in purchasing in Las Vegas.
LaVena Ward-Fowler, whose primary residence is in the San Francisco area, was one fan who made the jump, closing on a unit at One Las Vegas — a 359-unit luxury condo community near Las Vegas Boulevard South and Blue Diamond Road — following the announcement of the team moving to Las Vegas.
Ward-Fowler said she always wanted to live in a high-rise building and was checking on prices about two-and-a-half years ago prior to retirement. Las Vegas seemed an affordable option, she said.
"And then two years later, they were talking about the Raiders coming, and that's what really made me say, 'All right, the Raiders are coming to Las Vegas, so I've got to go buy a piece of property,'" Ward-Fowler said.
Ward-Fowler said she also likes the convenience of being so close to the potential site of the new $1.9-billion, 65,000-square-foot stadium near Russell Road and Interstate 15.
And Ward-Fowler isn't the only fan looking at One Las Vegas.
Uri Vaknin, a partner at KRE Capital LLC, whose company purchased several high-rise condo communities, including at One Las Vegas, in 2013 in partnership with New York-based Dune Real Estate Partners and Northcap as DK Las Vegas, said he has seen an increase in interest at the property since the Raiders received final approval to move to the valley.
Following that announcement, the sales center at One Las Vegas has received double the volume of calls from interested homebuyers, with 50 percent of those callers saying that a primary reason they're interested in purchasing is the Raiders' moving to Las Vegas, Vaknin said.
In some cases, it's the No. 1 reason, he added.
Kamran Zand, broker and owner of Luxury Estates International, said he's also seen interest in the high-rise and luxury market in the wider Las Vegas Valley.
He said he's seen interest in high-rise product on the Strip and for lots in The Ridges in Summerlin and the Summit Club from Raiders ownership.
"We expect to see season ticket holders and executive staff all acquiring … second homes, high-rise condos or even homes, but probably more so high-rise condos," Zand said.
This increase in interest and potential purchases may not bring a large increase in prices on high-rise product, but it could bring those holding the keys to that type of product some positives.
"I don't think the pricing is going to go up dramatically," Zand said. "I think the sellers are actually going to get their (asking) prices, and we're going to get some of our inventory absorbed."
Zand said that some of the sellers are already seeking a premium.
Zand also is working with a group called SportsStarRelocation that helps sports stars relocate to other areas. He said he used the service to help some of the personnel from the Vegas Golden Knights to come to the valley.
The scene seems a turn of events for a market that crashed during the recession. Nearly 12,800 units were constructed on and near the Strip and downtown prior to that. But values fell following the crash.
In response, many buyers tried to get out of closing on properties and turned to litigation to get their deposits returned. Tens of millions of dollars in deposits were at stake at the time.
On the ownership side, many developers, hard pressed to find buyers, turned condos into rentals or sold units in bulk to hedge funds and investors.
One example was MGM Resorts International's sale of 427 of the 670 units at the twin 37-story Veer Towers at the company's CityCenter development to New York-based Ladder Capital Finance Holdings in December 2012 for $119 million, or about $278,000 per unit or about $300 a square foot, well below the market rate prior to the crash.
Veer has seen a higher average per square foot in the past 12 months than that sale brought. Ivan Sher, principal at Shapiro &Sher Group/Berkshire Hathaway HomeServices Nevada Properties, said that over the last year Veer has sold at an average of $541 per square foot, with a high of $940 per square foot.
But the city's potential newcomers can still get deals on high-rise product.
Off-Strip product such as Turnberry Place is selling for $300 a square foot, Sher said.
But these low prices won't last forever, as some high-rise communities are recovering at a slower pace than others, he added.
Vaknin's group also made a bulk purchase at the end of 2013 of several communities across the valley. In downtown Las Vegas, the group purchased 250 of the 275 units at The Ogden, with 116 remaining; and 306 of the 341 units at Juhl, a multibuilding community that contains midrise, high-rise, brownstones and live-work options. Juhl is being converted from rentals to sales in April.
The $237 million acquisition from a partnership between the Federal Deposit Insurance Corp. and ST Residential, a division of Starwood Hotel Group, also included Loft 5 and Spanish Palms and One Las Vegas. ST Residential and the FDIC formed a partnership in 2009 to take over 100 troubled loans, scattered across the U.S., from failed lender Corus Bank.
Over the past several years, things have been on an upswing for the high-rise sector in the number of units sold. According to data from the Greater Las Vegas Association of Realtors, there were 636 such units sold in 2014, compared to 2015's 734 high-rise units. In 2016, that number increased to 820 units traded through GLVAR's multiple listing service.
Vaknin's group has been moving quite a few units. KRE and partners have nine units remaining in Spanish Palms after it purchased 188 of the 372-unit community in 2013. There are 225 units left to move in One Las Vegas. His group also sold a 241-unit holding at the 272-unit Loft 5 for $51.5 million in November in a bulk sale.
Across the sector, the median price on high-rise product has not followed suit with the number of units moved. In 2014, the median price on high-rise units was $299,500, according to GLVAR. That number fell to $259,950 for the 820 units moved in 2016.
Vaknin said he is expecting improvements in sales because of the Raiders, but the combination of things like the National Hockey League coming in and the UNLV Medical School will work together to help sales in the entire valley.
"I think what the Raiders stadium kind of represents for Las Vegas right now is it's part of this larger momentum of excitement that is happening in Las Vegas — progress, development and Las Vegas becoming a more dynamic city," Vaknin said.
High-rise product may not be the only real estate affected by the new stadium.
The site is yet to be determined for the new Raiders' home, but it could be constructed on a parcel of more than 60 acres that sits along Dean Martin Drive, just west of Interstate 15, between Russell Road and Hacienda Avenue.
Another potential site for the stadium has been the Bali Hai Golf Club, at Russell Road and Las Vegas Boulevard South. The stadium's developers are expected to make an announcement on the subject later this month.
Wherever the site of the stadium may land, residential real estate that sits within a certain proximity to the stadium could see a jump in pricing and the number of units sold.
Ten-X, a firm that owns an online real estate marketplace along with producing market research, performed a study in mid-2016 on 12 stadiums built between 1990 and 2015 in various cities across the U.S.
The study shows sales volume, or number of units sold, in ZIP codes within 3 miles of a new professional sports stadium outpaced the metro area outside of that radius 80 percent of the time within the first five years of a stadium being announced.
Rick Sharga, chief marketing officer at Ten-X, said a lot of the increase was due to new homes being constructed in those areas.
In other instances, there were infrastructure improvements brought in that encouraged people to move into the general area, he added.
Homes within that 3-mile radius also saw increases in pricing 50 to 60 percent of the time over the rest of the metro area within a five-year window of the stadium being announced.
Las Vegas home prices overall have come a long way since the recession already.
In April 2011, the new home market bottomed out at a median price of $188,450, according to data from Homebuilders Research. That number has risen to about $330,000, data from Applied Analysis show.
The existing home market has also seen strides, going from a median price of $123,000 on single-family homes in March 2012 to $242,000 in March 2017.