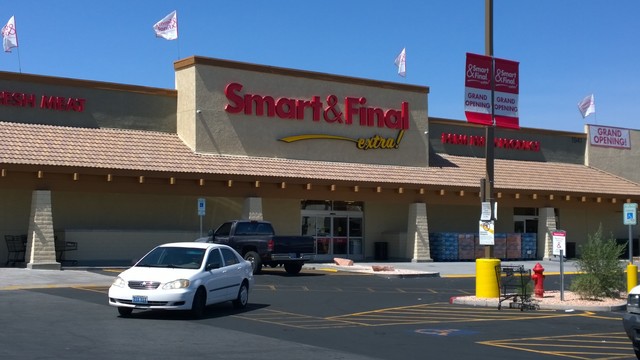 The Greater Las Vegas Association of Realtors' recent housing market analysis reported a jump in the median home price for an existing single-family home in the valley. Leadership at the agency said the increase in January is a rare occurrence.
The median price for existing single-family homes sold through GLVAR's multiple listing service was $238,000, up 1.3 percent from December 2016 and 8.7 percent from January 2016, when the median price for a single-family home in Las Vegas was $219,000.
David J. Tina, who took over as president of GLVAR at the start of 2017, said it's rare to see a jump in home prices in January, which is typically one of the slowest months of the year.
Tina pointed to several factors that have affected home prices in the valley: an improving local economy, home prices that are still lower than those in California and a growing population in Las Vegas, which is increasing about 2 percent a year.
The number of homes sold in the valley was also on the move in January. At the end of January 2017, GLVAR reported the sale of 2,675 single-family homes, condos and townhomes. This was up from 2,348 in January 2016 — a rise of 14.1 percent in the single-family market and up 13.2 percent in the condo and townhome market.
The annual number of homes sold was also up. In 2016, there were 41,720 properties sold in the valley, compared to 2015's 38,577 number.
California-based development firm acquires shopping center
Sherman Oaks, California-based Agora Realty and Management, a real estate development firm, acquired a nearly 101,000-square-foot shopping center at 1941 N. Decatur Blvd. for just over $10.2 million.
"We really like grocery-anchored centers, and this one, in particular, had a great deal of value-add opportunity," said Cary Lefton, CEO of Agora Realty. "When compared to local market data, it proved that there was an immediate opportunity to lease up the vacant space, plus increase current rents. The firm is planning a facade renovation for the center and is in negotiations with additional national retailers."
The center sits on 9.26 acres. The property contains a Smart &Final, Carl's Jr. and Little Caesars Pizza restaurant. The center is 71 percent occupied.
The acquisition adds to Agora's Las Vegas portfolio. The group purchased a 200,000-square-foot retail shopping center in North Las Vegas in mid-2016. That property is 55 percent leased, the company reported in a written statement.
Nationally, Agora has a portfolio of 1.2 million square feet of real estate, which includes a mix of properties in Hawaii, California and Nevada.
K2 Energy Solutions sells industrial building
Lithium ion battery manufacturer K2 Energy Solutions in Henderson has sold an industrial building at 7461 Eastgate Road for $2.63 million, according to researchers at CoStar.com.
According to CoStar.com, the 19,931-square-foot industrial building was sold to Pro-Motion Distributing, a company that distributes products for manufacturers across several sectors: office supplies, home goods, industrial supply and other categories.
The seller was represented by Ben Millis, Chris Beets and Dave Wrzesinski of Newmark Grubb Knight Frank. The buyer was represented by Glenn Wilcox of Ohana Realty Group.