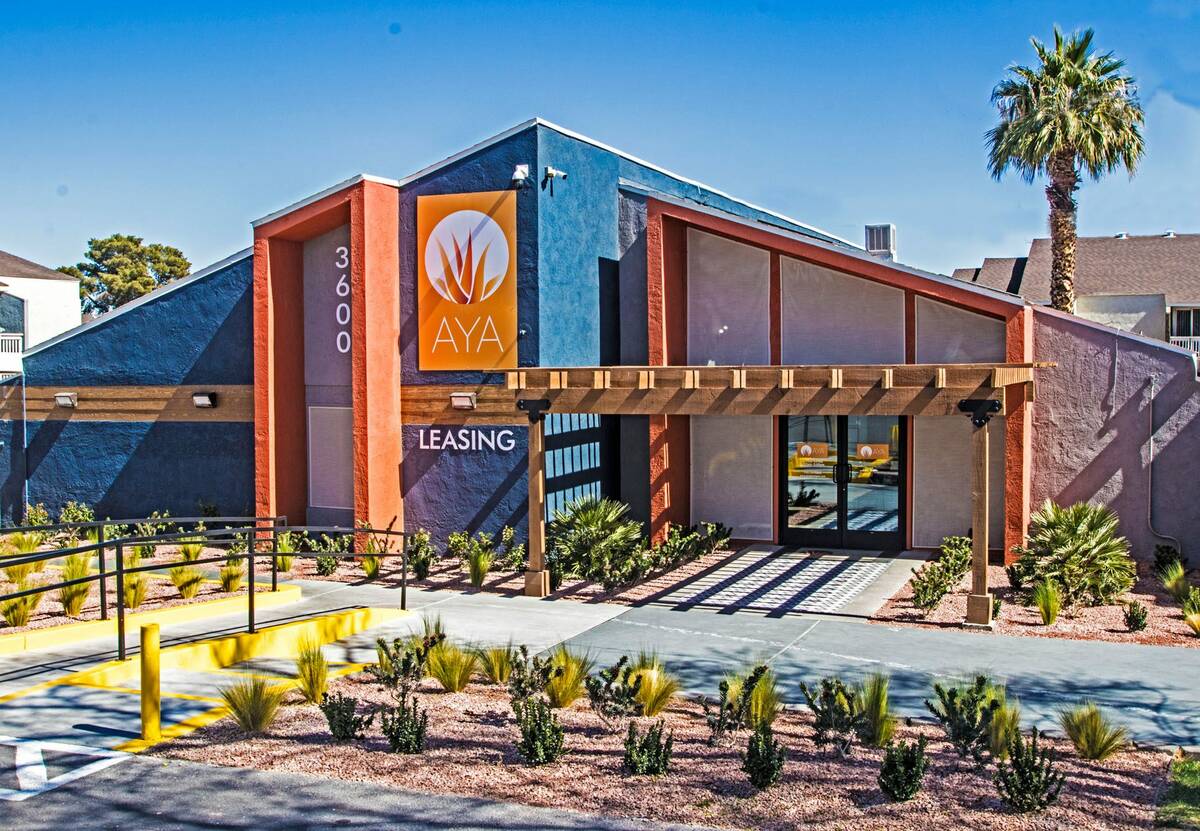 LAS VEGAS, NV – November 16, 2021 – KTGY, a leading full-service architecture, branding, interior and planning firm focused on residential, retail, hospitality and mixed-use developments, today announced the grand opening of Obsidian, a single family community within the Summerlin Masterplan. Geared toward young professional buyers, the collection of 94 single family homes utilizes an efficient footprint to help mitigate high costs in an often-expensive area.
Featuring modern and contemporary designs, the homes range in size between 1,355-1,899 square feet and offer two to three bedrooms across five floorplans. Each home includes at least one office area, a design feature introduced due to the increase in people working from home. Further, the combination of both front-loaded and rear-loaded floorplans creates a diverse streetscape that takes advantage of the existing topography; the result provides unobstructed views of the Las Vegas strip, while also providing private yards where possible. The plans are also a mix of 2 and 3-stories tall, delivering living arrangements for the various needs of the target buyers.
"Designing towards specific goals leads to great results," said Bill Ramsey, principal at KTGY. "At Obsidian, KTGY crafted thoughtful floorplans that address the needs of families and young professionals that will allow them to live and work in a home that is unique to them."
The homes are located within the Summerlin Masterplan, an amenity-rich area known for its strong schools, outdoor activities and entertainment options. Situated on a hillside site, with the Red Rock Mountains to the West and the Las Vegas Strip to the east, KTGY worked to ensure all homes have unique views. "It's rare for a site to have such amazing views in multiple directions. It was imperative that we utilize the existing topography to coproduce an efficient solution that provides a benefit to as many homes as possible", Ramsey says.
To emphasize the importance of blending indoor and outdoor living in a small lot design, KTGY maximized outdoor space with a mixture of covered and uncovered areas on multiple levels of each house and most homes have three separate outdoor spaces. Additionally, the homes feature multiple large window assemblies to help make the spaces feel larger.
The various roof styles bring a diverse streetscape to the neighborhood, mixing gables, shed and flat profiles. KTGY incorporated scored stucco, a favorable material for the Nevada climate, to create a horizontal rhythm on some of the elevations as well as masonry accent materials for additional texture and contrast.
"KTGY was able to create home oasis and bring to life a healthy living environment for Woodside Homes said Michael Colandone, Sales Professional for Woodside Homes. "From the conscious comfort features to the extensive indoor and outdoor living and the trendsetting architectural design, the Obsidian community will make its residents feel like their home is the happiest place on earth."
KTGY worked with Howard Hughes and the builder, Woodside Homes of Nevada, to ensure the architecture and design complied with the guidelines put in place by the Summerlin Design Review Committee. The three stages of design and review processes ensured the final results were aligned with the masterplan design intent.
KTGY brings over 30-years of experience with single family homes and mixed-use communities with deep experience with families, young professionals and seniors. In addition to Obsidian, KTGY also designed the Chōwa House in conjunction with Woodside Homes in the Las Vegas area.
About KTGY
Founded in 1991, KTGY is a leading full-service architecture, branding, interior and planning
firm focused on residential, hospitality and mixed-use developments and neighborhood
revitalization. We envision a future where residential and hospitality design inform one another
to deliver spaces that merge design and desire. ​KTGY's architects, designers and planners
combine big picture opportunities, leading-edge sustainable practices and impeccable design
standards to create memorable destinations of enduring value. Visit www.ktgy.com.
About Woodside Homes
Woodside Homes, one of the top 30 homebuilders in the U.S., is celebrating its 42nd year in the business of designing and building single-family homes for move-up and entry-level buyers. In 2017, Woodside Homes was acquired by SEKISUI HOUSE, one of the world's largest homebuilders. The two companies joined forces with their shared philosophies in creating sustainable communities that grow and adapt to the needs of today's homebuyers.
Founded in 1960, SEKISUI HOUSE has constructed more than two million homes. Based in Osaka, it has approximately 90 subsidiaries and affiliates, 23,000-plus employees, and is listed on the Tokyo Stock Exchange and Nagoya Stock Exchange. Since 1997, SEKISUI HOUSE has positioned its commitment to the environment as a core management target and provided numerous environmentally and sustainably conscious products as a front-runner among industrialized housing manufacturers.
Woodside Homes is dedicated to being "Better by Design," delivering an exceptional experience to every customer and acting as a trustworthy, knowledgeable guide throughout the home buying process. Woodside has sold more than 43,000 new homes since inception, and according to Hanley Wood data, it is the 27th largest homebuilder in the United States. The partnership with SEKISUI HOUSE allows Woodside Homes to evolve and adapt cutting-edge methods in sustainability and efficiency practices. For more information visit http://www.woodsidehomes.com/.
###
$105.9 million sale of 557-Unit AYA Apartments Brokered by
Avison Young in Las Vegas, NV
Las Vegas, NV – Sauter Multifamily Group, of Avison Young, is pleased to announce the closing
of the $105.9 million sale ($190,126 per unit) of AYA Apartments, a 557-unit property located
at 3600 University Center Dr, Las Vegas, NV 89169 (Clark County).
Avison Young Principals Patrick Sauter, Art Carll-Tangora, and Steve Nosrat are pleased to
have had the opportunity to advise the seller and facilitate the sale of the property. The
current seller had acquired the asset in 2019. The Sauter Multifamily Group was also
involved in that sale.
The property was previously an affordable property. The actual LURA restrictions expired
several years ago and the 3-year tail period that required to keep tenants in place expired in
March of 2021. As a result, all units are in the process of going to market rate.
Built in 1973 and renovated in 2019, the property features a mix of studio, one-, two-, and
three-bedroom apartments in a two-story garden style layout across 42 buildings and
171,692 SF GBA. AYA is located just minutes from the University of Nevada Las Vegas. The
name of the street was recently changed from Swenson to University Parkway as part of new
campaign to enhance the neighborhood. The City is investing a lot of money and resources
into this submarket because it is adjacent to the Convention Center, and they just invested
more than $2 billion into its expansion and renovations.
For more information:
Patrick Sauter, Principal
702.475.7726
Patrick.Sauter@avisonyoung.com
Art Carll-Tangora, Principal
702.780.6765
Art.Carll@avisonyoung.com
Steve Nosrat, Principal
702.780.6758
Steve.Nosrat@avisonyoung.com
News Release
The Sauter Multifamily group principals have been involved in investment and commercial real estate in
Las Vegas since 1992 and have brokered over $6 billion in transactions consisting of multifamily units,
retail centers, office buildings and land.
Avison Young creates real economic, social and environmental value as a global real estate
advisor, powered by people. As a private company, our clients collaborate with an empowered
partner who is invested in their success. Our integrated talent realizes the full potential of real
estate by using global intelligence platforms that provide clients with insights and advantage.
Together, we can create healthy, productive workplaces for employees, cities that are centers for
prosperity for their citizens, and built spaces and places that create a net benefit to the economy,
the environment and the community.
Avison Young is a 2021 winner of the Canada's Best Managed Companies Platinum Club
designation, having retained its Best Managed designation for 10 consecutive years.
www.avisonyoung.com
Follow Avison Young
Twitter (News) │ Twitter (Deals) │ Blog │ LinkedIn │ YouTube │ Instagram
All Century Communities and Century Complete Homes Now Available for Purchase Online!
Marking Industry Milestone, Century Communities Expands Industry-First "Buy Online" Experience to Include All Homes
GREENWOOD VILLAGE, Colo. — Century Communities, Inc. (NYSE: CCS), a top 10 national homebuilder, announced that it has expanded its industry-first online homebuying experience to include all homes throughout its national footprint which encompasses operations in 17 states and over 40 markets. The organization's online "Buy Now" experience was initially pioneered more than three years ago through its Century Complete brand, offering streamlined new homes More Home, Less Money™. Homebuyers may also now purchase homes within the Company's Century Communities brand with the same online ease and convenience. Century Communities' online homebuying expansion comes as the Company celebrates another major milestone: its 20-year anniversary.
"Delivering A Home For Every Dream™ means removing as many barriers to homeownership as possible," said Dale Francescon, Chairman and Co-Chief Executive Officer. "Having already set the standard for online homebuying with Century Complete, we're excited to make this tried-and-true model available to all Century Communities homebuyers."
The Company recognizes that today's buyers want the convenience of shopping from anywhere and at any time—whether on-site at a Sales Center or model home, during the evening from the comfort of their couch, from their desk at the office, or even while traveling. Century's fully online sales model is further enhanced by a full suite of virtual and digital homebuying tools, including online prequalification, electronic earnest money deposit, virtual tours, digital contract signing and more.
"We're proud to remain at the forefront of online homebuying, empowering buyers by putting them in complete control of where and when they purchase their dream home," said Rob Francescon, Co-Chief Executive Officer and President. "In addition, we'll continue to complement this virtual experience with in person sales teams available to walk-in buyers through the process, schedule and conduct home tours, offer guidance on home financing and more."
ONLINE HOMEBUYING IN A FEW EASY STEPS:
Shop homes at www.CenturyCommunities.com
Click "Buy Now" on any available home
Fill out a quick Buy Online form
Electronically submit an initial earnest money deposit
Electronically sign a purchase contract via DocuSign®
And that's it! You've officially bought a new home—completely online.