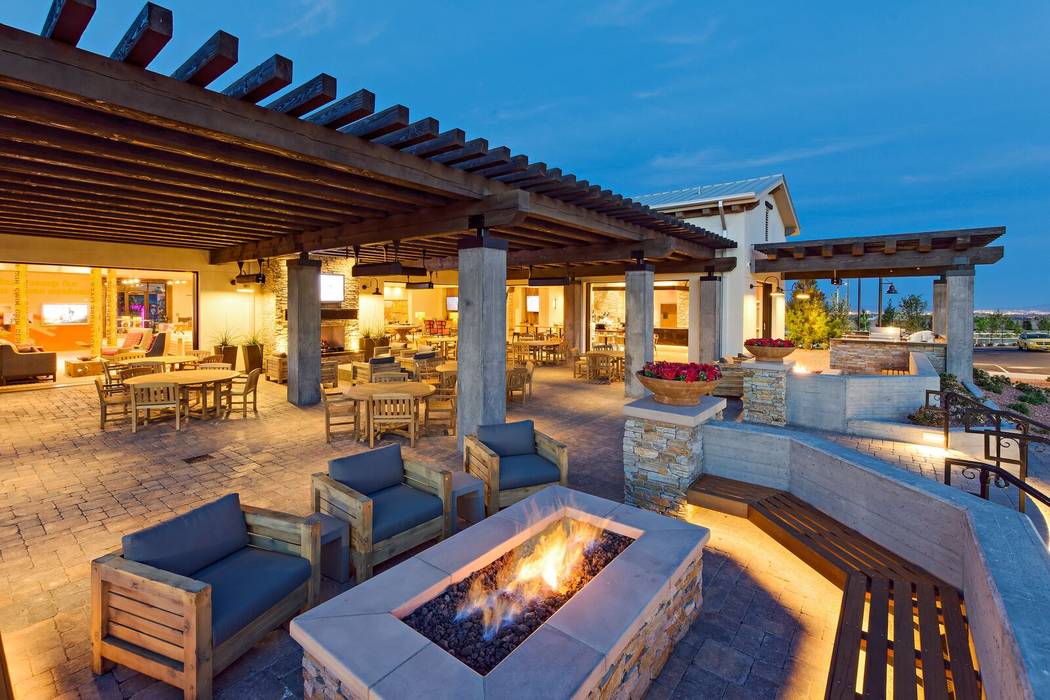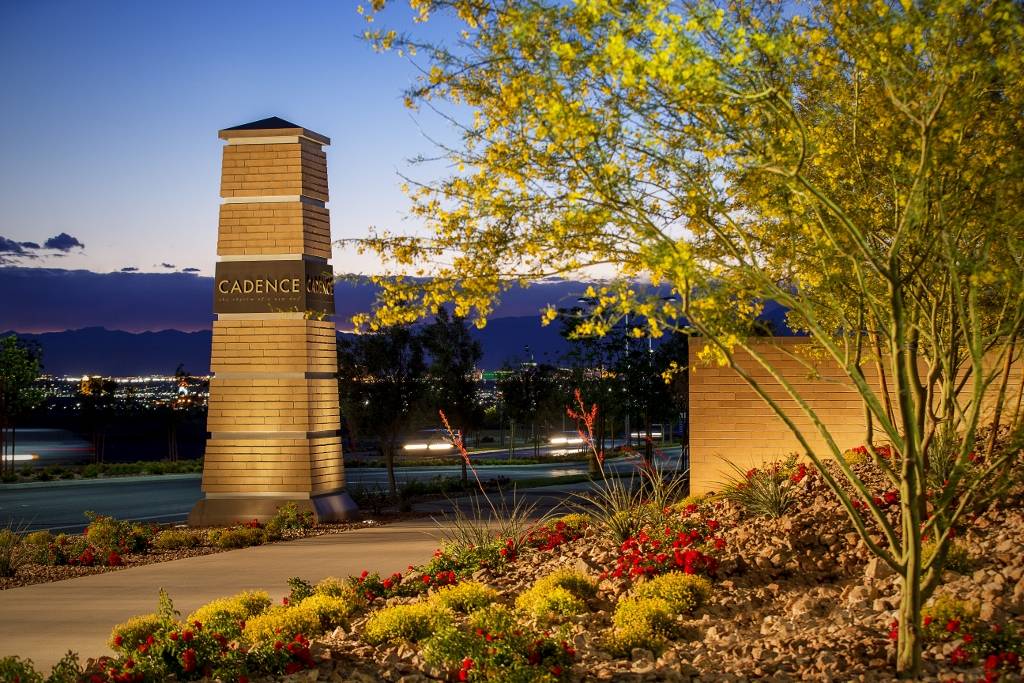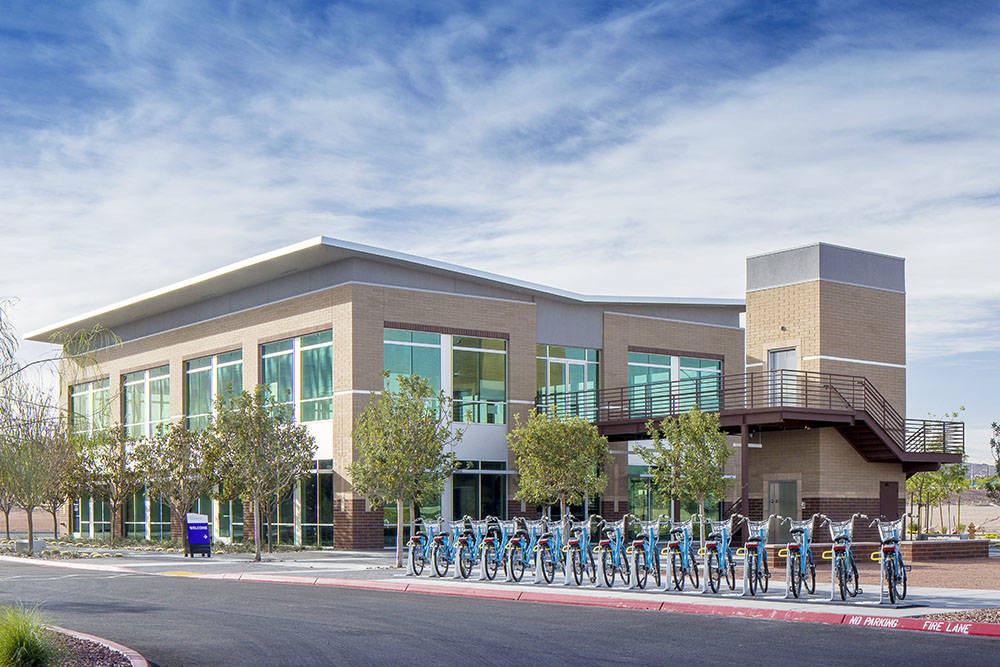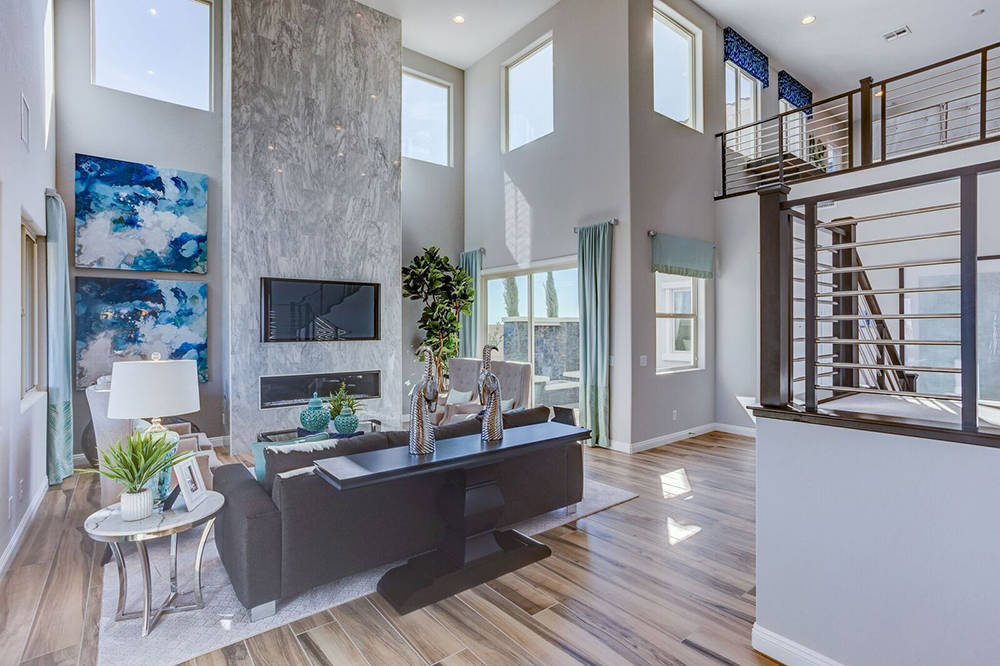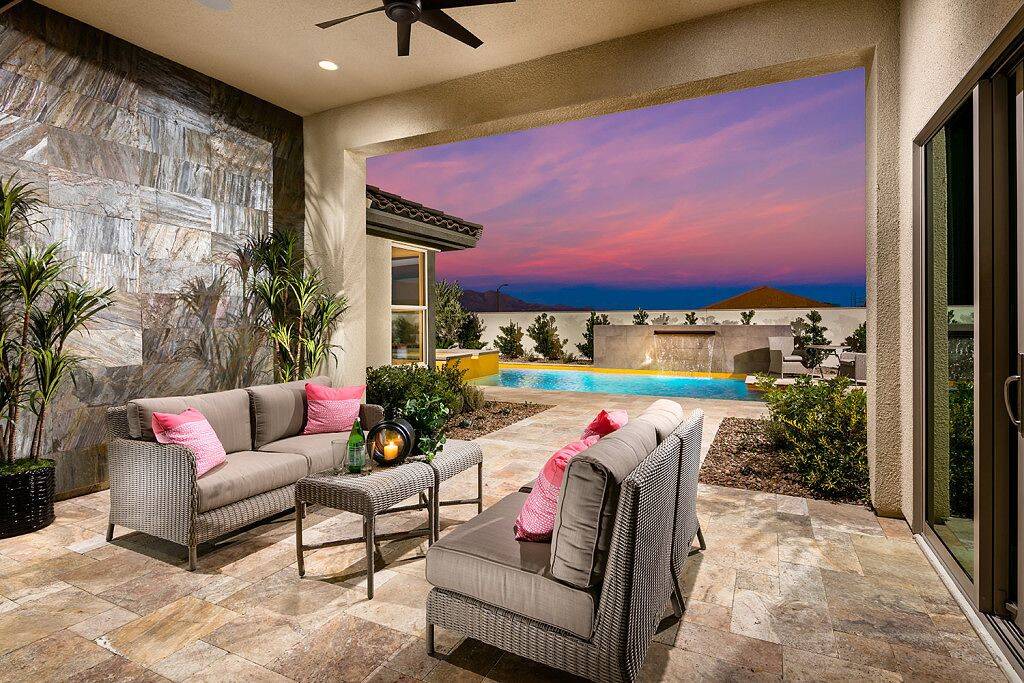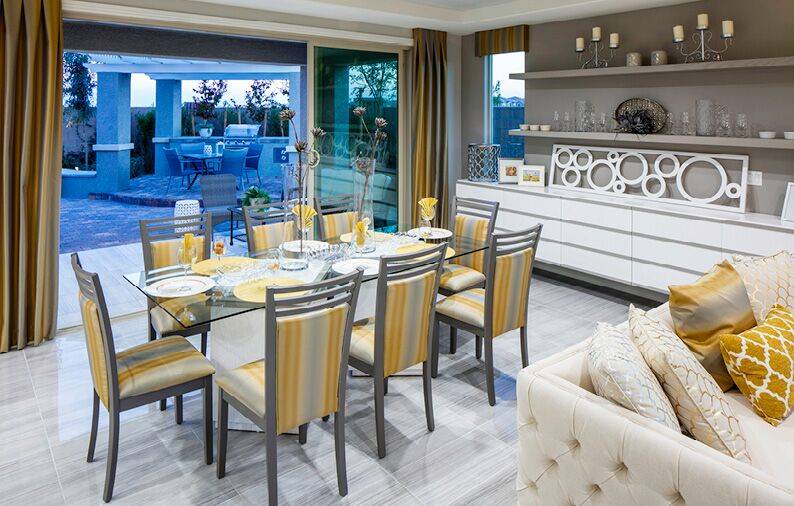 Southern Nevada master-planned communities continue to lead the way in new home sales and that trend shows no signs of slowing as the newer developments start to take off in the valley.
RCLCO, a Florida-based national real estate consultant, and California-based John Burns Consulting, released their annual list ranking the top-selling master plans in the country.
Summerlin, a development of The Howard Hughes Corp., gained two spots in 2017 to No. 4 in the nation with 1,052 sales, John Burns Consulting reported. That's 37 percent higher than the 769 in 2016, according to the research firm.
Inspirada, a project of a consortium of builders in Henderson, kept its No. 8 national ranking even though its sales jumped 48 percent in 2017 to 837, up from 564.
Cadence in Henderson, a project of The Land Well Co., jumped 13 spots to No. 23. It had 456 sales in 2017, a 36 percent gain from 335 in 2016.
Mountain's Edge, a project of Focus Property Group, dropped three spots to No. 41. It had 345 sales in 2017, a 9 percent gain from 317 in 2016.
Another Focus development, Providence, dropped off the top 50 list. Both projects, which have been around for more than a decade, are nearing the end of their build-out.
A newcomer to the list is Skye Canyon, a project of the Olympia Cos., came in at No. 47. It had 315 sales, a 93 percent gain over 163 in 2016 when the development opened.
What's happening in Las Vegas is part of a national trend of strong master plan sales. The top 50 communities accounted for 28,329 sales in 2017, a 19.6 percent gain over 2016, according to John Burns Consulting. The master plans combined 2017 sales represent about 4.5 percent of all new home sales nationally, the firm reported.
In its report, RCLCO, cited a strong Nevada economy for the growth in master plans new home sales "as well as a significant number of buyers who are relocating from higher-priced California."
John Burns Consulting reported it's been tracking "significant sales improvement" in Las Vegas and Phoenix over the last 12 to 18 months.
"Developers and builders report improved demand across the full spectrum of buyer types and submarkets," the John Burns report said. "Steady job growth supports demand, with a boost from retirees in Phoenix and Californians relocating to Las Vegas. Phoenix and Las Vegas are still gaining traction in their recoveries following their huge construction booms and busts."
Gregg Logan, managing director of RCLCO, said the numbers show that master plans in Las Vegas are "doing very well, and that many people are inspired to buy there with the amenities they provide from parks and trails to recreation centers.
"What's interesting in Las Vegas is how well the master plans have done relative to the market," Logan said. "The market is fine, but the master-planned communities are getting a larger share of the market. People are not only seeing them as a good place to live with the attractive lifestyle but maybe see it as a better investment."
Logan said that during the housing downturn a decade ago, Southern Nevada was hit hard by its depreciation. It was one of the worst markets in the country in terms of homes underwater in which buyers owed more on their mortgages than their homes were worth.
"Coming out of the recession, the master plans bounced back a lot faster in terms of value," Logan said. "People seem to be recognizing that and how they get more for their money than a typical builder subdivision."
The top-selling community in the nation in 2017 was The Villages in Florida with 2,231 sales. It was followed by Irvine Ranch in Orange County, California. Lakewood Ranch in Sarasota, Florida, was third just ahead of Summerlin.
In its report, John Burns said Summerlin is an example of appealing to a wide variety of local and out-of-state buyers with homes priced between the mid-$300,000s to more than $2 million.
In citing Summerlin, Logan pointed to its many subdivisions with a variety of options for buyers from move-up with families to retirees, and different price points for them. He said the opening of Downtown Summerlin in 2014 with its retail and entertainment options totaling 1.4 million square feet has served as a further impetus for sales.
Logan cited not only Summerlin but the other master plans for attracting people with parks and trails and promoting fitness and an outdoor lifestyle.
"If I picked a common element of Summerlin, Cadence, Skye Canyon and Inspirada is they make a strong lifestyle appeal," Logan said. "They have a lot of parks and jogging trails. You can go buy a house in a very nice subdivisions that have modest amenities, but these master-planned communities offer a lifestyle that you're not just buying a house but buying into a community. People seem to be willing to pay a premium to be in a master plan."
Summerlin, meanwhile continues its comeback in the rankings after dropping dramatically during the recession and housing downturn. That's quite a rebound for Summerlin, ranked No. 1 eight times between 1994 and 2002, Logan said. Summerlin had fallen to 25th in the nation in 2011.
The continued gains of new home sales had been forecast by Howard Hughes executives for 2017. They unveiled a two-pronged strategy to grow market share in the future by not only offering higher-end homes on hillside lots but smaller and more affordable housing in the flatlands. More than 6,000 acres out of the 22,500 acres that encompass Summerlin is available for development. It's home to about 100,000 people and has entitlements to build about 40,000 more housing units that could double that population.
In 2017, Summerlin said it opened 10 new neighborhoods and two new villages. Two new public elementary schools brought the total number of schools to 25. City National Arena, the practice facility of the Vegas Golden Knights, opened. A 10,000-capacity baseball stadium for the Las Vegas 51s will open in 2019. And Summerlin's 10th golf course, The Summit, opened as part of an exclusive luxury residential enclave that will resemble a resort. In addition, office development and company relocations are taking place in Summerlin.
Kevin Orrock, president of Summerlin for The Howard Hughes Corp., said coming out of the recession, Summerlin had 10 neighborhoods selling, but they're more than 35 neighborhoods selling today at different price points and styles ranging from $250,000 to more than $1 million to serve everyone from millennials to empty-nesters to retirees.
The 1,052 sales in 2017 is a number Summerlin hasn't seen since 2006, and Orrock said the expectation is that will be surpassed in 2018 in its 28th year of development.
"This tells everybody that Las Vegas is back and Summerlin is back significantly from the recession," Orrock said of the rankings. "We dropped out of the picture during the recession, but we climbed back fairly quickly. I had always predicted that within five to six years we would be back in the top five and fortunately that prediction came through. That says there's significant residential demand in Summerlin. There's a lot going on that makes it attractive and with the Raiders (relocating to Las Vegas in 2020) and Golden Knights, this economy is going to have another leg up over the next several years."
Inspirada in Henderson continues its strong showing after the community of more than 1,900 acres was launched in 2006 just before the recession hit. It didn't develop momentum with sales until 2012 and 2013 and is now under control of four builders, KB Home, Pardee, Beazer and Toll Brothers. Century Communities owns one parcel.
"We're very excited about the rankings," said Brian Kunec, division president of KB Home said on behalf of the builder group. "This is multiple years we have been ranked now in the top 10 selling master plans in the country. To the builder group out there, it's no surprise. We have developed a fabulous master plan. There's 2,500 households closed up to this point and potential to build up to 8,500 units. The amenities are a big selling point. We have up to 85 acres in parks and trails. There are a lot of amenities for kids to play, and it's really matured to a great master plan."
The home prices range from $209,990 for a town home that measures 1,366 square feet to more than $500,000 single-family detached home, Kunec said.
"I am bullish on Inspirada," Kunec said. "The best has yet to come to west Henderson. If you drive out, there's a lot of commercial development that's coming. A mile-and-half up the street the Raiders are going to build their practice facility, headquarters and medical facility on that campus right by the Henderson Executive Airport. That area has a lot going for it, and the future is bright."
Cadence in Henderson continues to be an up-and-comer in the residential market since it started selling in December 2014 on its 2,200-acre site. It's in the first phase of the development with a build-out of 13,250 residential units in 10 to 15 years. It reported 880 sales and 691 closures so far, according to Cheryl Gowan, vice president of marketing for Cadence.
"We hit our stride in 2017, and the economy is doing well and we're looking for more of the same in 2018," Gowan said. "We're very proud and excited Cadence has moved up in the rankings, and we have got some great builders and affordable home options for folks. There's something for entry-level homebuyers to move-up to empty-nesters that has positioned us to move up in the rankings."
The price points start at $264,000 and go to the mid-$400,000s, Gowan said.
At Skye Canyon in northwest Las Vegas, Desiree Van Leer, marketing manager at the Olympia Co., said they are excited to crack into the top 50 after opening in March 2016. Builders have sold just under 500 homes and will have a build-out of between 7,000 and 8,000. Development is underway for its Phase Two.
"2017 was a wonderful year for us, and we are getting more ramped up," Van Leer said. "We anticipate 2018 will be just as strong if not stronger than 2017.
The price point of the Skye Canyon homes range from $299,000 to $500,000.
Mountain's Edge and Providence had led the way in the valley's rankings for much of the last decade because they've sold more affordable homes, but the master plans are running out of land for building, which has prompted their fall in the rankings.
At Mountain's Edge in the southwest valley, Bill Boschetto, a broker and partner with Focus Property Group, said there were a total of 11,268 closings at the end of 2017, and there are another 600 to 700 single-family homes, both attached and detached, left to sell in the build-out. The development opened in 2004 and it should take two more years before it's sold out.
Providence, which opened in 2006, has had a total of 6,468 closings with a planned build-out of 8,579 units. There were 221 closings in 2017.
"We didn't make the top 50 because the project is winding down and a lot of other projects around the country are in the first third of their life when they hit that sweet spot when they sell like hotcakes," Boschetto said of the master plans. It's a good thing that the project is selling out. It's a great feeling to drive through and see people living and enjoying themselves and the landscape maturing. We would like to be in the top five, but we're not there anymore. We were in the top six in Mountain's Edge through the heart of the project and the heart of the downturn and Providence was usually three or four behind it."
The tough part going forward will be replacing projects like Mountain's Edge and Providence because of the difficulty to acquire large parcels of land to do what master-plan developers do, Boschetto said.
"For someone to come out and buy 2,000 acres of land with a lack of financing available for master plans for land, it's going to be tough. There's not much in terms of large parcels to even do a master plan. If the Bureau of Land Management decides to release more (federal) land, I'm still not sure how they will sell the land. Will it be 50-acre chunks or a 1,000 acres at a time? The disheartening thing is where do we go from here. Can we do another project?" Boschetto said.
It's not surprising master plans are dominating home sales in the valley. It's proven over time that builders sell more homes at higher prices in those communities, he said.
"I think it's fantastic for the city that we have multiple master plans," Boschetto said. "I wish they were our master plans, but you can't have it all."