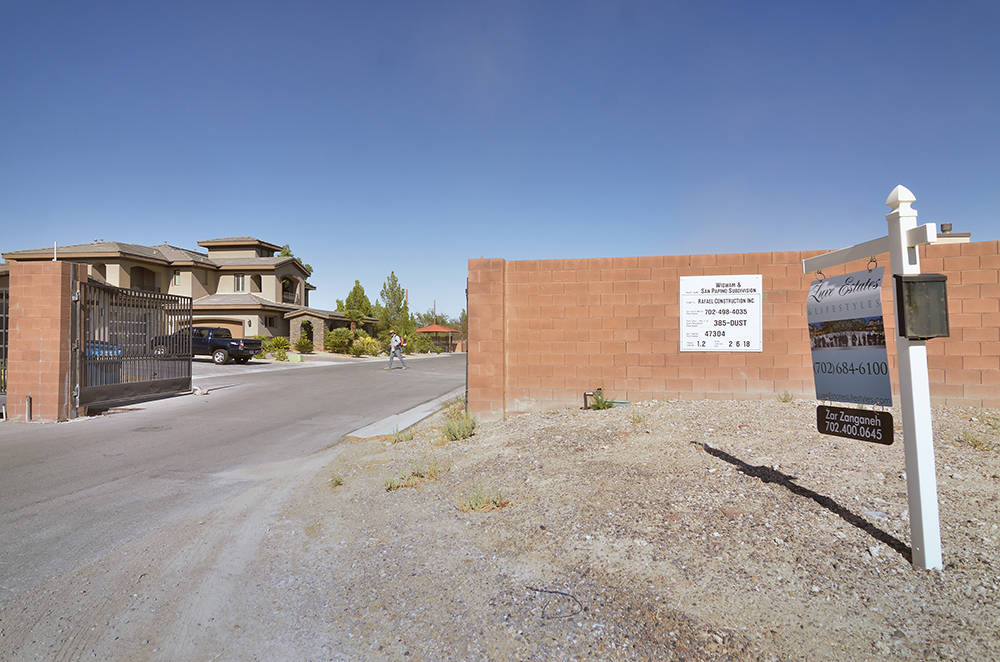 For a variety of reasons, one section of southeast Las Vegas is gaining the attention of residential and commercial developers but the main one may be that old real estate axiom, location, location, location.
Windmill Lane east from Las Vegas Boulevard to Bermuda Road and south to Pebble Road has changed from a sleepy horse community close enough to, but well away from the Strip businesses to a throughway for commuters on their way to work in other parts of the valley. One reason why may be due to its proximity to the Interstate 15 and I-215 Beltway interchange.
Many former ranch homes lining Windmill are boarded up, waiting to be bought by developers. Other lots have been cleared except for signs providing contact information.
The streets of this neighborhood, known as Enterprise Township, are lined with mainly single-story ranch homes on lots sized a half-acre or greater. The minimum requirement for R-E (residential estates) zoning.
D.R. Horton bought enough parcels in 2015 and had them rezoned to a lower density that made sense for the large builder to do a project there, but smaller developers are mining the area as well.
Lux Estates, helmed by Realtor/broker Zar Zanganeh teamed up with Rafael Construction to create San Pepino Court, a semi-custom, four-home, gated community near Wigwam and Bermuda roads. The location is very desirable, he said.
"It's so convenient to Henderson, Silverado Ranch and the Strip. There are only a few areas in town with zoning only for half-acre lots and most of them are in the northwest."
The project is being driven by buyers seeking single-story homes on larger lots than are available in communities like Red Rock Country Club or Anthem and frustration over floor plans. All are zoned R-E, are 4,800 square feet and are priced just under $1 million.
"The resale market definitely has a tight inventory, and we're not always able to get the floor plan that buyers want," Zanganeh said. "Resales are older floor plans with features like formal dining rooms that are a waste of square footage to many of today's buyers. There's a huge need for this type of development."
The company is completing the homes in about 90 days, and is planning on announcing four more projects soon, Zanganeh said. They also have projects in Southern Highlands, the south and southwest parts of town.
A few blocks away, Liberty Homes, a locally based semi-custom builder is working on phase two of a project at Ford and Bermuda roads. Consisting of a gated cul-de-sac with four homes, the first phase was completed last year. Company owner Joe Whatley said they build about a dozen homes per year around the valley and specialize in semi-custom, single-family homes with recreational vehicle garages, on a half-acre or larger home site.
"We really can't build our product on anything less than that. A ranch-style home requires that," Whatley said.
Most of their customers are retirees or "first homebuyers who know what they want and want to be able to make changes and personalize them, like a commercial kitchen, workshop in the garage, or a place to store toys or a car collection," Whatley said. "Those people who have the financial wherewithal to purchase upward of $700,000 or $800,000 home or more, really want what they want. They want to pick their own options and personalize their home, as opposed to buying somebody else's dream home."
Liberty Homes also builds in the northwest part of town, which has many older, larger horse properties that could be developed, but sees a demand in the southeast part of town, where such properties are scarce.
Other builders in the area have sought rezoning to higher density to meet the demand, but Whatley, who said he worked for Pulte Homes for 14 years won't follow their lead.
"They and D.R. Horton and some other large ones have the time, wherewithal and the financial means to try to rezone to get higher density. I just don't do that," he said. "It's cost-prohibitive, and quite frankly I've always felt that we should play by the rules, so to speak. I don't want to go in and ask for zoning variances and change the underlying master plan the county has put together. If we play within that sandbox, we play by the rules and still build a quality product … they had a vision when they came up with the half-acre minimum standard."
Zanganeh agreed. "We are not going to rezone. We stick to the current zoning and try to make it work on that land."