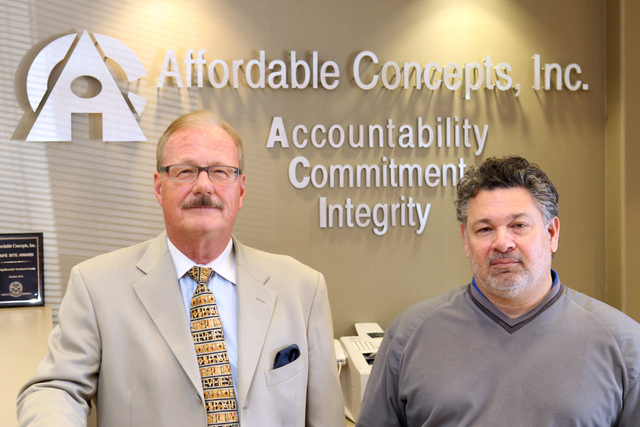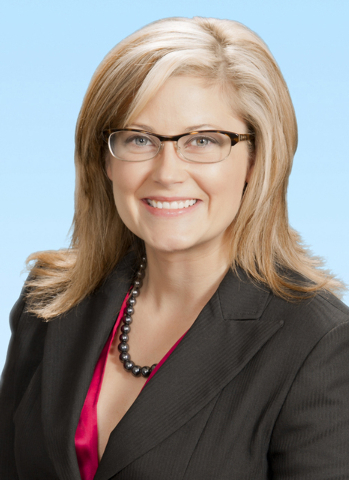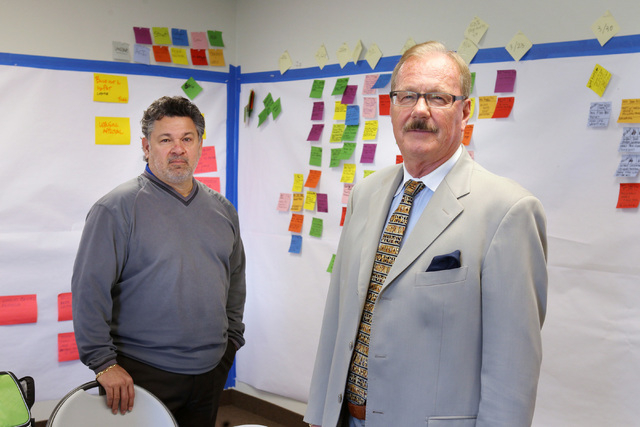 The Affordable Care Act and the rebounding real estate market in the Las Vegas Valley have been game changers for the medical construction industry in Las Vegas.
"Pre-ACA, reimbursement dollars were for volume and filling beds and not reimbursements dependent on better outcomes: for example, keeping patients out of the hospital to reduce costs," said Stacy Scheer, a specialist in medical real estate at Colliers International.
According to Scheer, the direct result of the ACA's reforms show up in lower payments to providers and downward pressure on profit margins.
Out of that margin squeeze comes the formation of Accountable Care Organizations. Under this new structure, a network doctors and hospitals would share in the responsibility of taking care of a patient.
And that's creating an expansive infrastructure need that's driving new construction and the resurrection of mothballed projects.
"Given that the highest overhead cost for providers, second only to salaries, is their real estate, they're looking at all options to mitigate these costs," Scheer said.
Locally and nationally, hospitals are freeing up capital by doing sale-leasebacks, the process of selling a building and leasing it from the new owner, according to Scheer. Hospitals can then use this capital for facility upgrades, medical equipment and electronic medical records systems.
Scheer also said hospitals are moving nonacute, outpatient services away from the main hospital and likely into retail centers, where it's easier for patients to access the services and for the medical providers to draw these clients back to the their main facilities. Scheer blames decreases in profit, increases in construction costs and an organization's need to gain more market share as the reasons for the move.
Under a new payment model for Medicare patients, shared savings, providers would be paid incentives when they were able to keep costs low but still meet certain requirements on the quality of health care provided.
The Centers for Medicaid and Medicare Services estimated that Accountable Care Organizationss, which debuted in 2012, will save Medicare $940 million in the first four years.
That opens the opportunity for interrelated services under one umbrella.
Developers broke ground in October in Henderson on one such large-scale integrated project, Union Village.
The planned $1.2 billion health village will sit on 155 acres just east of U.S. Highway 95 on Galleria.
The center will have four parts:
▶ UnionCentre, a hospital and health care complex;
▶ UnionPlaza, a region that has a retail center containing medical offices, a separate area with residential apartments and an all-suite hotel;
▶ UnionPlace, a senior village;
▶ And UnionSquare, an area that will contain a space and science center and a performing arts theater.
The hospital is expected to open in the fall of 2016.
Other large-scale projects are also going on in the south part of the valley.
St. Rose Dominican Hospital, Siena Campus, will add its five-story tower this year with 107 beds, 11 of them in a neonatal intensive care. The 200,000-plus square feet of space will add to the emergency department at Siena.
The expansion brings much needed space for Siena.
"The Siena campus in particular has been restrained by capacity, underbedded, for a number of years now," said Teressa Conley, chief operating officer of the Siena campus.
But a lack of capital kept the hospital from adding on.
"It's just been in this last couple of years now that we were able to access the capital," Conley said.
The Affordable Care Act has had its effect on the hospital.
"Where we are seeing the growth is in the emergency department," Conley said. "A lot of patients come in there for care because it's a one-stop-shop."
But Conley says that they're trying to steer patients away from doing that because it's more costly.
Conley said Dominican's Dignity Health Medical Group has 30 physicians. But that number will be going up in the future.
"We're planning to more than double the amount of primary care physicians that we have, so that there is a network and a referral base for patients," Conley said.
Many victims of the slow economy are being brought back to life.
One project, Centennial Hills Center, stopped construction in 2008.
Today, Phase 1 is complete with 113,000 square feet out of the planned 290,000 square foot center. Seven single-story buildings ranging from 6,000 to 10,000 square feet, and one two-story, 60,000-square-foot building now stand on the property.
"Construction is completed on the shell buildings and all outside and inside improvements are complete," said Michael Young, listing agent for the property.
Two single-story buildings have been sold: one to Retina Consultants of Nevada and the other to Advanced Eye Care.
There are two other pending deals, Young said.
Phase 2 will probably break ground in late fall, Young said.
"We will hold off until we get further along on Phase 1," Young said.
On the west side, another project that was put on hold will be revived, giving birth to a new tower at Spring Valley Hospital.
Robert Potter, president of Affordable Concepts Inc., said he was 95 percent done with the plans and ready to submit them when the project came to a halt.
Potter said he didn't lose anything because construction never started.
The plans will be submitted in April, and Potter said his company will likely start construction in July.
Some of Potter's other projects also involve work in the west valley: a 28-bed expansion at a behavioral hospital on Spring Mountain, and a 48-bed expansion at Valley Hospital.
"There's a fair amount of behavioral beds coming online, not just the ones that we're doing. I think everybody's trying to fill that gap," said Potter.
Affordable Concepts has faced challenges with requests for building conversions. Nelson Cumana, vice president of Affordable Concepts, said the challenge comes when medical people approach him and want to convert a building without spending a lot of money.
"They're trying to find the space and say, 'OK, I can put this rehab in this building without spending a whole lot to modify it to make it work,' " he said.
"They are able to do some of it, but they're kind of limited in what the function of that space will be," Cumana said. Clinics are usually not an issue, but things such as ambulatory surgery get a little trickier, he said.
"If it's an ambulatory surgery, they're trying to find space for those in office or retail centers and that becomes difficult because there are so many fire ratings and building requirements that they can't meet," Cumana said. "So it doesn't pencil out real well."
Potter said that the reason there are so many conversions is because of cost.
"Unless it's a specific use that creates a lot of additional costs to renovate it, it's still cheaper to go into an existing office building and renovate it, than it is to build it out of the ground," Potter said.