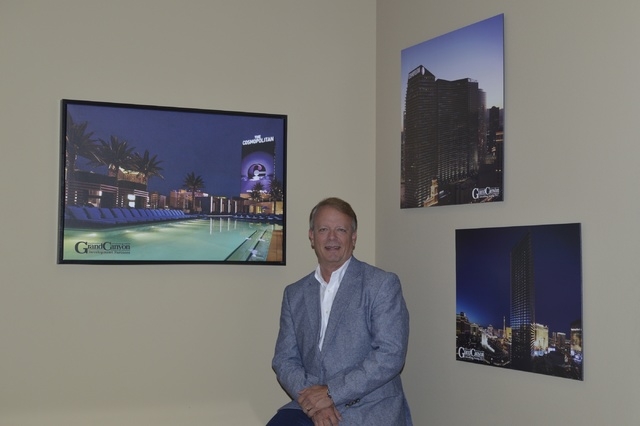 Sam Nicholson started his career in construction young.
At 15, he was running heavy equipment while attending Bisbee High School in Bisbee, Ariz. He earned his degree from the University of Arizona in Tucson and went straight to work with a highway contractor. He spent some time working in Wisconsin before returning to Arizona to work with Perini Building Co.
Nicholson spent almost 20 years with Perini, rising to be senior vice president. Then he started Grand Canyon Development Construction Inc. and shortly there after started Grand Canyon Development Partners.
Today he is owner and president of Grand Canyon Development Partners, which does most of its work in Southern Nevada along with some projects in Arizona and California.
In 2005, he founded the nonprofit Keep It Alive Foundation, a nonprofit organization providing scholarships and training opportunities to teens and young adults. The group awarded its first scholarship in 2014.
Nicholson spoke about his plans for the Lucky Dragon hotel-casino at a recent Associated General Contractors of Las Vegas and the Nevada Contractors Association quarterly luncheon at SLS Las Vegas. He says the Lucky Dragon should be completed within 15 months.
Q. Is there a particular project that you think represents the Grand Canyon Development Partners brand?
A. We have several projects that we are proud of. One that we're getting started on is Lucky Dragon. The one I think we're most proud of is, of course, The Cosmopolitan (of Las Vegas). It is a beautiful facility. (We are) very proud of the work that was done there, very proud of the team that pulled that together. It was an excellent team and a project that finished on time and underbudget, which for a project that size in this town is a remarkable feat.
Q. What is the main focus of what you do here at Grand Canyon Development Partners?
A. We help owners and developers manage the very arduous process of developing real estate and managing that whole construction process. Ideally, we would be involved from the very inception of when the project became an idea all the way to opening. We very successfully help them in obtaining all the entitlements that they need, the regulatory approval, the utility approvals, the permits and all that has to come before you ever stick a shovel in the ground. And we help them manage the design and construction as well.
Q. How does Grand Canyon Development Partners differ from other construction management companies?
A. Part of what I believe differentiates us from the group is the diversity of what we do and the capabilities that we have from in-house engineering to in-house architecture. We don't necessarily preform that work but we're very smart in determining where we can bring best value.
Q. What is the key to the success of Grand Canyon Development Partners?
A. My philosophy is if we're not saving the owner 10 times what he's paying us, we're not doing our job; and that's typically what we do. With almost every project that we've worked on, we've been able to bring the project in on or ahead of schedule and also on or under budget. And that's our goal.
We do that in a very collaborative way. It's just part of our culture that we build a strong team and I think that's the key of the success of the projects that we work on. It's creating that team atmosphere of trust. Everyone on the team trusts one another and works well together and because of that, the projects we work on are very successful.
Q. What features of the Lucky Dragon will be of particular interest to the business community?
A. I hate to speak for an owner. The Lucky Dragon is intended to cater to the Asian market. Everything in there is really focused around catering to the Asian market, everything from the food, to the hospitality, to the types of games, clear down to the (signs) that will written in English and Chinese. Everyone in the front of the house will be multilingual so that when a guest arrives there (he) can instantly feel comfortable and can communicate, and can have a good time in that facility and not have to worry about a language barrier.
Q. What are the phases of the Lucky Dragon Project?
A. Well, the project is really composed of three major components. There's a hotel tower; there's the podium casino restaurant building and then there's a large parking structure in the back. It's oriented in a way that will minimize any traffic congestion. We've already obtained our (Nevada Transportation Department) approvals and the city approvals on the traffic circulation. So, really it's all going to go up in one phase … concurrently.
Q. How will construction of this project affect neighboring residential and commercial businesses in the area of Sahara Avenue and the Strip?
A. We're not trying to have an effect on any of the area, and some of the area behind Lucky Dragon is residential. So, our goal is not to have an effect on any of that so that people can live comfortably where they're at just as they are now. The long-term effect will be positive by revitalizing that area and creating job opportunities for the local residents there.
We've worked very hard with the neighboring area. We did some relocation of utilities and whatnot to make sure that they were included in what's going on and the timing. There's the Allure condos next door that we have a good relationship with and so far I don't have any reason to believe that anyone certainly is upset by this, by my information anyway.