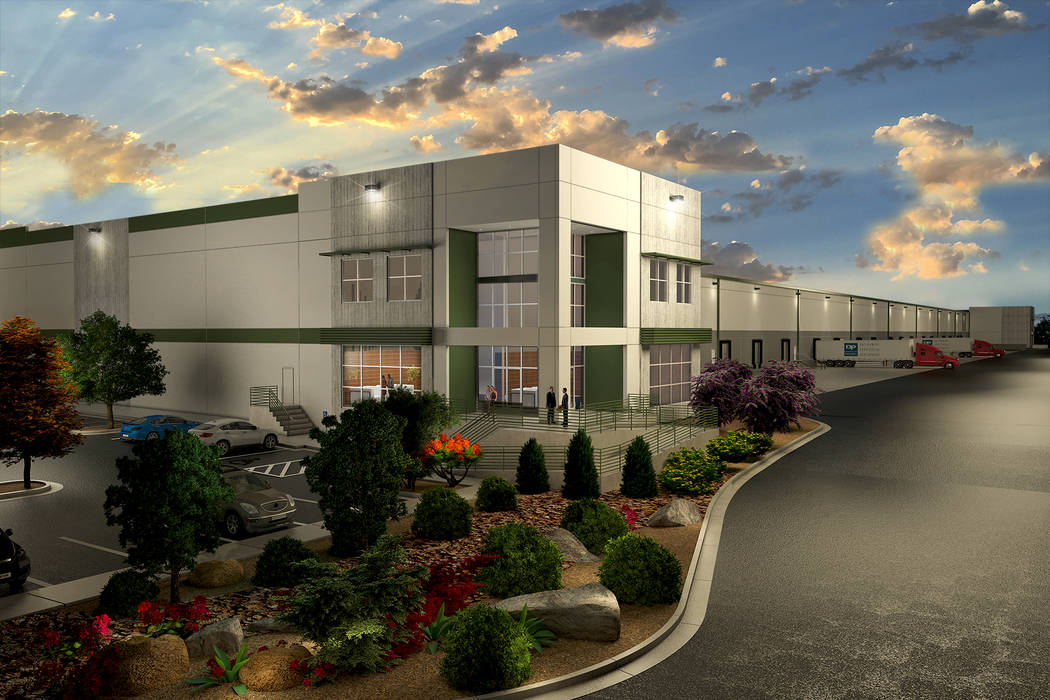 A large-scale industrial development project is taking shape in the Henderson Executive Airport area. More than 2.2 million square feet of industrial space came online across the valley in the first quarter of 2017, according to a report from Colliers International Las Vegas. Several million square feet are in the pipeline.
Panattoni Development Co. finished its 482,300-square-foot speculative industrial building in May 2017. There is also an additional 580,800 square feet of space planned to come online in phases.
In the north, Reno-based developer Dermody Properties announced it tilted the walls on its 546,480-square-foot industrial project the company has named LogistiCenter at Las Vegas Boulevard in the first quarter of 2017, with completion set for the end of the second quarter.
Overall, the valley is on pace to bring 9.9 million square feet of industrial space online by the end of 2017, the Colliers report said. Vacancy rose almost 1 percent in the first quarter, going from 5,2 percent in the fourth quarter of 2016 to 6.1 percent in the first quarter.
The market had a net absorption of 862,365 square feet of warehouse distribution space, an improvement over the average quarterly net absorption of 648,455 square feet in 2016.
"Hopefully, the absorption continues," said Jay Heller, the 2017 NAIOP Southern Nevada president.
Heller pointed to the rise of e-commerce as the reason for the growth. Buildings reaching past 200,000 to 300,000 square feet in the industrial sector were a rarity prior to the recession, he added.
"You would see maybe a big box for a build-to-suit, but it would be rare to do it on a spec basis," Heller said.
The level of space coming online is, however, not that out of the question for the Las Vegas market.
Brian Gordon, principal at Applied Analysis, said in 2007 there was 7.4 million square feet of industrial brought into the market. That followed 5.6 million square feet of industrial completions in 2006.
"While it feels like a lot of inventory today, in relative terms, it's still remaining fairly balanced," Gordon said.
There could be some higher vacancies now, but Las Vegas will have a positive outcome going forward.
"I think it's going to take some time to lease out all that inventory," Gordon said. "In the longer run, we expect to see many of those spaces fill up, but there could be some near-term softness in the vacancy rate as developers and landlords attract tenants to that new product."
On another positive note, Gordon said the valley now has some newer big box space available for local tenants to expand or companies to move into from other areas in the Southwest.
Blackstone snaps up three Las Vegas apartments
Blackstone Group, a global investment firm, acquired three multifamily properties in Las Vegas totaling $170 million, or about $302 a square foot, CoStar.com reported in early June.
"Las Vegas is one of the last metros to recover; rental growth is strong and is expected to outperform the majority of other markets in the country for the next five years," said Douglas Schuster, executive managing director with ARA Newmark, who represented the seller, Nevada West Development LLC.
Blackstone picked up 972 units across several parts of the valley with its recent purchase.
The new portfolio consists of the 324-unit Dream Apartment Homes at 1005 Wigwam Parkway in Henderson, the 310-unit SW Apartment Homes at 6355 S. Durango Drive and the 338-unit Union Apartment Homes at 4450 S. Hualapai Way.
The properties are 91 percent occupied, according to CoStar.com.
The average vacancy rate in Las Vegas was 3.2 percent as of the fourth quarter of 2016 according to a report by Colliers International Las Vegas. That number was down from the fourth quarter of 2015, when vacancy sat at 4.2 percent.