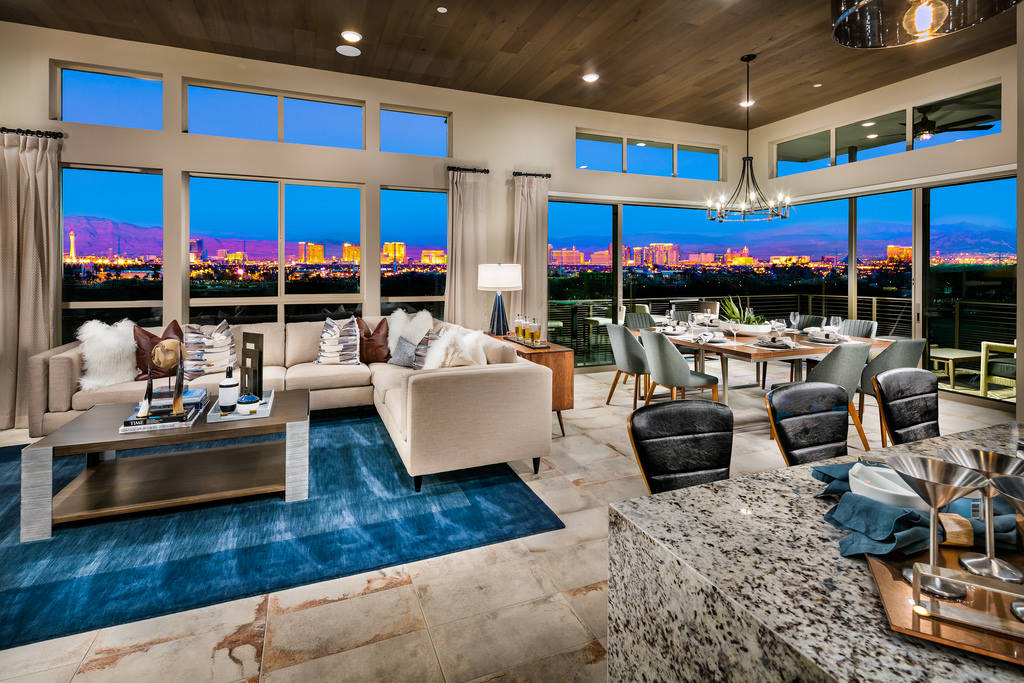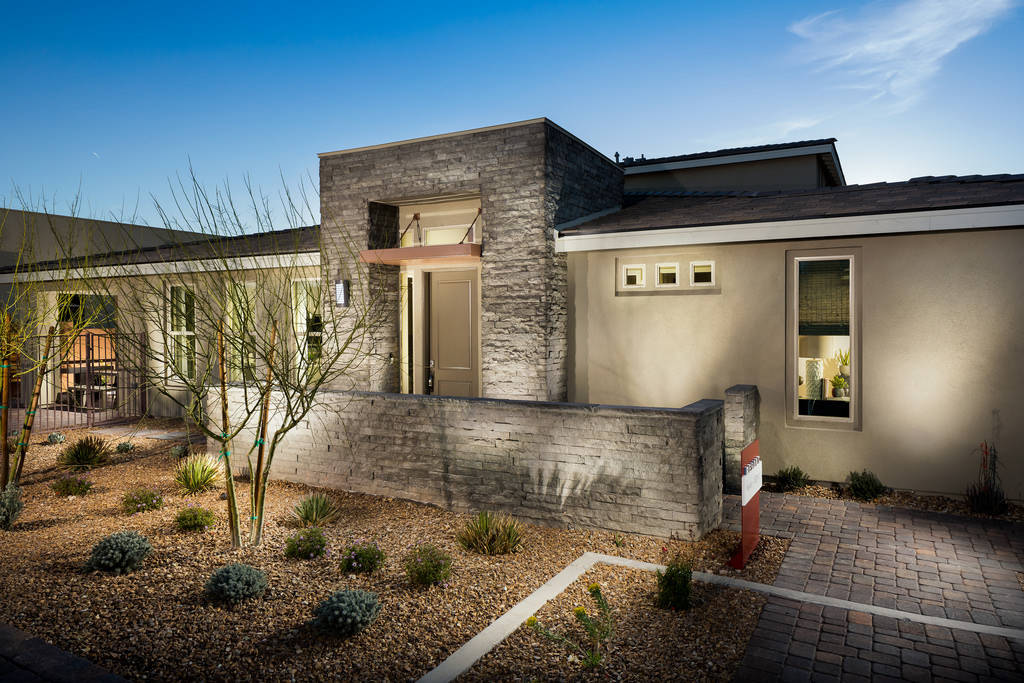 Shea Homes has been recognized locally and nationally for its attached housing project Trilogy in Summerlin.
It won a Silver Nugget for Best Attached Home of $400,000 to $600,000 (Haven) and Best Attached Home of more than $600,000 (Apex). It also won for Best New Home Grand Opening Marketing Campaign for Trilogy. It had three other attached homes at Trilogy that were finalists in those two categories.
The Silver Nugget for Best Attached Home priced under $400,000 went to Lennar Homes for its product The Hudson, a guard-gated community in North Las Vegas with condos and town homes.
Trilogy, a 55-plus community, also earned top honors at the 2019 Gold Nugget Awards of the Pacific Coast Builders Conference. Trilogy was recognized as the winner for the best multifamily housing community less than 15 units an acre.
"We pursued the vision of creating a home that would be aspirational and unique to the market while still meeting the needs of our baby boomer buyer," said Hal Looney, area president of Shea Homes' Trilogy-branded communities.
Trilogy in Summerlin is Shea Homes' lone active community for sale in Las Vegas and opened in February 2018.
Shea won the Silver Nugget for its nationally recognized Apex model home from its Modern Collection. It's an elevated condo-styled home with features that include a main-level living and a private elevator. It also has an expansive kitchen, a golf cart garage and a wraparound covered patio on the top floor.
To achieve that density without a typical town home, the team turned the town home on its side to create a "vertical duplex," according to Shea Homes Las Vegas General Manager Kyle Tibbitts.
"The Apex provides single-level living with dramatic penthouse-like views," Tibbitts said. "Apex's design delivers single-level living where residents can access their home by private stairs or private elevator, ensuring that no matter their age or ability, all living spaces are on one accessible floor."
Apex has two bedrooms, 2½ baths, den and a two-car garage, measuring 2,425 square feet. Its prices start at $618,990.
"You can envision walking into your private foyer and you have an elevator take you at to the third floor of the building," Tibbitts said. "You walk into a nice open area with great room, kitchen and dining room and amazing views. There's rolling walls of glass that disappear in the corner out to an expansive deck outside. It's an incredible floor plan."
As for Haven, the single-story design features include an open kitchen with expansive island and great room. It has two bedrooms, two baths and a two-car garage. It measures 1,538 square feet and prices start at $475,990. It has a courtyard, covered patio and optional rolling wall at the dining and great room.
"The master is separated from the guest bedroom, and it has a nice great room open concept and opens nice to the outdoor covered patio," Tibbitts said.
Trilogy, which was a finalist for the Best 55-plus Community, is planned for 354 homes on its 53 acres. It has sold more than 100 so far. It has 13 floor plans between its Resort, Modern and Luxe collections and six model homes. The three collections are singled out for their different living environments. There's a paired courtyard for the single-story homes, luxury condos with single-level living with private elevators, and patio homes. The base prices start in the high $400,000s.
"The goal with Trilogy was to re-imagine and reconfigure a site that was an unsuccessful multifamily 55-plus community a decade ago," Tibbitts said. "With a three-story height limit, the team wanted to maintain as much of the approved density as possible while providing livability that would appeal to tomorrow's 55-plus homebuyer."
When developing the concept for Summerlin's grand opening campaign, the challenge was that while the Trilogy brand is nationally recognized, the assumption was that home shoppers in the Vegas market may not be aware of the signature lifestyle offered to residents who live in a Trilogy community, Tibbitts said.
"The end in mind for Summerlin's grand opening was to not only establish Trilogy's brand in Las Vegas, but to communicate to home shoppers why and how it distinguishes itself among other 55-plus communities in the area," Tibbitts said.
The campaign was called an "Introduction to Their Best Life." Marketing materials were created to build momentum and garner excitement, Tibbitts said. Messaging penetrated the Las Vegas market through TV spotlights, marketing signage, online ads, newspaper, magazine, direct mail and radio spots to attend the grand opening, he added. About 1,200 people attended.
Trilogy recently opened the Outlook Club, which includes about 11,000 square feet of indoor and outdoor space. The club features such amenities as a culinary studio, art and movement room, second-story sports and media lounge, resort pool and bocce and pickleball court.
"That's the hub of the community, and it's all about lifestyle for our members," Tibbitts said.
The Hudson's pricing starts at $225,990 and goes to $279,990 for square footages that range from 1,448 square feet to 2,210 square feet. The unit sizes range from two to four bedrooms.
Residents have access to private amenities within the community, including a swimming pool, playground, covered picnic area with barbecue grills and open spaces for personal recreational activities.