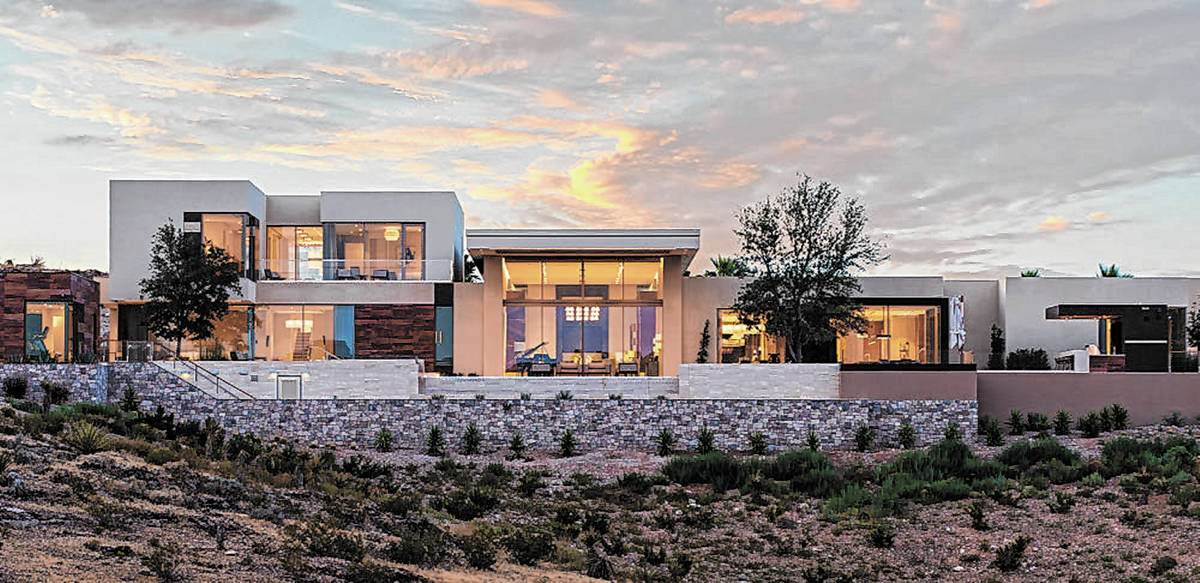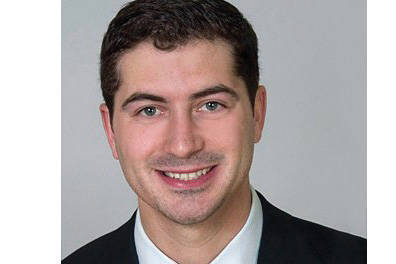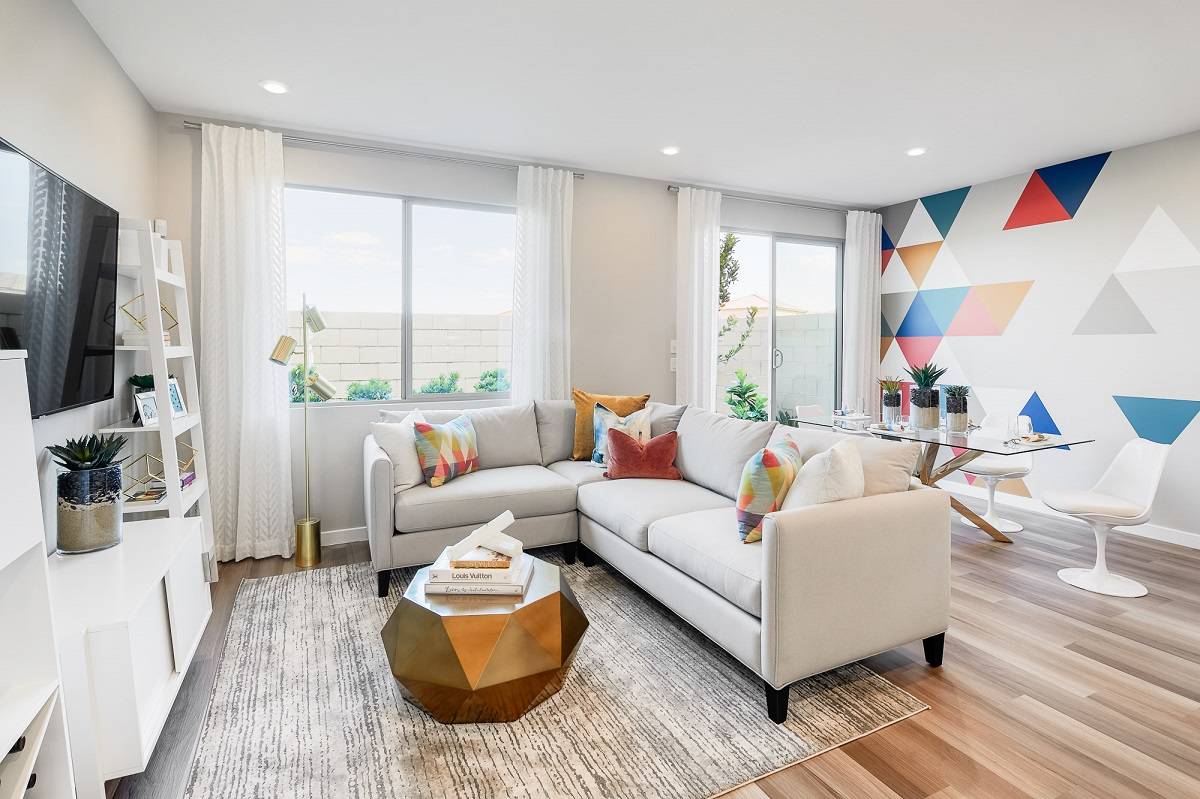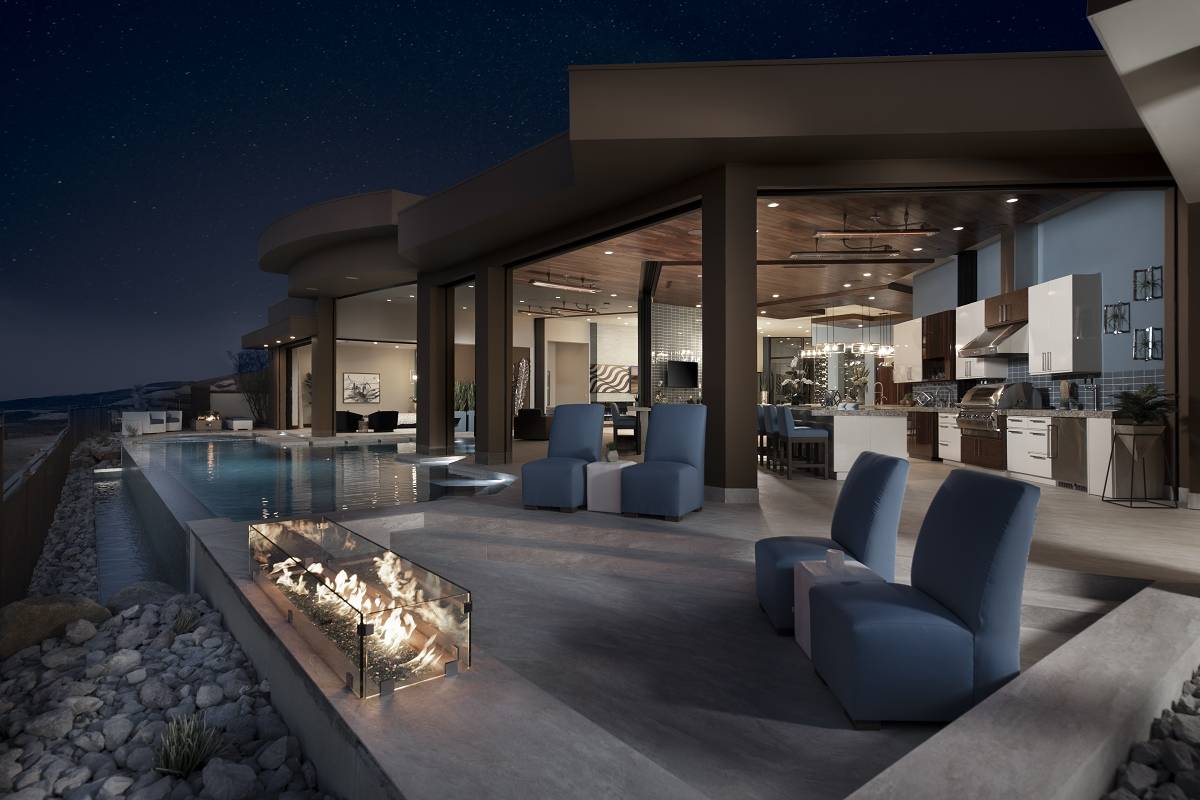 For the first time in its seven-year history, the Silver Nugget Awards event was held virtually. Area homebuilders, homeowners, architects and designers logged onto their computers to find out who won this year. Although there was no bar or dinner, there were wine gift baskets delivered to the winners, and DJ Chris Cox warmed things up at the online party before the announcements.
See the show here.
This year, Pardee Homes took home 14 Silver Nugget Awards out of 27 finalist nominations among Las Vegas homebuilders, including its Sandalwood Plan Three, which was named Home of the Year.
Toll Brothers and Richmond American followed with five Silver Nuggets each. Toll Brothers was a finalist 16 times, and Richmond American was a finalist 13 times.
KB Home won three Silver Nuggets along with Sun West Custom Homes. KB had eight finalists. Sun West had five.
Shea Homes and Taylor Morrison (which acquired William Lyon Homes) each won two Silver Nuggets out of three finalists.
Woodside Homes and Forte Specialty Contractors each had one Silver Nugget out of two finalists.
Howard Hughes Corp. had one Silver Nugget, and Faiss Foley Warren public relations firm was a finalist.
Merlin Custom Home Builders was twice the finalist.
Pardee Homes
It's another strong showing for Pardee, which a year ago took home 13 Silver Nuggets, including Home of the Year and Community of the Year for its plan in Summerlin.
Pardee won 11 Silver Nuggets out of 17 finalists in the home categories and three out of 10 finalists for awards to individuals.
"We're thrilled to once again have so many finalists in so many categories," said Klif Andrews, Pardee division president in Las Vegas. "We're most pleased that our people are being recognized for all the good work they do here. And we had (six) new communities that opened in 2019, and we are pleased that some of those have been recognized as finalists."
Andrews said the housing market has been very strong despite the coronavirus pandemic. New home sales are surpassing a year ago, and prices are rising.
"We're even going to outpace 2018, which was a really good year," Andrews said.
Besides winning Home of the Year, Pardee won two Silver Nuggets for best attached homes with a community named Evolve for prices below and above $300,000.
"We're excited about that because attached homes have become really popular very quickly," Andrews said. "We're finding a town home with a rear courtyard is very desirable in the marketplace. It's especially popular with a number of demographic groups. We're finding retired buyers, who like the low-maintenance lifestyle, and we're finding younger entry-level buyers, who like the price point and lifestyle. We're seeing a lot of folks in between, who see it as a good alternative even to a detached home."
Evolve offers homes that range from 1,500 square feet to 1,900 square feet. They have two stories with a rear courtyard, and the community has a recreation area and pool. The prices range from the low $300,000s to mid-$300,000s, and the community is near the 215 Beltway and Patrick Lane in the west valley. The builder has nearly sold out its 77 units.
Pardee won a Silver Nugget Award for model bathrooms in homes under and over $500,000 and $750,000 to $1 million. In the luxury home called Sandalwood Plan Two, there's a large pocket door that opens to a protected outdoor courtyard that makes it an indoor/outdoor bathroom.
Pardee won for best architectural design for Cirrus Plan Two of 2,000 square feet to 3,000 square feet and priced under $500,000.
Pardee also won for Midnight Ridge Plan Three, priced $500,000 to $750,000, and Sandalwood Plan Three, priced over $500,000. The first category is 2,000 square feet to 3,000 square feet and the second is 3,000 square feet to 4,000 square feet.
"The focus of our whole team in Las Vegas is heavily invested in contemporary architecture and design," Andrews said. "We continue to see that it's extremely popular with homebuyers."
Midnight Ridge is a single-story home with indoor/outdoor relationships and loads of windows to take advantage of that, Andrews said. It has four bedrooms and 3½ baths. It's priced in the high $600,000s and is in Henderson near Sunridge Heights Parkway and Horizon Ridge Parkway.
Pardee had three staff members that won Silver Nugget Awards. Shannon Marler won for Online Salesperson of the Year.
"The shift to online sales has been really important to our industry this year," Andrews said. "I think Pardee Homes has done a good job of transforming ourselves into an online and appointment-driven homebuilder. We can give the buyer a lot to look at even before they visit the community. A majority of our buyers are online before they visit."
Mark Stephens won for Young Leader of the Year. Natalie Brown won for Sales Rookie of the Year.
By closing 37 new homes totaling $16,960,624 in 2019, Brown has demonstrated how to succeed in a new business as a new home adviser.
Brown relocated from the Bay Area where she was a facilities planning project coordinator for Marin General Hospital. There, she was nominated for Employee of the Year by the CEO.
With Pardee, Brown was placed in the Linea Model Sales Center when her sales partner took an unforeseen three-month leave of absence. Brown quickly took over her partner's clients while maintaining her own. She created a system that identified closing dates to help prioritize her clients' needs while photographing and videotaping the homes' progress to send weekly updates, according to Pardee.
"I have always had a true love of construction," said Brown, 45. "My friend who moved here ended up buying a Pardee home, and that's how I met the sales agents for Pardee. They were the ones who recommended me for this position.
Brown said: "(I) took the nuggets of wisdom I got from my peers and colleagues training and mentoring me and ran with it." She said her project management skills and a real estate license made the job a "perfect fit" for her. Brown has spent most of her tenure at Inspirada in Henderson.
"It's about building a relationship and rapport with people and having them gain that trust in me that I'm going to lead them through the build of the new home and be there for them throughout the entire process," Brown said of sales. "That is what has made me successful."
It's about constantly checking in and seeing how buyers are doing, Brown said. It's an emotional process and purchase, and it's important to be there for them, she said.
This year, there's been more sales completed virtually so it's been a way to hone in on those skills via Zoom, Brown said.
"I am just going to keep doing what I'm doing," Brown. "I'll connect with people and be a good team player here with my colleagues. It takes a large team to do what we do and be supportive as possible. I'll work on fine-tuning systems we have in place to make us better at what we do for our buyers. I'm still loving it."
Richmond American
The builder was recognized for model home kitchen for Sage Indigo Ridge, which is in the priced under $500,000 category.
"It's a closed-out community that was very popular," said Richmond American Director of Marketing J.J. Kingery." It's an open kitchen but a well-designed space. It has a large pantry and large dining area. It has an island that seats four people."
Richmond American was strong with staff awards, including sweeping the traditional sales categories.
Leslie Metoxen won for Sales Person of the Year for homes $300,000 to $500,000. Darlene Gardner won for Sales Person of the Year for homes more than $500,000. Klay Cox won for Sales Person of the Year for homes less than $300,000.
"We had some exceptional performances by our sales team in 2019," said Luke O'Loughlin, vice president and director of sales. They were the standouts of the bunch. A quarter of our team made the Presidents Club, which is a difficult accomplishment to make. Our people who were finalists are having close to repeat performances in 2020. All of them take the mindset of what is thrown at them. They're naturally top performers. Their mindset is work at customer service and perform at a high level every day.
"The sales team has been busier than ever this year. There hasn't been a lull even in that one month when sales basically stopped, the sales team worked harder than ever to incorporate new COVID processes in their daily work. If you're going to have a good 2020, adaptability is important. That separates them from other sales folks who didn't have that ability."
Kingery won for Marketing Professional of the Year for production builders. He also won the honor in 2018.
"The marketing people are the cheerleaders for their company," said Kingery, 49, who's been with Richmond American for 14 years and in the industry and Las Vegas for 22 years. "They're internal and external support. With the marketing growing the way it has, you're doubling down and still have to maintain that cheerleader composure."
In 2019, Kingery said they did eight sales campaigns. He also does Realtor presentations of their Richmond's products and communities.
"This year, we had to take a lot of our promotions digital," Kingery said. "We also had a big digital presence, but Zoom has paid off for us. We have done virtual Realtor presentations. I have sent out a lot more information instead of talking with them directly. My adaptation was getting more digital experience."
Toll Brothers
The luxury building won a Silver Nugget for the Mesa Ridge Viewpoint Collection, as the Best Single-Family Luxury Production Home priced between $750,000 and $1.3 million. That home called Spring also won for best design and architecture over 4,000 square feet.
Toll Brothers' entry description said Spring has "a welcoming covered entry and spacious foyer that reveal the elegant turned stairs, and views of the soaring two-story great room, dining room and desirable large covered patio beyond."
"The kitchen is highlighted by two large center islands, one with a breakfast bar; plenty of counter and cabinet space; and enormous walk-in pantry," the entry description said. "The stunning primary bedroom suite is enhanced by a massive walk-in closet, sizable private covered deck and deluxe primary bath with dual vanities, large soaking tub, luxe glass-enclosed shower with seat and dual private water closets. Central to a generous loft with covered deck, secondary bedrooms feature roomy closets with private full baths. Additional highlights include a versatile media room off the great room, secluded office off the foyer, convenient powder room and drop zone, centrally located laundry, and additional storage."
Toll Brothers' Mesa Ridge Viewpoint Collection called Keystone won for Best Outdoor Living Space or Architectural Feature for a Single-Family Production Home.
Toll Brother's description said Keystone's "welcoming covered entry and foyer reveal the beautiful turned stairs, flowing into the gracious dining room and two-story great room with views of the desirable covered patio beyond."
The kitchen has a large center island with breakfast bar, ample counter and cabinet space, and walk-in pantry. The primary bedroom suite is enhanced by a private covered deck.
Toll Brothers won for its Mesa Ridge Overlook Collection called Grand Circle for Interior Merchandising of Homes $750,000 to $1 million.
Finally, the builder won for its model home kitchen of production homes $750,000 to $1 million. That's called Sandstone of the Mesa Ridge Overlook Collection.
KB Home
The builder won a Silver Nugget for Best Design and Architecture for the Caledonia at Summerlin Collection II Plan. It's in the category of 3,000 square feet to 4,000 square feet and priced under $500,000.
"Our Caldedonia community was very successful," said Brian Kunec, president and regional general manager of KB's Las Vegas and Seattle division. "It was the first community that came out of the ground in Stonebridge Village."
Kunec called it a great floor plan for a larger family. It's four bedrooms but could flex to six. It can have up to five bathrooms. There is a casita option. It's about 3,100 square feet.
"It also has a lot of great outdoor space," Kunec said. "There are two different courtyards and covered patio area to go have fun. The great room in the kitchen is a nice open floor plan with a fantastic kitchen setup. There's also a den upstairs that you can flex into a media room or TV room for the family and the kids. It checks all the boxes for features people really want now."
The home was priced around $470,000 and has sold out.
KB also won two staff awards.
Lara McLaughlin, a regional sales manager with KB for 17 years, won for Sales Management Professional of the Year. Petar Spajic won for Construction Superintendent of the Year.
Sun West Custom Homes
The luxury custom builder won three Silver Nuggets for its 2020 New American Home in the Henderson hillside community of Ascaya.
One was for interior merchandising for homes more than $1 million. The others were for best outdoor living space and kitchen in a custom home.
Sun West built the home to showcase at the National Home Builders Association show in Las Vegas in January.
The single-story contemporary home with modern design and the theme "Oasis in the Desert" measures 7,096 square feet with five bedrooms, six bathrooms and a media room. It has two-car garages, one of which is heated and air-conditioned. The home is built for entertaining with its backyard that has a pool, fire feature and yoga deck, and an outdoor kitchen space that swings between being outdoors and indoors.
Shea Homes
Shea won two Silver Nuggets.
One went to Theresa Pate who won for Customer Service Representative of the Year.
It also won for its Outlook Club at the age-qualified community, Trilogy. It offers a resort pool, Zen park, rooftop sports and game lounge, culinary studio, full gym, media deck, art studio, meeting space and bocce and pickleball courts.
Through design coupled with Trilogy's national lifestyle programming, Outlook Club is the central social hub for members to connect.
Taylor Morrison/William Lyon Homes
The builder won a Silver Nugget for best design and architecture for a single-family home under 2,000 square feet called Jade Ridge at The Cliffs in Summerlin. William Lyon was acquired earlier this year by Taylor Morrison.
Taylor Morrison has two-story floor plans and two single-story floor plans that range from 1,526 square feet to 2,366 square feet, priced from the mid-$300,000s to the mid-$400,000s.
In another award, Colleen Beck was named Lifestyle Director of the Year for Affinity, which is a condo community in Summerlin.
Forte Specialty Contractors
The award for the best design and architecture for a custom home went to Forte Specialty Contractors for its 13,500-square-foot home in Summerlin's exclusive luxury community, The Summit. With polished, high-end materials, seamless fabrics, a clear division of public and private space; it is an environment suitable for blue-chip art.
The four-bedroom and eight-bath home is titled "Cascade" for the way its architecture cascades modularly and its landscape blends with the surrounding desert, overlooking the golf course through floor-to-ceiling windows.
Woodside Homes
The builder won a Silver Nugget for its Chowa concept in The Ridges in Summerlin. The award was for best master bathroom in a custom home.
Japan's largest homebuilder Sekisui House and its American subsidiary Woodside Homes used the backdrop of the Consumer Electronics Show in Las Vegas to unveil its prefabricated homebuilding technology imported from Japan that can speed up construction, address a shortage of skilled labor and build homes more resilient to natural disasters.
The master bedroom has an open layout for the combined bedroom and bath that has its own private balcony, two walk-in closets and a dressing room.
There's a porcelain slab in the master bathroom, where the glass-enclosed shower is. His-and-her vanities float on either side of the shower, while the freestanding tub — and mirroring book-matched slab — sits adjacent to the sinks and shower to complete the wet area, according to the builder.
Howard Hughes Corp.
Howard Hughes Corp., the developer of Summerlin, won for its Summerlin — Be Part of Something Beautiful Plan campaign.
Danielle Bisterfeldt, vice president of marketing for Summerlin, said the campaign's goal was to highlight how the community is "so dynamic and a transformative place. It's usually the moments that are small and less noticed that really make up that collective memorable experience than a big robust life-changing moment. We were trying to highlight how the collection of small simple things really shape who we become and how we live in the community."
Through the visuals of the campaign from a baby walking for the first time to teaching children how to ride a bike or a moment out with your partner going out to dinner in Downtown Summerlin or a trip to Red Rock, Bisterfeldt said.
"Most of those moments happen at home, and highlight that happening in Summerlin," Bisterfeldt said.
The campaign started with the opening of the Las Vegas Ballpark in March 2019 and relating to Little League and kids playing baseball in their backyards.
The campaign unfolded through television, billboards, print and digital and continues today.
The Las Vegas Review-Journal and the Southern Nevada Home Builders Association partner each year to present these awards that are judged by independent third parties.
There were six judges. The property category judges were Rick Sellers, principal at Carpenter Sellers Del Gatto Architects; John Morelli, owner of Morelli Residential Design; and Steve Shoemaker, vice president of sales and marketing for Ideal Homes. The people category judges were Tim Schneider, founder and lead facilitator for Aegis Learning; Alexa-Rae Ablondi, public relations specialist; and Carrie Firmins, vice president of Business Development at TRIO.