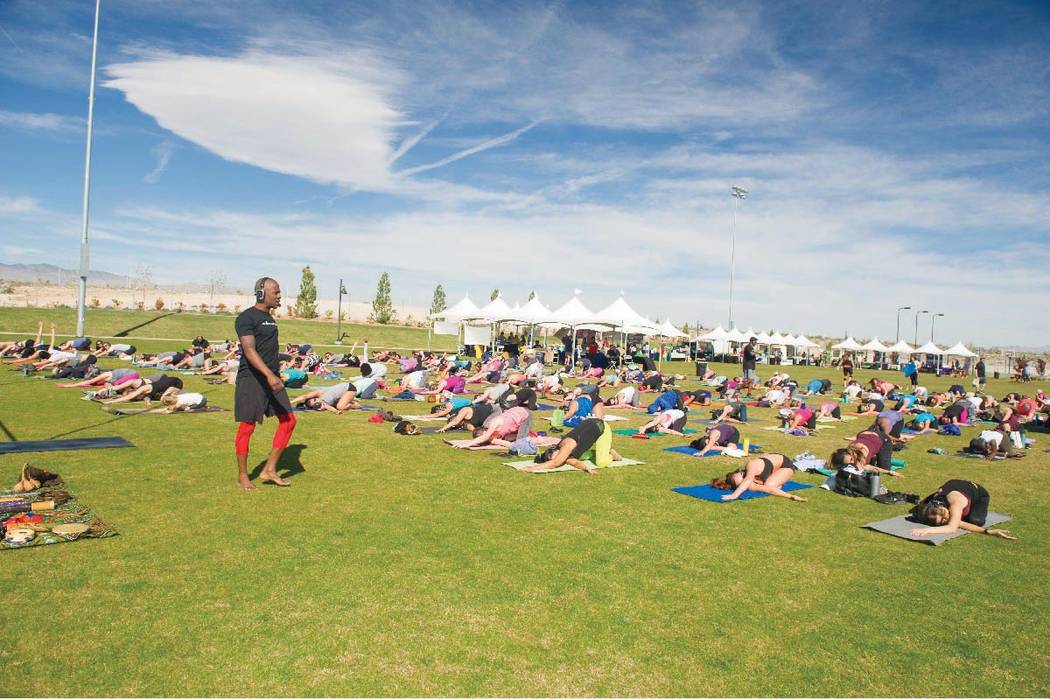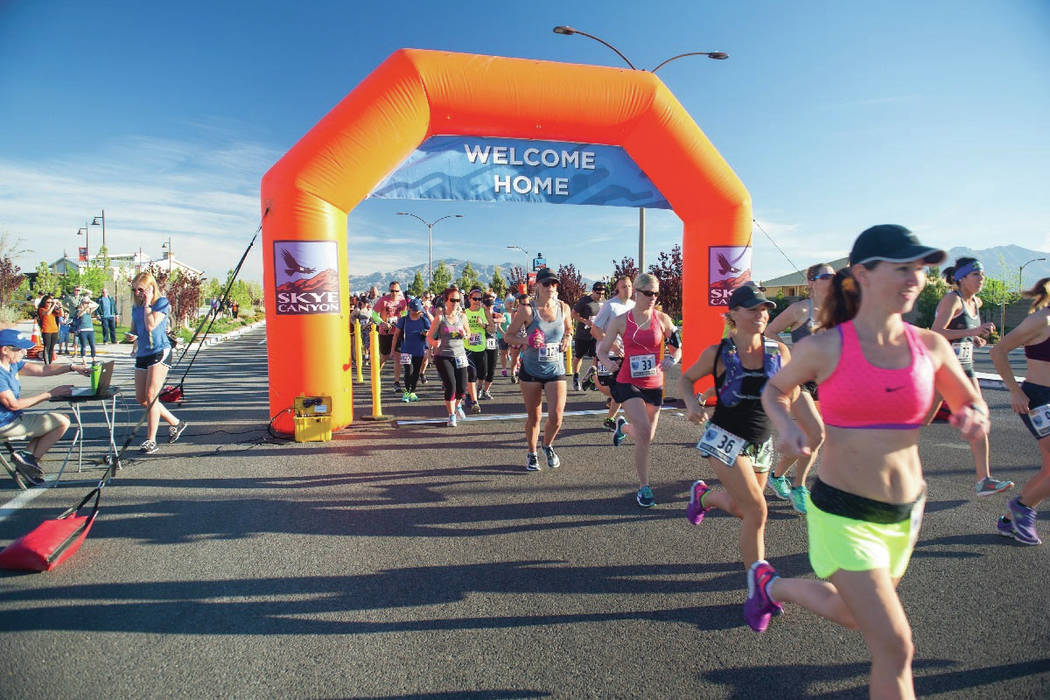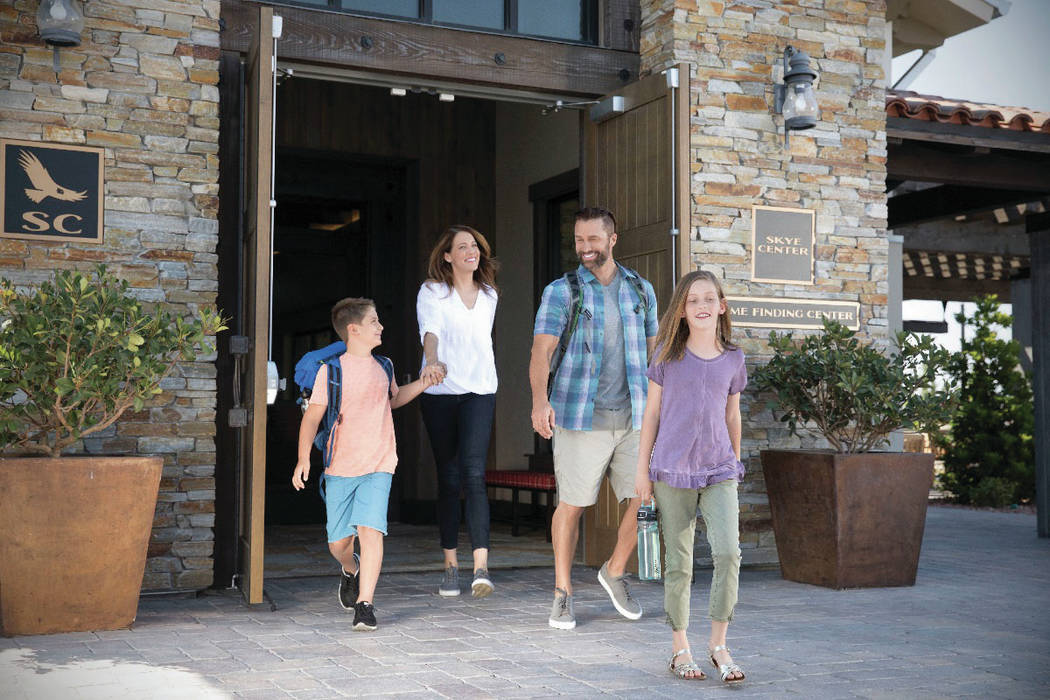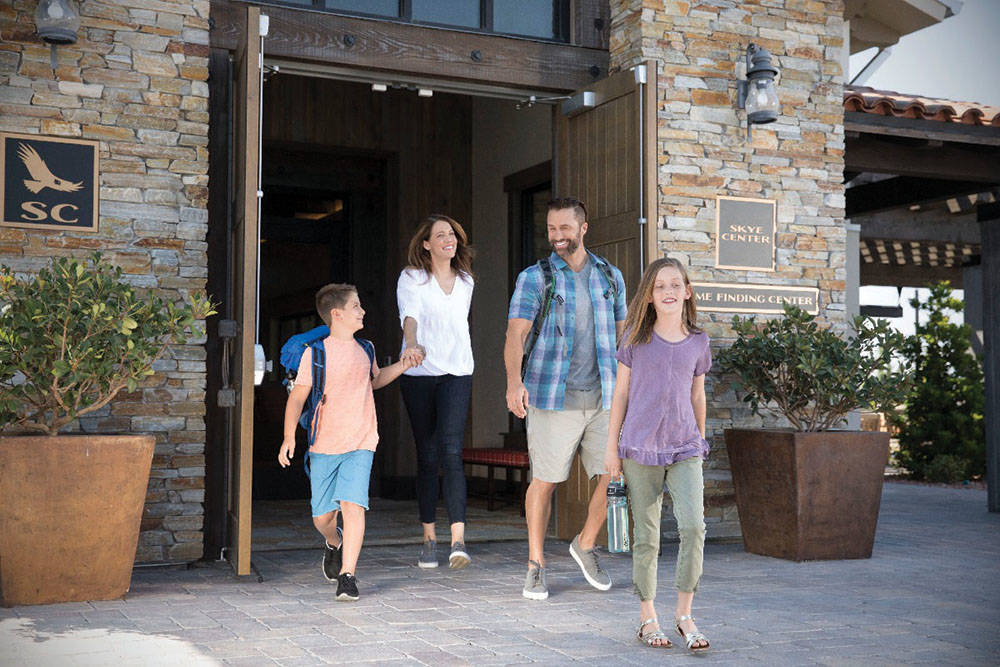 Skye Canyon, the master-planned community in the northwest valley, won two Silver Nugget Awards for master plan parks/amenities and best active lifestyle community.
Skye Canyon offers amenities that cultivate community and allow residents to lead a healthy, active lifestyle, according to Desiree Van Leer, marketing manager for the Olympia Cos., the developer of Skye Canyon. It has targeted multigenerational families and individuals, who have a passion for active living and enjoy a social environment.
"It started with our location," Van Leer said. "We are halfway between Mount Charleston and downtown. We thought being close to recreation with Lee Canyon, Mount Charleston and Red Rock, that we go with more of active lifestyle angle with our community. We really made that part of our development plan."
The 15-acre Skye Canyon Park serves as a community hub and hosts many resident-only and public events such as farmers markets, yoga classes, campouts and stargazing events. It also offers residents a full-size basketball court, kids' jungle gym and splash pads.
Within Skye Canyon Park is Skye Center, an 8,142-square-foot, rustic contemporary community center.
It features an outdoor patio with fire pits, fireplace and Skye Bistro. The park also includes Skye Fitness, a 9,663-square-foot, state-of-the-art workout facility with an outdoor Junior Olympic swimming pool, yoga and spin rooms along with top-of-the-line fitness equipment, Van Leer said.
Skye Fitness offers trainers, fitness activities, monthly recreation excursions, social events and kids programming. Residents can use Skye Fitness sports equipment such as Frisbees, footballs, basketballs, soccer balls and kites.
At Skye Fitness, the treadmills — the gym's most popular piece of equipment — face massive sliding glass doors to make those who are working out feel like they are running outside and when the doors are opened, breathe in fresh air, Van Leer said.
Skye Center and Skye Fitness offer people an opportunity to connect with neighbors, enjoy the community's mountain views and programming like group hikes, kayaking and wine nights, Van Leer said. Residents can meet over coffee in Skye Bistro or relax by the fire pits, Van Leer said.
Homeowners have access to several parks rather than one large park, and that makes it easier for residents to utilize them often, Van Leer said.
"Our residents are within walking distance and biking distance to parks and recreation just within their own neighborhood," Van Leer said. "It's important for us throughout the development. It makes having an active lifestyle really convenient for our residents."
Each new phase of the community — which opened in 2015 — will get its own park, and there will be new amenities that aren't at other facilities such as tennis, Van Leer said. There are also plans to add more dog parks.
At Skye Canyon, Eagle Canyon Park, for example, includes a play field, tot lot, splash pad, two gazebos and a basketball court.
There's the Arroyo Trail network that's used by residents for walking and running, while all major streets include designated bike lanes to encourage safe riding, Van Leer said.
Skye Canyon's trails are not only a fitness amenity but also a way for homeowners to meet as well, Van Leer said. The 25-yard pool can be used for training or family time.
"The overall lifestyle at Skye Canyon is very active so we made it easy for people to be involved not only on an active in terms of fitness but in terms of lifestyle and getting to know your neighbors and creating and fostering relationships within the neighborhood," Van Leer said.
The Skye Pass program offers specialty pricing to activities such as Lee Canyon and Las Vegas Paiute Golf Resort. The program also has additional perks such as reserved parking at Lee Canyon and discounts on weekend brunch at LVPGR, Van Leer said.
Residents receive a SkyePass on move-in day, and it's good for each family member living in the home, she said.
At Skye Center, there are eight organized adult events per month, such as potlucks and coffee talks.
Skye Fitness staff plans resident excursions, so people can try new recreational activities such as snowshoeing and kayaking, Van Leer said.
Skye Center hosts one organized youth program a month, such as a Dr. Suisse day or pajama party. It also participates in the Junior Ranger Program with Mount Charleston, she said.
The Skye Canyon's Fit Lives Here events draw thousands of people to Skye Canyon Park, Van Leer said.
The events include Skye Canyon's annual 8K Trail Mix and 5K Road Race, stargazing with the Las Vegas Astronomical Society, Silent Savasana yoga and a pool party. There's Chalk and Cheers, a juried art contest for professional and amateur artists with an art fair, Pray for Snow party with Skye Pass partner Lee Canyon and Fit Fest, a family-friendly, healthy-living themed festival that features fitness classes, interactive lifestyle booths, kids activities and a nursery.