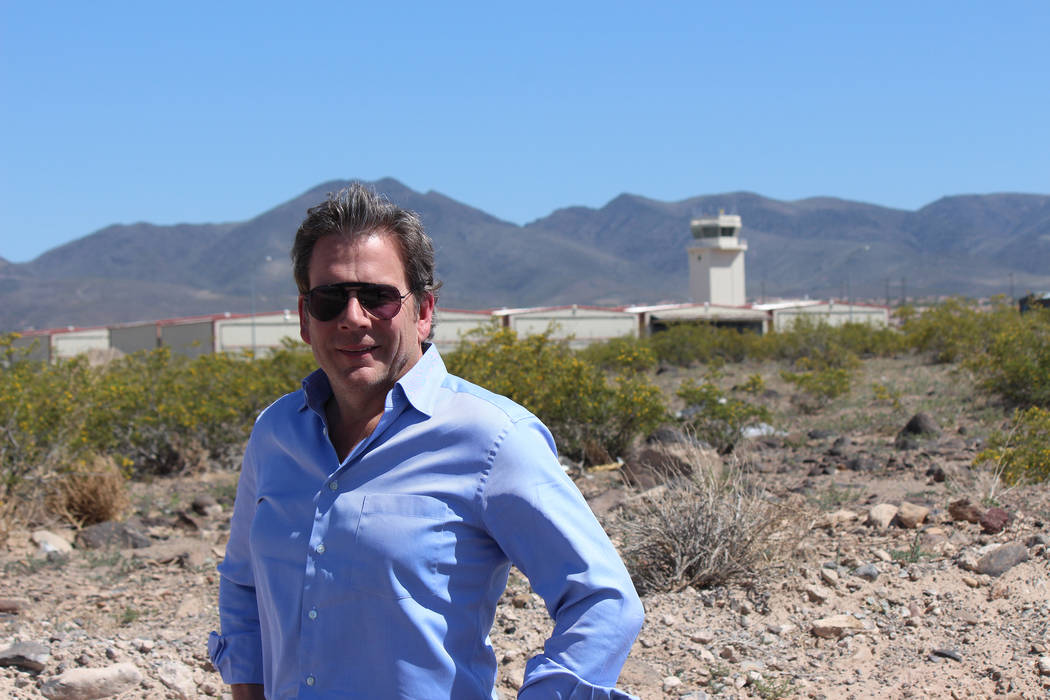 Industrial real estate space for the smaller user in the Las Vegas Valley has not entered the market as rapidly as larger product, some reaching several hundred thousand square feet in size. A local developer is pushing to change that.
Jeff LaPour, president of LaPour Partners, is planning two industrial real estate projects, scheduled to break ground this summer. One is a seven-building, 207,000-square-foot project near the Henderson Executive Airport at the northeast corner of Bruner Avenue and Executive Airport Drive.
The other is a four-building, 125,000-square-foot industrial park at the southeast corner of Craig Road and Walnut Street in North Las Vegas.
Together, the two projects equal 335,000 square feet of new industrial space that will be available for companies looking for smaller space.
LaPour said he can offer up to 100,000 square feet of contiguous space at his Henderson development, but that same space can be divided down to 7,000 square feet. One of the buildings can be divided down to 15,000 square feet, he said.
Both projects will be available for lease or for sale and should be completed by the fourth quarter of this year.
The move comes as LaPour is 90 percent leased on his Parc Post project in the southwest side of town and he has proposals on the remainder of the 162,235-square-foot development between Jones and Rainbow boulevards on Post Road. LaPour partnered with Dallas-based Jackson-Shaw on the development that was completed August of 2016.
There is a market for this type of product, as there hasn't been a lot of smaller space coming onto the market in the past few years.
"Of the plus or minus 6.3 million square feet of industrial inventory that were added to our base from 2014 through 2016, only plus or minus 450,000 square feet, or roughly 7 percent of the total, have been smaller to midsized product," said Mike DeLew, executive vice president at Colliers International Las Vegas. "The balance of the added inventory has been big box type product."
Of the more than 2.2 million square feet of space completed in the first quarter of 2017, all was warehouse or larger space, according to data from Colliers International Las Vegas.
DeLew sees a need for more space for the smaller user as its difficult for companies expanding in the area or looking to move to the valley to find space because of limited options in the valley.
"Of the approximately 70 million square feet of industrial inventory dedicated to smaller, midbay product, only 5.6 percent is vacant and a big portion of that inventory is functionally obsolete," DeLew said.
There are some limitations to getting a project for smaller industrial users off the ground in the valley.
Jennifer Levine, director of Industrial for Cushman &Wakefield Commerce, said "despite rising lease rates, developers have repeatedly stated that the rents aren't there yet in order to pencil all the extra storefronts, restrooms, demising walls, etc."
"With the exception of a few notable projects such as LaPour's Parc Post and Marnell Airport Center's latest phases, almost all of the development since 2014 has been big box industrial," Levine said.
Las Vegas-based Marnell Properties, broke ground on its 133,000-square-foot project in January 2017 with space that is divisible to 7,307 square feet.
On top of having low availability in the market, LaPour sees other benefits to the Henderson Airport region for industrial users.
"This is really good access, because Interstate 15 is right there, but you can still go down the other way down to the 215 Beltway," LaPour said.
Levine also sees benefits to being in the region.
"The Henderson Executive area will compete very favorably with the Southwest and Airport submarkets based on proximity to Interstate 15, the Strip and the Southern California market," she said. "It also has immediate access to affluent residential neighborhoods — which is often appealing for business owners — as well as access to an abundance of employees. North Las Vegas is most often the low-cost leader for companies on a budget."