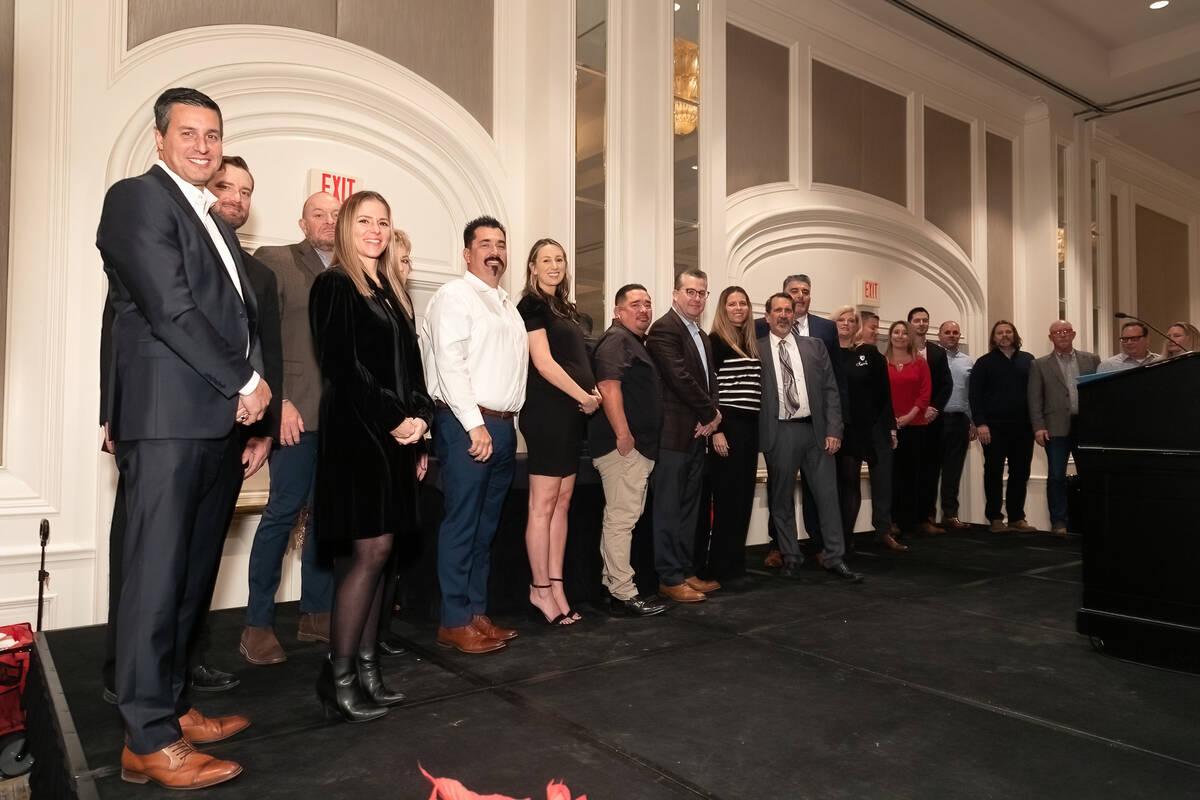 This December, the Southern Nevada Home Builders Association and HomeAid Southern Nevada gathered professionals working in all facets of the homebuilding industry at its yearly luncheon. The Installation and Awards Show takes place annually to bring members together and recap the successes of the industry. The event also serves to swear in dozens of members as new officials within the SNHBA organization for 2023.
Nicole Bloom of Richmond American homes was elected as the new SNHBA board president. Bloom, the third female president since the association's founding in 1953, will now lead the SNHBA board as it pursues its mission to advance the housing and community development needs of Southern Nevada. Bloom has been involved in SNHBA boards for years during her two decades in the homebuilding industry. She referenced her goals to address workforce development, affordable housing and guiding more women into leadership positions.
"I'm honored to be this year's president and recognize our former leaders for what they've done in the last year," said Bloom. "I've been in this industry since 1995, and through amazing leaders, we've been able to successfully endure through many challenges. As our organization stands on the shoulders of experienced individuals, we will be able to successfully navigate through any tough times that may lie ahead."
Tyson Clayton of Desert Cos. will now serve as board president of HomeAid Southern Nevada. The SNHBA's charitable organization is focused on providing outreach efforts to serve vulnerable members in the community, including the renovation of women's shelters and the coordination of various collections drives that gather essential items for homeless individuals. In 2022, HomeAid coordinated multiple "Pop-Up Shop'' events to provide those in need with clothing and backpacks full of essential goods. The organization also collected baby essentials for charities, including The Shade Tree and Living Grace Homes.
"I'm very excited for what's to come for our organization as we help those experiencing homelessness to build new lives.," Clayton said "In addition to the forward movement of two new construction projects with service partners, we'll be dedicating our time to building relationships with other wonderful agencies that are on the front lines of aiding our community's most vulnerable."
Others elected for SNHBA include: Carlos Zuluaga of Tri Pointe Homes, who is now first vice president; Aaron Hirschi of KB Home, second vice president; Darren Wilson of Sierra Air Conditioning and Heating, associate vice president; Brian Gordon of Applied Analysis, treasurer; and Rebecca Merrihew of Redrock Insulation, secretary. A full list of builder and associate directors will be listed on SNHBA.com.
HomeAid will have Kyle Tibbitts of Beazer Homes as vice president; Kendal Miller of Landon Miller Homes, treasurer; Justin Zaricki of Tri-Point Homes, secretary. A full list of board members will be listed on HomeAidSN.org.
The new term of office for each respective board begins Jan. 1.
The Southern Nevada Home Builders Association is dedicated to enhancing the quality of life by meeting the housing and community development needs of Southern Nevada. Founded in 1953 by 12 local homebuilders and incorporated with the state in 1954, the Southern Nevada Home Builders Association ranks as the oldest and largest local trade organization representing the residential construction industry in the state of Nevada. It has more than 500 members working in all facets of the homebuilding industry.
It is an affiliate of the National Association of Home Builders, a Washington, D.C.-based trade association founded in 1942 to enhance the climate for housing and the building industry. NAHB is made up of about 800 state and local associations. About one-third of NAHB's 140,000 members are homebuilders and/or remodelers.