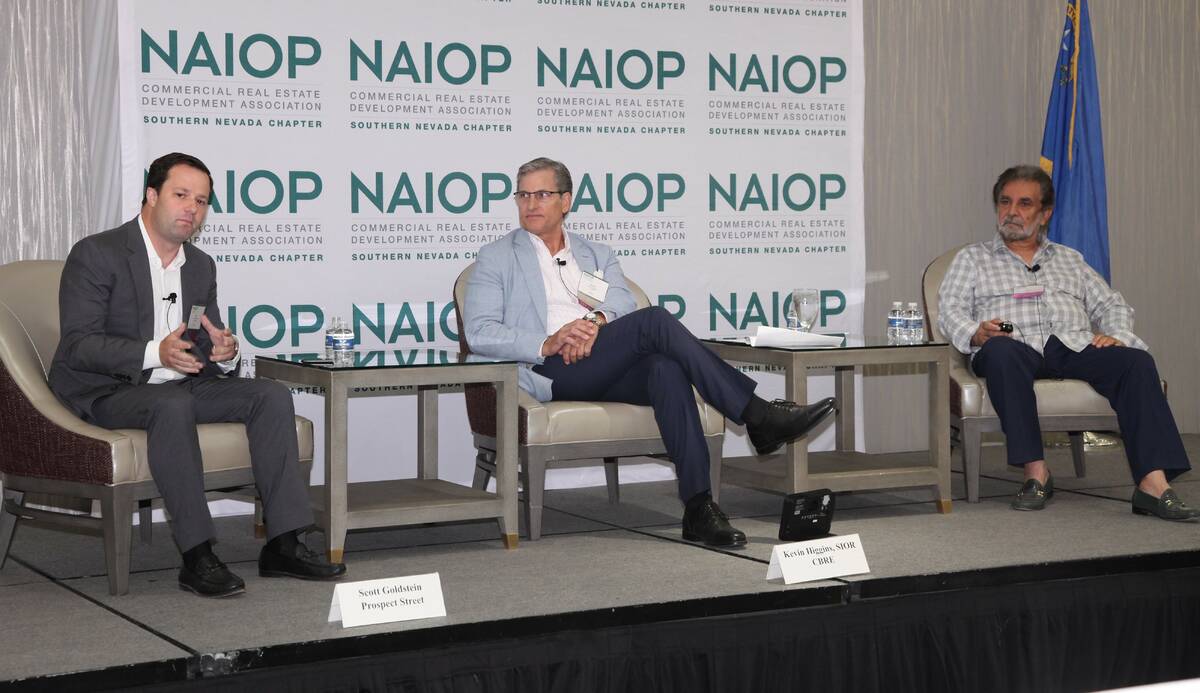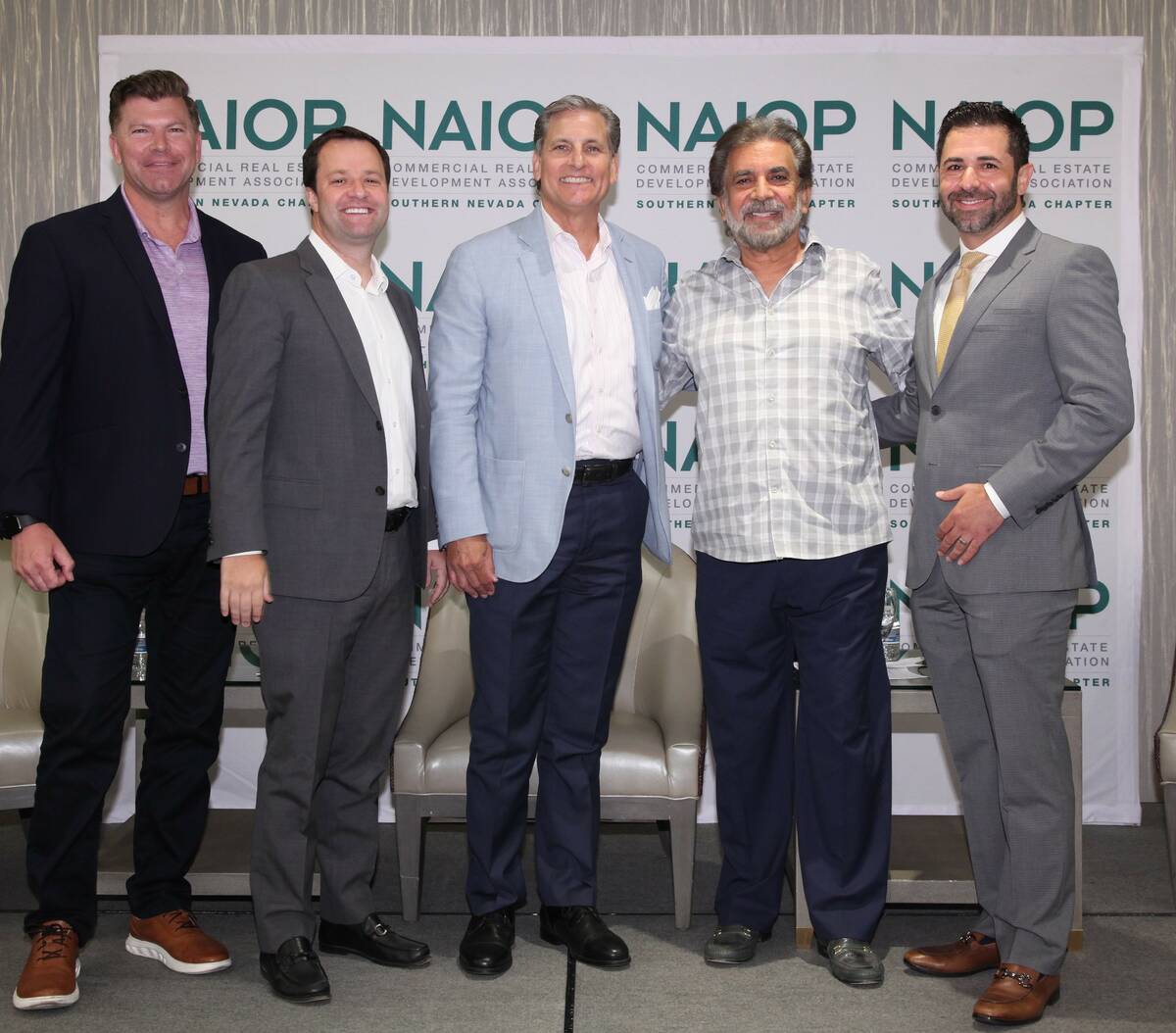 Two executives involved in real estate deals that could bring two casinos and a potential NBA arena to Las Vegas Boulevard south of the Strip touted the corridor for its development potential this decade.
Kevin Higgins, an executive vice president with CBRE, and Scott Goldstein, managing partner with Prospect Street, raved about the untapped potential of Las Vegas Boulevard South between Warm Springs Road and St. Rose Parkway. They spoke to real estate and development executives Thursday during a breakfast meeting of NAIOP Southern Nevada, the Commercial Real Estate Development Association.
Last week, the Review-Journal reported that Station Casinos paid $172.4 million for 126 acres at the southwest corner of Las Vegas Boulevard and Cactus Avenue in which CBRE represented Stations. Station's cited "the potential of this site as a local and regional destination casino resort."
Prospect Street's Goldstein, the son of Las Vegas Sands CEO and Chairman Rob Goldstein, is the managing partner of Blue Diamond Acquisition that sold 25 acres of a 66-acre site at Las Vegas Boulevard and Blue Diamond Road to Las Angeles-based Oak View Group. It plans a $2 billion, 2,000-room hotel and casino and $1 billion, 20,000-seat arena that could be the future home of an NBA franchise. The project is expected to start construction in 2023 and be completed in 2026.
Goldstein said his group looked at the 66-acre site in 2018 when it sold for $60 million and purchased it four years later for $100 million. It's adjacent to the Brightline West high-speed rail terminus between Las Vegas and Southern California.
Goldstein told the audience they have a partnership with Oak View Group run by Tim Leiweke, the No. 1 arena developer in the world. Oak View is building what they think will be an "extraordinary high-quality arena that will have the ability to serve an NBA team potentially and high-quality concerts" along with a hotel and casino, he added.
"I think it's a very exciting project, and I think South Las Vegas Boulevard south of the Strip is going to be a much different place in five to 10 years between Brightline West and the Oak View project," Goldstein said. "I believe in that market very much."
Higgins said the far South Strip has "sat a little dormant for a couple of years." He talked about selling the site of the current South Point casino that opened in December 2005 to owner Michael Gaughan.
"I told him then that maybe there's nothing here today but if you look out three, five to seven years you will be in the heart of things," Higgins said. "I think we put it on pause because there was so much activity further up the street that people are finally realizing that they are still in the center of town. There are so many things that are dynamic in that whole area and now with the addition of the Station Casinos' acquisition, I think that only heightens the interest in that area for properties. It creates a new norm down there."
In an interview with the Business Press, Goldstein said the plan for their portion of the development is to "be patient." When Oak View executes on its vision, Goldstein said his group's land will be more valuable.
"They are the anchor, and we're probably going to fill in complementary uses," Goldstein said. "We're going to be patient and not plan anything until they complete their part of the project. We're going to remain opportunistic."
Goldstein said his group has done developments and sold land as well. They will do what generates the highest return, he added. They are currently building a medical office project near Summerlin Hospital and have done medical office and ancillary development in the southwest.They also own a grocery-anchored center, he said.
"If we're being intuitive about this, it will probably be some kind of mixed use," Goldstein said. "You could make guesses on what we would think about. It lends itself to (food and beverage outlets), some hotels and apartments. Some of those uses would make sense, but I'll be honest we're not planning anything right now. We're probably a few years away from planning this."
Goldstein said the South Strip is the "most rational place to continue growth." There are many neighborhoods from Southern Highlands to Inspirada and Station Casinos will add to the corridor with their project. The Brightline West rail center will bring "a tremendous amount of passengers" from Southern California, he added.
"You have a lot of major impact projects that are going on in that area," Goldstein said. "You have the Dream Las Vegas (to the north), what Oak View is going to do, and you have the Fortress Group to the north of us with 110 acres."
The NAIOP breakfast dealt with a discussion on land in Southern Nevada, and speakers talked about concerns over whether there's a shortage of land in the valley and surrounding areas. Some in the business and development community have called on the federal government to make more land available and enable Las Vegas to build more homes and commercial projects.
"I think that scarcity is overstated," Goldstein said. "I think we still have plenty of land here in Southern Nevada and plenty of access to land. There's a way to repurpose land already built on and in use. There's no question there is less and less land, but I don't see that as an issue for our business. If anything, it's a benefit to our business as we adapt."
Higgins also said he doesn't believe there's a scarcity of land either. Instead, he said there's a scarcity of land with infrastructure to serve it.
"It isn't about scarcity," Higgins said. "It's about putting it to work, and you can put it to work with the infrastructure. I do believe there is enough within the valley structure that is currently in the hands of the BLM from a residential standpoint in various areas that we don't need to rush to open up thousands of acres today because they are screaming we have a scarcity of land."
Higgins questioned who's going to put in the infrastructure for that land, what facilities will be needed and at what cost to make it viable. It will be needed eventually, but it's not needed today and for the foreseeable future, he said.
Higgins and Goldstein said there's definitely a pause in the commercial real estate development market given concerns about the economy and a potential recession. It's nothing like what happened in the run up in the late 2000s with the Great Recession hitting real estate and development hard, they said.
"In today's world with what's going on in the market, it's very interesting," Higgins said. "I'm not sure it's 2008 over again but there's certainly a ;pencil's down; for developers and investors from an industrial standpoint. They are pausing to try and figure out what's going on in the world today with interest rates, inflation, etc. We're in for some interesting times here."
Higgins said the industrial market has an anemic 1 percent vacancy rate, the lowest it's ever been. Big boxes are less than half of that vacancy rate, he said. Normal vacancy is 4 percent to 5 percent, and Las Vegas is losing deals to Arizona and Texas because of a shortage of product, he said.
"We probably have a third of the development up in North Las Vegas pre-leased for next year because there's no product," Higgins said. "You will see less absorption this year than last year because there's no product to absorb right now. Is that hurting us? Yes, it's hurting us. People are going to other markets because they need to know something is there in six to 12 months. It's everywhere. If you look in Arizona and California it's happening like that with anemic vacancy."
Sales prices for industrial sites in North Las Vegas hit a "high-water mark" and Higgins cited a recent sale that showed a decline in price. Despite that, he said it's still a healthy market.
"We are growing like we have never seen before and seeing companies like we've never seen before," Higgins said. "Long term, there will continue to be this mass exodus out of California, Oregon and Washington, and Southern Nevada is their primary state. Arizona is certainly right there. I don't think that will stop."
Goldstein said he doesn't see a "2008 situation either." There's uncertainty in the market at this time, which makes it difficult to "underwrite something and spend a significant amount of money just because we're not sure what footing we are on. Once the market gets a little bit more solid ground, I do believe the market picks up, not that it's struggling."
Higgins said there's a lot to be excited about with buyers and developers for such projects as stadiums, casinos and medical. There are people who aren't afraid to buy land and spend a significant amount of money for a great location, he added.
Goldstein also said the billions spent in Las Vegas over the last five years, including such projects as $4 billion for Resorts World, is driving economic growth. Other than New York City, no other city in the U.S. has spent the amount for development based on its population, he said.
"There are no second-tier cities close to that, and that makes Las Vegas special," Goldstein said.