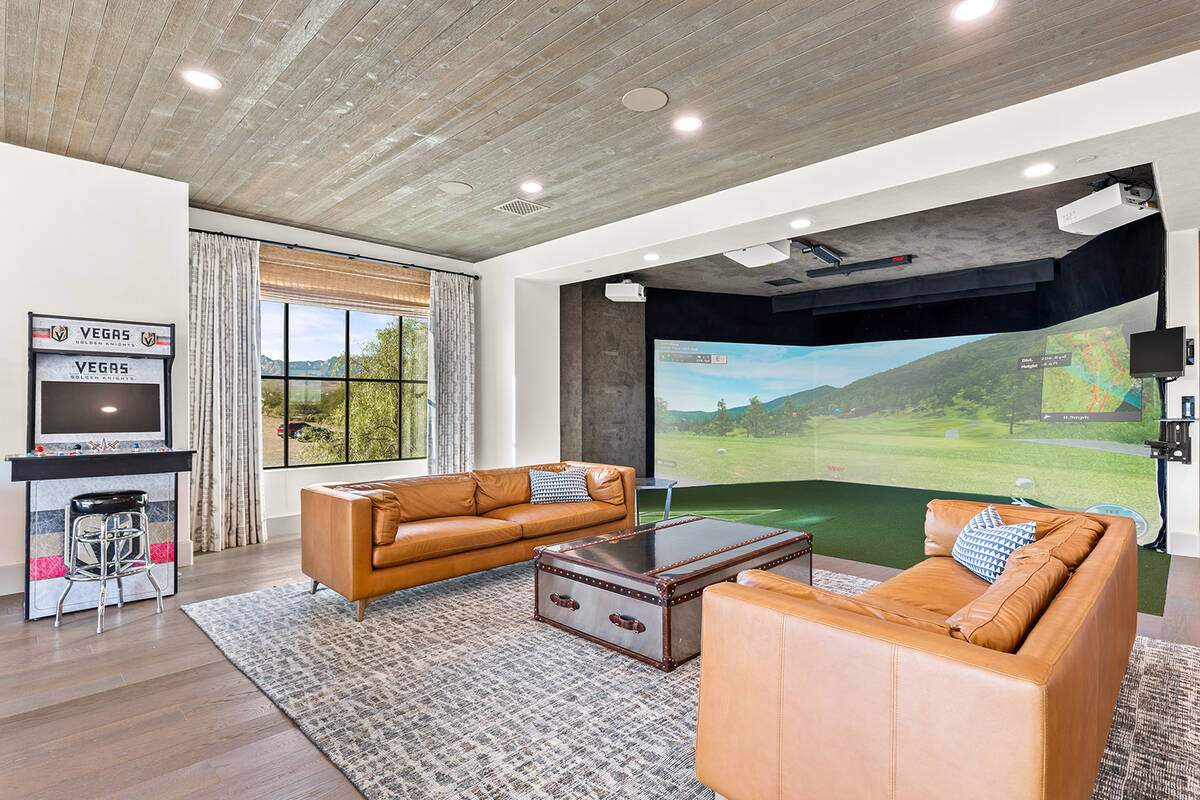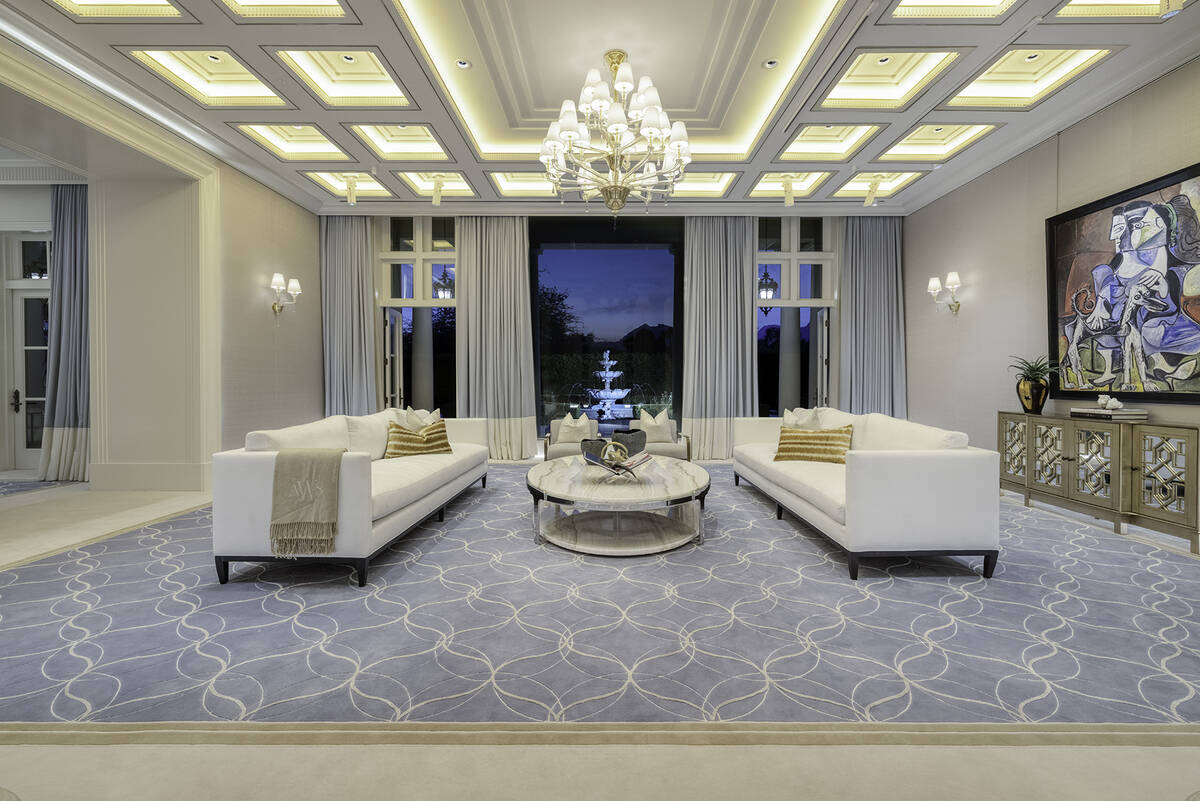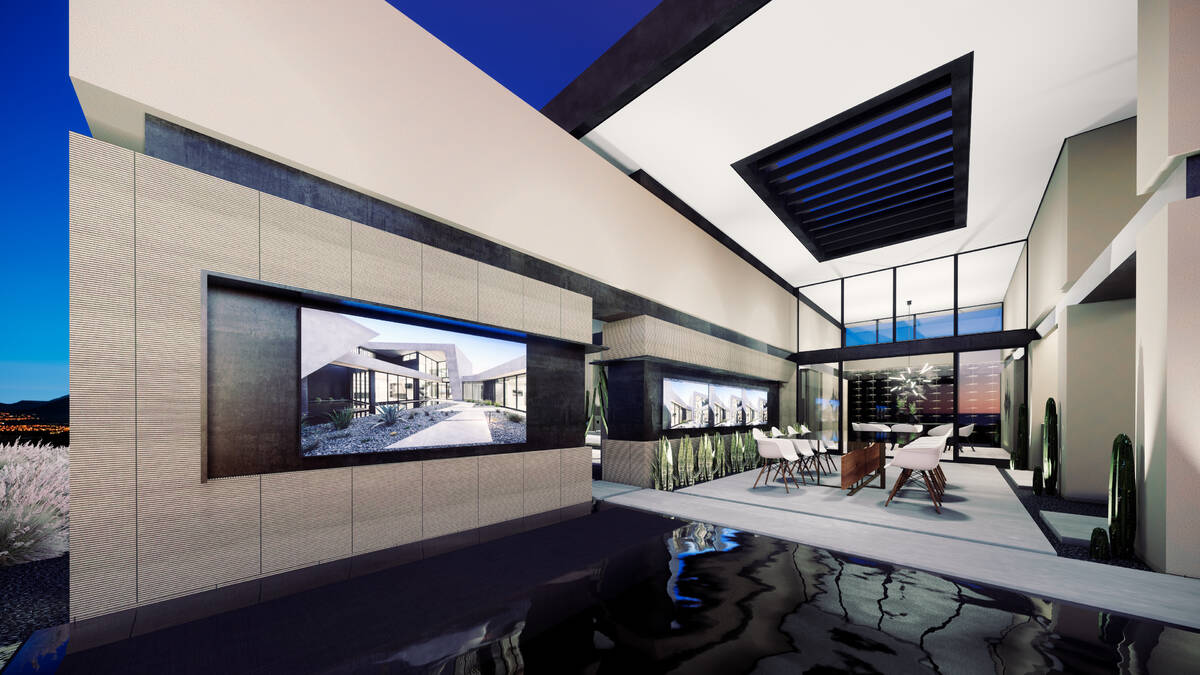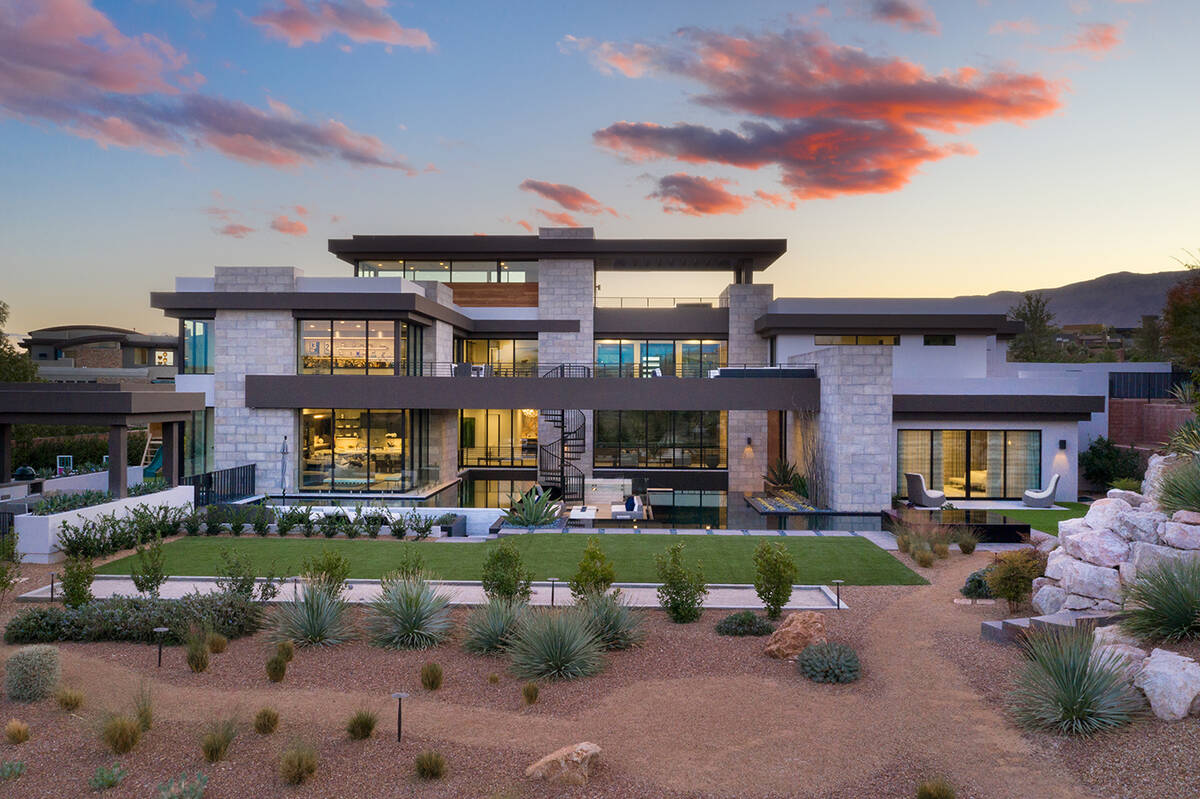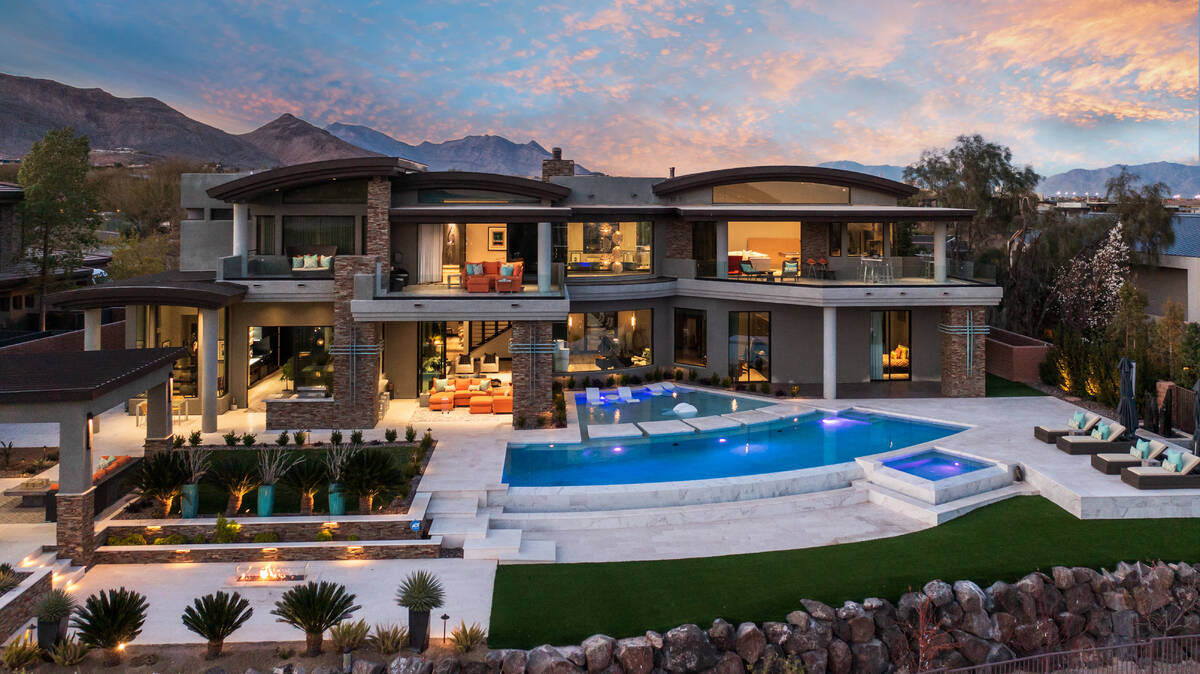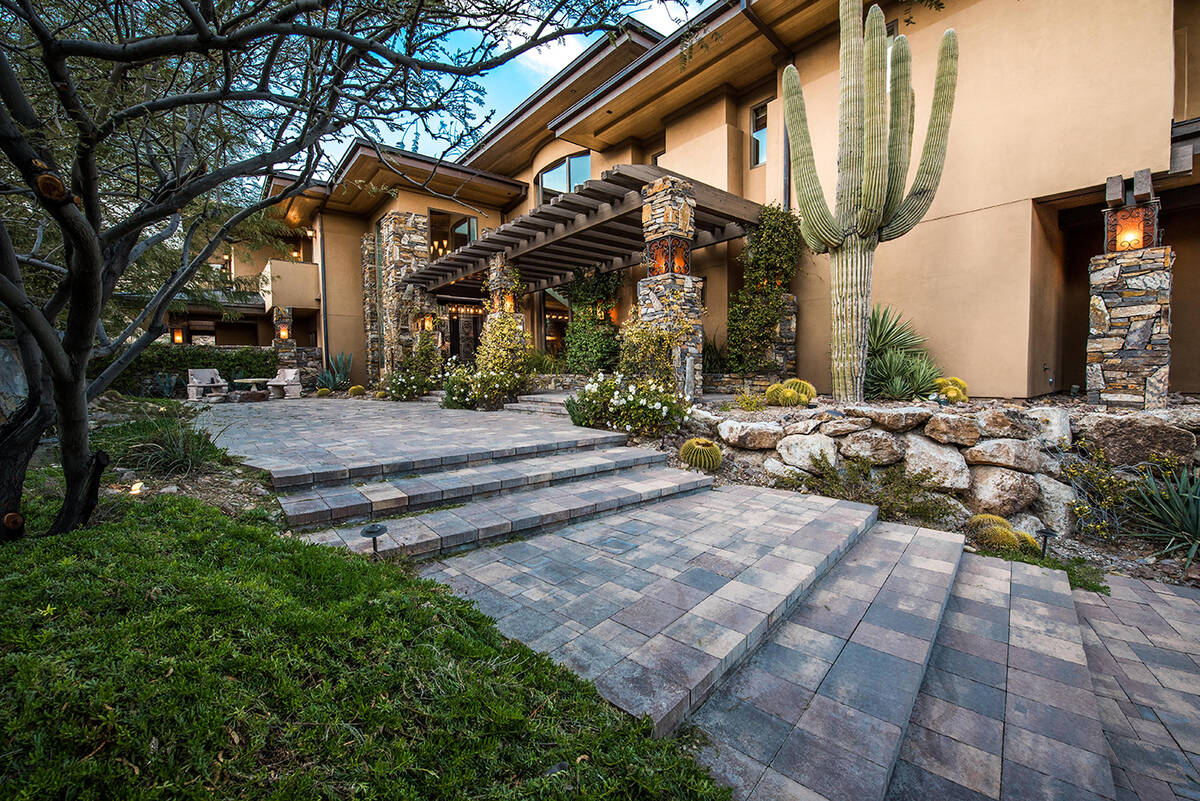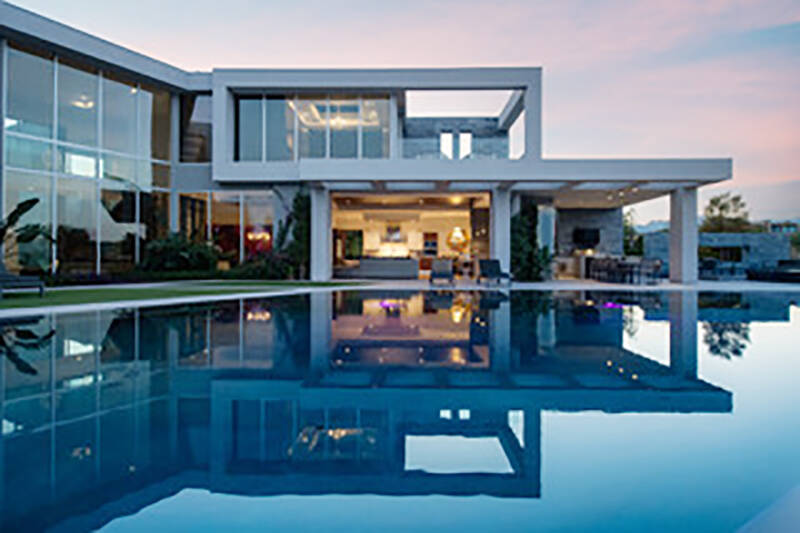 A Summit Club home in Summerlin set the mark at $18.95 million as the highest luxury sale in Las Vegas in 2022 and No. 2 sale in the history of Las Vegas for single-family homes as displayed on the Multiple Listing Service. Only the $25 million paid for a MacDonald Highlands mansion in 2021 topped that 2022 sale on the MLS.
The two-story property in the uber luxury resort community has five bedrooms and eight baths and measures 9,427 square feet. It was built in 2019 by Growth Luxury Homes and sits on a Stardust Drive lot measuring 26,572 square feet with golf course views.
"It's a great home," said Sher, the listing agent and the owner of IS LUXURY. "It has a Santa Barbara exterior and eclectic interior. It has a separate guest casita and the only way you can get to it is with an outside staircase or internal elevator. One of the garages was converted to an indoor basketball court. It's in a great location. If this home were in The Ridges or anywhere else it wouldn't get anywhere near that price outside of the Summit."
Sher said the property is "majestically perched within The Summit Club with city, mountain and golf course views." It has "timeless design elements, a grand great room with gorgeous natural light, dramatic wood-beam ceilings and exquisite views. The architectural use of arches throughout the home adds to the richness of the interior, while black iron doors and window frames bring a definitive feel of security and comfort."
The master bedroom is a "decadent retreat resplendent with a spa-like bathroom that includes a private outdoor terrace with an outdoor shower," Sher said.
The home also features a secluded private apartment. This space includes its own stairs, elevator, living room, bedroom, bathroom and laundry.
The entire upper level is devoted to entertainment, with a game room, lounge, bar and golf simulator, Sher said.
"It's timeless," Sher said. "Two of the three homes that sold in The Summit are not modern. One we sold for $15 million was much more stylistic and traditional than modern and contemporary. It's very California. This is Montecito. These two homes are getting top dollar. There's a third off-market home that sold for $17 million, which was contemporary."
Steve Escalante, senior vice president of business development with Growth Luxury Homes, called it a beautiful home and that they're proud of what they created.
"This home is an authentic Spanish-style of house from the design, architectural design time and interior design team," Escalante said. "They really came together to create that authenticity of that style here in Las Vegas. We definitely enjoy taking on world-class projects that are not only unique but respect the design architecture of what the client wants."
Kevin Marsh with Summit Club Realty was the buyer's agent.
No. 2 sale
Billionaire Steve Wynn sold his mansion in June on Enclave Court in Summerlin, known as Billionaires Row, for $17.5 million. British businessman Simon Dolan and his wife, Sabrina, were the buyers.
Kristen Routh-Silberman, who is now a Realtor with Douglas Elliman Real Estate, was the listing agent. Elizabeth Schwartz Fray of Urban Nest Realty was the buyer's agent.
Wynn paid $13 million for the home in Country Club Hills adjacent to TPC Summerlin golf course. Built in 2001, it underwent a $16 million remodel by Wynn. The two-story 15,000-square-foot home has six bedrooms, eight baths, three half-baths and a four-car garage. It sits on 1.41 acres in Country Club Hills.
"It's like having a boutique Wynn resort," Routh-Silberman said in describing the home. "It's beautiful. It's ethereal and creates an ambiance like you're in your own personal resort. It's breathtaking. The finish-out is gorgeous. There are Mohair walls, Macassar ebony, walnut and the most beautiful ceiling treatments ever. A lot of it is one-of-a-kind and curated for this house and doesn't exist anywhere else in the United States. It's a collector's trophy piece. It's a jewel. It's exquisite. It has beautiful space and volume. I can't say enough. It will leave you breathless."
No. 3 sale
In May, boxing promoter and former boxing champion Oscar De La Hoya paid $14.6 million in cash for a home on the MLS that's under construction on Dragon Peak Drive in the luxury Henderson hillside community of MacDonald Highlands.
De La Hoya's one-story home sits on nearly 1 acre and will measure 10,460 square feet of livable space with five bedrooms, seven baths and an eight-car garage. The home was acquired from luxury builder Blue Heron.
The home, part of Blue Heron's Equinox Collection at MacDonald Highlands, is near a record-setting $25 million home sold by the builder in June 2020 to Anthony Hsieh, the founder and chairman of LoanDepot, a California-based non-bank consumer lender of home mortgages throughout the country.
The De La Hoya custom home with its indoor, outdoor and water features is described as having a floor plan design that only Jones can create, according to the listing from Routh-Silberman. It has 8,051 square feet on the inside and 2,409 square feet on the outside and is a classic design with a modern twist, she said.
"It represents another masterpiece and milestone for Blue Heron and Tyler Jones," Routh-Silberman said. "It's sensational and will be a showstopper once it's complete. Blue Heron is constantly evolving and with this home they are taking modern and mixing it with timeless. It's a new look for them. It's very refined for modern architecture. It should be a showpiece in Architectural Digest when it's finished."
The home features panoramic views of the Strip and mountains. The entrance is considered a statement with water features and a porte-cochere.
"It's every man's dream to have the garages and an entrance be a statement when you're coming in," Routh- Silberman said.
The home has a primary bedroom on its own wing, a guest wing with a digital den and media room. There's an office, gym and bar as well.
Other features include an outdoor living room, outdoor kitchen and outdoor dining and wine room. The backyard has a lap pool. It has a spa, fire lounges and play areas. The home will be fully furnished from a Blue Heron furniture collection when completed in 2023.
Payge Avery, a Realtor with Simply Vegas, was the buyer's agent.
No. 4 sale
An estate on Soaring Bird Court in The Ridges in Summerlin sold in February for $12.5 million It sits on 1 acre and has 11,211 square feet of living space in four stories with six bedrooms, eight baths and a detached casita. There's a four-car garage with more than 1,270 square feet, according to Ivan Sher, the listing agent.
The home has expansive living and dining areas, glass-walled wine storage and exercise room, office and a theater. A fenced and landscaped backyard includes a pool surrounded by gardens, comfortable seating areas, a fire pit and grilling area, and a bocce ball court. An upper-level deck overlooks the pool. It provides access to the pool via an artistically integrated circular staircase.
"This is one of the most stunning homes in Las Vegas, from the modern architecture to the contemporary design elements," Sher said. "This estate is truly special. It's best in class with multiple levels. The top level is the gym and the bottom level is for entertaining. The main level is for day-to-day, and then you have a level for guests."
The buyer's agent was Tierra Baer-Warndahl with Realty ONE Group.
"It's super ultra-modern," Baer-Warndhal said. "Blue Heron did a fantastic job. The home is beautifully done. You walk in the home and it's stunning. There's a koi pond. There's an infinity pool."
No. 5 sale
A Dec. 16 addition to the list closed for $11.75 million on Promontory Ridge Drive in The Ridges in Summerlin. The two-story home with a single-story casita built in 2007 measures 10,621 square feet. It has six bedrooms and seven full baths and two partial baths. It has a six-car garage on 0.82 acres.
Christine McNaught with Simply Vegas was the listing agent. Susan Boettcher-Kay with Urban Nest Realty was the buyer's agent.
The home is described as a "one-of-a-kind desert contemporary masterpiece." It has single-story living with en suite bedrooms and a casita on the first floor and two separate lofts. It has a private office, gym and expansive game room with views of the golf course and city. The home has a private movie room with a sunken wet bar with wall-to-wall sliding glass doors that open to the backyard where there is a pool, outdoor kitchen, basketball court, putting greens and trampoline. There's a private entry to the guest house that has a living room, kitchenette and two en suite bedrooms.
No. 6 sale
A $11.4 million sale in March on Hawk Ridge Drive in The Ridges in Summerlin includes a $35,000 tub in the master bedroom.
The listing agent of the home is Gavin Ernstone, broker owner of Simply Vegas.
The home features two stories, a basement, an eight-car air-conditioned garage, swimming pool and the $35,000 tub in the master bedroom. The home measures 10,609 square feet with four bedrooms and 5½ baths.
There are two bars, a downstairs theater and game room that opens to the outside. The home has a pool and an air -conditioned pool house.
"The house is absolutely amazing," Ernstone said in the listing. "Once inside you're greeted by the drama of the entry, a three-story floating staircase and the overall warmth, yet industrialist of this unique home. The entertainment and living spaces are second to none. There's a huge kitchen and great room with floor-to-ceiling windows all around and a dramatic sliding door allowing for a perfect transition from the inside to the outside."
No. 7 sale
A one-story home on 2.44 acres on MacDonald Ranch Drive in MacDonald Highlands sold for $10.75 million in May. Built in 2006, it has six bedrooms, eight baths and measures 23,554 square feet with a 12-car garage.
It is described as a hotel-inspired villa and a place to entertain with seamless indoor and outdoor spaces. There's a central great room opening to a resort-style pool and patio with a swim-up bar overlooking the Dragon Ridge Country Club. There's a bar in a 12-seat theater.
Isaac Moore with Las Vegas Sotheby's International was the listing agent. Patty Turner with LIFT Realty District was the buyer's agent.
No. 8 sale
Selling in November for $10 million, a two-story custom home on 0.64 acres on Sun Glow Lane in The Ridges measures 7,733 square feet with four bedrooms, 5½ baths, gym and movie theater. There's a four-car garage for the home built in 2014.
"It's a beautiful modern home with exceptional views of the city," Ernstone said. "All the bedrooms have en-suite baths."
The home is situated along the fifth fairway at Bear's Best golf course with a large backyard and a pool, said Ernstone, who was also the buyer's agent.
No. 9 sale
A three-story home on Echo Peak Lane in Summerlin that measures 10,693 square feet sold in June for $9.6 million. It has five bedrooms, 6¼ baths and an eight-car garage. It is nestled in the mountains on a 1-acre lot and has a tree-lined driveway.
Ernstone was the listing agent while Sher was the buyer's agent. He said the home didn't go on the open market but was a private sale.
"It has fantastic views of the mountains," Ernstone said. "It's in The Pointe, which is the most exclusive enclave of The Ridges."
Ernstone said the home has incredible architecture and quality.
"It's lovely and open. It has pocketing doors and a great kitchen," Ernstone said.
No. 10 sale
A two-story home on Boulderback Drive in Ascaya Henderson sold in June for $9.14 million. It measures 8,770 square feet with four bedrooms and 5½ baths.
Ernstone was the listing agent and buyer's agent.
"It's very modern and one of the best houses in Ascaya," Ernstone said. "It has incredible views of the city." The home was not on the open market but sold to a private client, Ernstone said.
It was built in 2021 and sits on .52 acres.