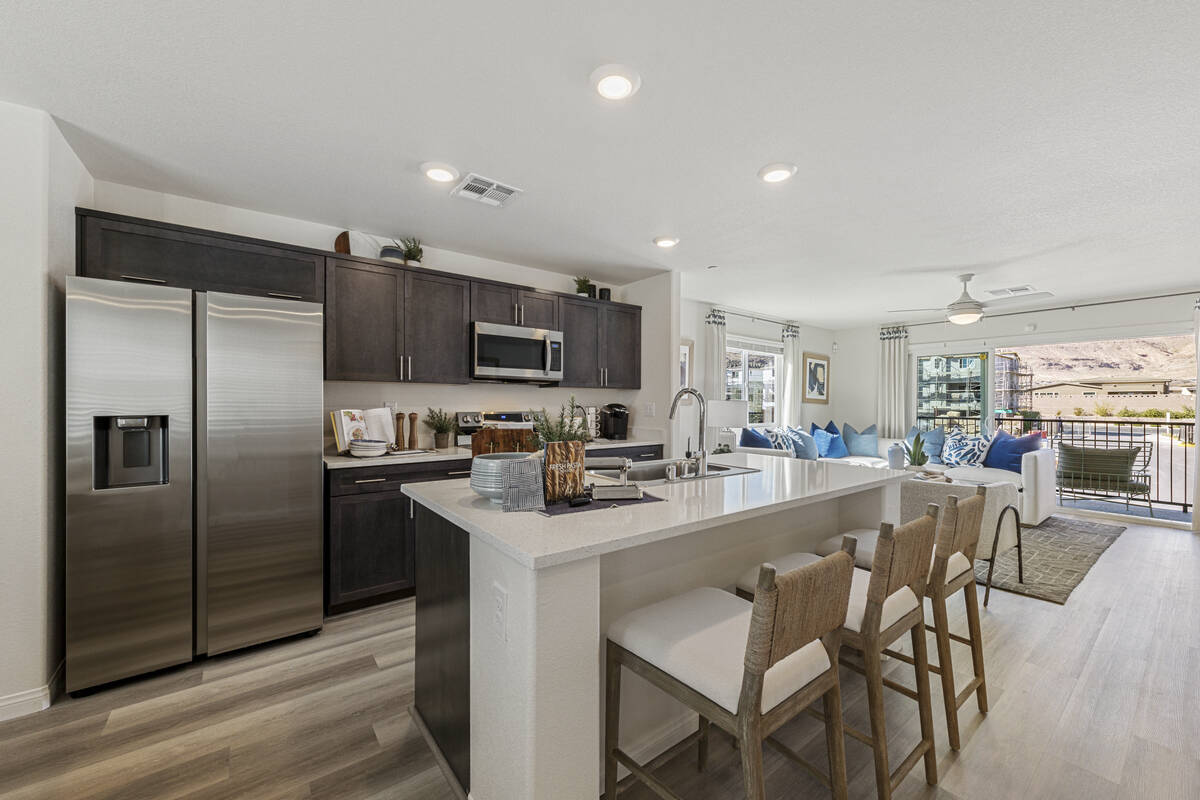 Tom McCormick and Touchstone Living have come a long way after its startup in the aftermath of the Great Recession and housing downtown in Las Vegas.
The former president of Astoria Homes, which launched in 1995, went out of business with the housing collapse in 2008 and 2009 after averaging 800 to 1,000 homes at its zenith. McCormick started Touchstone Living in 2012 and it has undergone a transformation since selling $700,000-plus detached homes to a builder of some of the most affordable housing in Las Vegas at a time when affordability is a major problem facing buyers.
"It's been quite a ride, but things are going really well right now," McCormick said. "Astoria (and McCormick with personal loan guarantees) got (financially) crushed by the downturn, and we shut it down. When housing came back, we started this up."
Touchstone made its first appearance in the builder rankings in 2021 at No. 9 with 642 net sales, more than triple the 206 sales in 2020, according to Las Vegas-based Home Builders Research.
In 2022, Touchstone moved up to No. 6 in the rankings despite a challenging marketplace with elevated interest rates that trimmed sales to 485.
But with its homes selling in the $200,000s, it's well-positioned to capture buyers looking at affordability. Touchstone's median price of $290,900 in 2021 rose to $345,990 but was by far the lowest among top builders, according to Home Builders Research. The next closest was D.R. Horton with a median price of $457,990.
In 2022, Touchstone had the top two selling subdivisions in Las Vegas in Watercolor with 262 net sales and Mosaic with 219. Touchstone was No. 2 in 2021.
McCormick started Touchstone with the concept of building products that other builders were missing. He said he noticed there weren't any new homes offered in the valley, except in Summerlin, that were more than $500,000. When they started up, Touchstone bought half-acre lots in the northwest and southwest and hit the market at prices ranging from $500,000 to $700,000.
"It worked," McCormick said. "It gave us enough to get started again. A home on a half-acre lot just off the freeway was a pretty appealing proposition for people. We were only selling 10 to 20 homes a year by the time we got the machine started up again."
McCormick said they were buying broken projects such as one in 2014 called Hidden Hills where they acquired 55 acres at the end of Lone Mountain Road in the northwest that had no water service. They extended the infrastructure and built 350 homes, which was Touchstone's move back into the mass market. That project wrapped up by 2018 and 2019 with the highest prices in the low $600,000s for homes up to 5,000 square feet.
"We will buy problem projects that the public builders would typically stay away from," McCormick said. "We bought 50 acres at the very sound end of the Strip kitty corner to the M Resort. It did not have access to it."
That project called Mosaic was Touchstone Living's shift to first-time homebuyers, which is its only focus today. Touchstone bought the land in 2018 and started selling attached homes in 2020 as the COVID-19 pandemic hit. The townhomes started at $239,000 and went up to $310,000, and now the prices with inflation are $325,000 to just over $400,000. The size ranges from 1,200 square feet to 1,900 square feet and more than 725 have been sold out of 793 lots.
Touchstone purchased 85 acres at Watercolor in North Las Vegas in 2019 and it's a similar project to Mosaic with 1,200 lots and about 600 homes built so far on 50 acres. Those prices range from $280,000 to low $400,000s for homes 1,000 square feet to 2,200 square feet. The project includes duplexes fourplexes, six plexes and some single-family homes.
Touchstone's latest project is in the east valley at the former Royal Links Golf Club known as Independence, which will have 1,600 homes. The builder bought the land in December 2021, and has been working there for a year and getting ready to start models. Home sales are expected to start in the third quarter with 8,000 people on an interest list.
The project will feature townhomes and duplexes. Those haven't been priced but the expectation is they will range between mid-$200,000s to low $300,000s.
Touchstone is also building a paired home on the edge of Summerlin in the southwest valley in the low $400,000 for first-time homebuyers called First. It has 68 lots and property across the street with 84 lots and another at Buffalo Drive and Warm Springs Road with 82 lots where it plans to build.
"When we started in the early 2010s, that's when we had the huge foreclosure glut and prices were so low that there was no need to build an entry-level home at the time,"
McCormick said. "We were building to the market that was underserved, which was the move-up buyer, but in my career my bread-and-butter has always been first-time homebuyers."
Touchstone is able to keep its prices low because it doesn't offer any options, McCormick said. That's important as material and construction costs continue to rise.
When mortgage rates started rising last spring and summer, that made it difficult for people to buy their first home, McCormick said. Buyers could put together their down payment as mortgage rates went from 3 percent to 7 percent, the monthly payment went up 70 percent and "that really killed the affordability."
In response, Touchstone has been buying down interest rates because the hardest part is to get qualified, McCormick said. While it's a tougher sales market, prices are lower and by buying interest rates down the interest rate discounts will go away and payments will go up when the market normalizes, he said.
"When it first happened, our buyer was the most impacted," McCormick said of interest rate increases.
"They are the ones struggling the hardest to put together the income and keep their debt level low so that they qualify for a mortgage. When the rates go up, the dream of homeownership fades because income can't keep up with payments."
With a rate buy down, Touchstone pays fees up front so instead of a 7 percent rate a buyer gets a 4.5 percent rate, McCormick said. It's prepaid interest for the 30-year term of the loan, he said.
Just because the homes are affordable, doesn't mean they lack amenities, McCormick said.
No builder is constructing neighborhoods as large as Touchstone with 800 to 1,600 homes and many amenities, he added. At Watercolor, for example, there are four pools and a splash pad in a gated neighborhood. Touchstone charges about $250 a month in homeowners association fees, higher in some communities and lower in others. That fee may include roaming security, pools, parks and cable television.
Even though the market is down, McCormick said people are still looking for homes and when interest rates decline, the sales will increase. Unfortunately, so will home prices so now is a good time to buy, he said. People can always refinance at a later date when interest rates fall, he added.
"With all the people moving here and job growth we have, there's still plenty of people who want to purchase a home," McCormick said. "It's a situation where it's not a lack of demand but a lack of affordability. It's too hard to qualify for a loan at the prices that homes cost and interest rates we have."
McCormick said he expects to keep busy with Independence for the next five to six years and it could go longer if the market is slower. From there, he said he's not sure.
"There's not many 160-acre golf courses that you buy and convert into housing," McCormick said.
Touchstone will look at federal land auctions or look for land outside of the valley in Pahrump or other locales, McCormick said. He said he's not worried about the state of the housing market through the lens of what happened in the past. He called it a correction.
"This is so much more different than 2008," McCormick said. "People couldn't afford to hang onto their homes. Today, they have 3 percent mortgages that even if they wanted to sell their homes, they couldn't rent it for what they're paying on their mortgage."
Touchstone, which has 75 employees today, started with three employees a decade ago.
Touchstone went to a four-day work week in 2022 and staff have since returned to the office full time since working from home during the start of COVID. No pay was adjusted from the previous five-day work week.