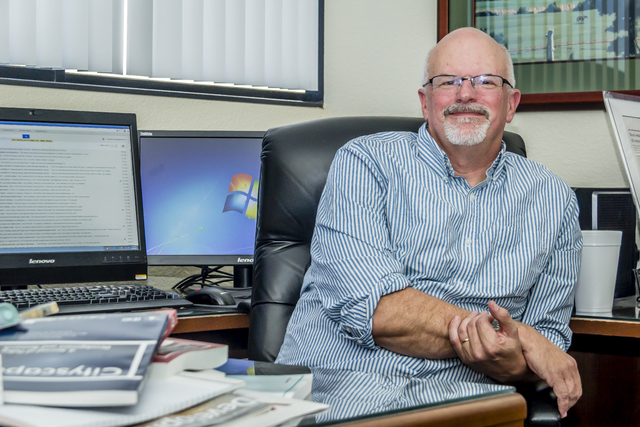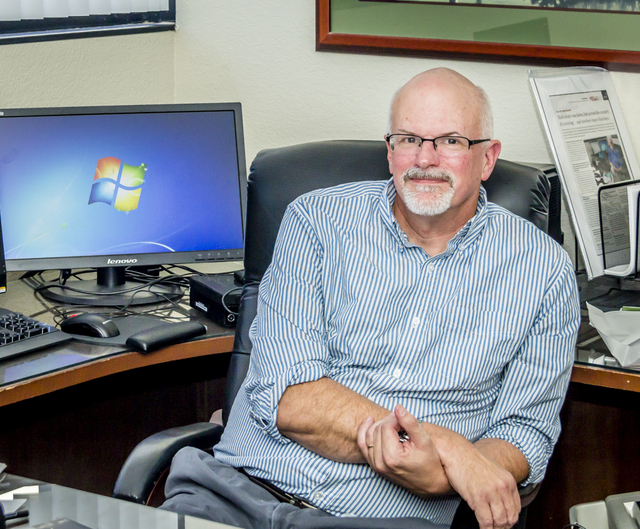 Ed Coulson is a man on a mission.
The new director of the Lied Institute for Real Estate Studies at UNLV would like to be, in the words of ZZ Top, "nationwide."
"I go to a lot of conferences, and one of the goals is to make sure that my research gets out there when I go," said the man who spent 30 years as a professor of economics at Penn State before taking the UNLV job last fall. "Part of the goal is to let the nationwide scholarly network in real estate know that Lied is a credible and interesting outlet for information.
"I think we do a lot of great number crunching here. We have a full-time data analyst and we're putting out reports, which we'll do more of in the future. We're pushing out on the frontiers — real estate education, research, interaction with the industry.
"Anything with the housing market in Vegas is news, whether good or bad. Because of the struggles, it makes it of interest to scholars nationwide. 'Why did it happen here?'"
Coulson has zeroed in on two real estate topics for some adroit academic scrutiny in Las Vegas: the single-family rental market and the new-home premium.
In early February, Coulson told the Las Vegas Review-Journal that the local market may have reached an equilibrium but that it hinges on single-family rentals.
"The viability of this equilibrium will depend on the single-family rental market, which is of increasing importance for the local housing sector," he said.
Coulson traces his interest in real estate studies back to graduate school at the University of California, San Diego. It was the early 1980s, and the country was just coming out of another energy crisis. Coulson said he thought housing was an interesting and understudied topic. So, he wrote his dissertation on the interactions of housing price characteristics and energy costs.
Coulson, a California kid with a doctorate in economics, accepted a professorship at Penn State in 1984. Like legendary football coach Joe Paterno, he could never find a compelling reason to leave. This academic bubble had top-tier academics, an idyllic campus and a safe, comfortable city that had it all, nestled away from it all.
Then, the Jerry Sandusky sex abuse scandal burst that bubble.
"To have this all come out was a complete shock," Coulson said. "I think there was a sense of, 'How could this happen here? How could this have been overlooked,' if that's the right word."
Sandusky, a former assistant football coach for the Nittany Lions, was convicted of multiple counts of sexual abuse of children. Also, the actions of several Penn State University officials were called into question over whether they met ethical, moral, and legal obligations in reporting any suspected abuse.
Coulson pointed out that academics never suffered from the scandal. Applications for admissions and contributions did not decline, so continuing to work and teach there was not a concern. He was approaching 30 years on staff and was teaching courses in the real estate department, which he was passionate about.
"(The scandal) had nothing to do with me coming here," Coulson said. "I came here because I wanted to come here, not because I wanted to leave there."
The Lied Institute was established in 1989 by the College of Business (now the Lee Business School) at the University of Nevada, Las Vegas to foster excellence in real estate education and research. Through partnerships with business and community leaders, the Lied Institute strives to improve real estate business and effective public-policy practices in Southern Nevada.
Coulson said that a former doctoral student of his is now a UNLV faculty member. He alerted Coulson to the directorship opening, and Coulson's letter of intent was positively received.
"This opportunity was too good to pass up. So, here I am." he said.
If anything, it was the weather that drove Coulson back West and not far from his Los Angeles roots. He earned his undergraduate degree from the University of California, Riverside and postgraduate degrees from University of California, San Diego. It's a wonder he lasted 30 minutes, much less 30 years, in a Northeast ice box clime. He's the right age for dry heat and sunshine and the right man, UNLV thinks, to direct Lied with a housing market in recovery.
"I've got a good staff here," Coulson said. "For the first few months, what I needed to do was meet all the people who wanted to be involved with the institute. The events we were going to run had already been planned, so all I had to do was show up. We're going to do more events of that kind and I'm going to continue to have the help of the staff and move forward. I've got a whole box of business cards from people I've met."
While still getting the lay of the land in his new job, Coulson said the real estate community has been receptive to his presence.
"We have tons of involvement from industry people in the institute who are involved in a variety of ways," he said. "On the advisory board, being mentors to our undergraduates, and participating in events that we run. It's just been terrific. I've been very happy with that."
Historically, housing has always led the nation out of its recessions. Coming into this job, Coulson knew the added importance real estate has to the economic health of Las Vegas. Some may point to gaming and the Strip, but it could be argued that the housing industry is the lifeblood.
"Real estate is a very important industry in this town," Coulson said. "And the level of engagement we're getting from people who want to see real estate studies succeed at the university has been great. Real estate took a big hit, as it did nationwide. The number of kids studying real estate plummeted during the crisis, here and elsewhere. … We're seeing a rebound in that, and hopefully that will continue because that's one of the big industries here because of the population growth, which I think we're going to see again."
As for Southern Nevada's quality of life, Coulson deftly noted what most other transplants are happy to discover about Las Vegas: There is the Strip, and then there's a pleasantly surprising livability and normalcy beyond.
"I think what strikes every person is the pleasantness of suburban Las Vegas," Coulson said. "It's just a nice place to live."