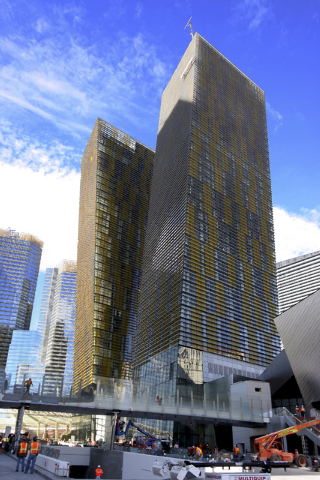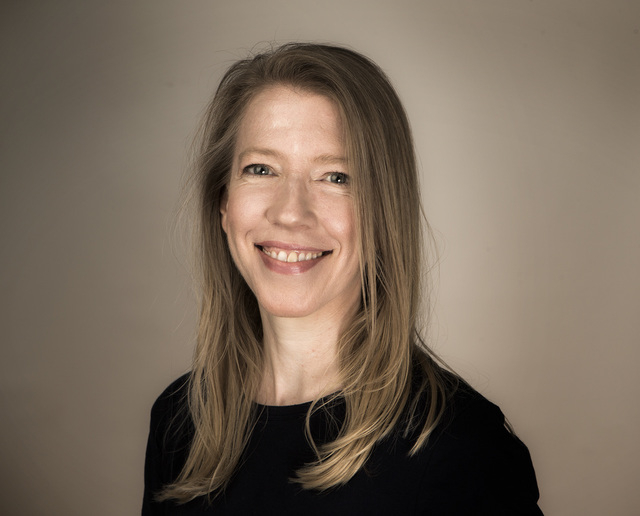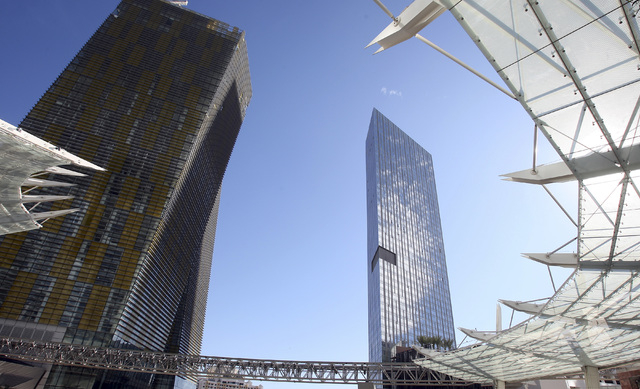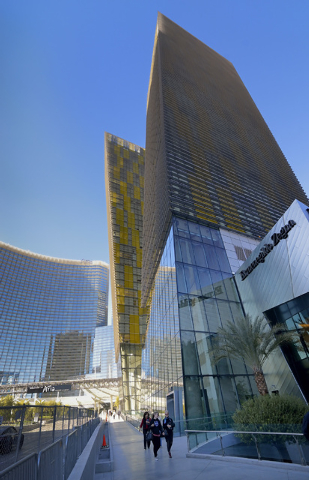 The Strip's condo market ended 2014 on a strong note.
Pordes Residential Sales and Marketing announced that the Veer Towers project it's marketing at CityCenter closed on 200 units from early 2013 through December.
"It has been a long time since anything like that has happened in the Las Vegas condo market," said Mark Pordes, the company's CEO. "Veer Towers is a trophy property and buyers are aware of the incredible deal they are getting when purchasing a unit."
Those deals come thanks in part to steep price cuts following the recession.
Veer Towers, which opened in 2009, sold about a third of its 670 units before closings stalled in the downturn. Developer MGM Resorts International slashed prices, which started at $500,000 and went up to $12 million, by 30 percent in late 2009, and by another 25 percent in early 2012. Still, sales struggled: The two towers moved just 10 units in 2011, and six in 2012.
Today, Pordes Residential is marketing studio condos and units of one, two and three bedrooms at prices of $250,000 to more than $2.1 million inside Veer's two 37-story towers. Buyers can choose from 17 models, and purchase units fully furnished.
As a result of 2014's sales, Pordes Residential is set to release another 100 units at Veer. Their marketing pitch? Buy at Veer and live practically next door to MGM Resorts International's 20,000-seat arena under construction next to New York-New York, as well as The Park, a dining and entertainment district next to the arena.
Save the date
The Southern Nevada Home Builders Association has scheduled an outlook for the state's 2015 legislative session, which begins in February.
The Jan. 15 lunch event at Sierra Gold, near Interstate 215 and Jones Boulevard, will be presented by both the trade group and the law firm of Brownstein Hyatt Farber Schreck.
Association Executive Director Nat Hodgson said reform of the state's construction-defect laws will be on the discussion agenda, as will potential laws related to super-priority mortgage liens and tax and education reforms.
Realtors donate
The Greater Las Vegas Association of Realtors donated nearly $30,000 to 13 local charities in December.
On Dec. 12, the association presented $20,000 to 12 local charities based on need and the services they provide to Southern Nevadan. Nonprofits receiving donations were Big Brothers-Big Sisters; Catholic Charities of Southern Nevada; Family &Child Treatment; Foreclosed Upon Pets; Nevada Homeless Alliance; Nevada Partnership for Homeless Youth; Pet Awareness &Welfare Services; Project 150; The Shade Tree; Street Teens; Walter Hoving Home; and Safe Nest.
A day later, members of the group's Young Professionals Network gave nearly $10,000 to host a holiday party for St. Jude's Ranch for Children in Boulder City.
Contact Jennifer Robison at jrobison@reviewjournal.com. Follow @J_Robison1 on Twitter.