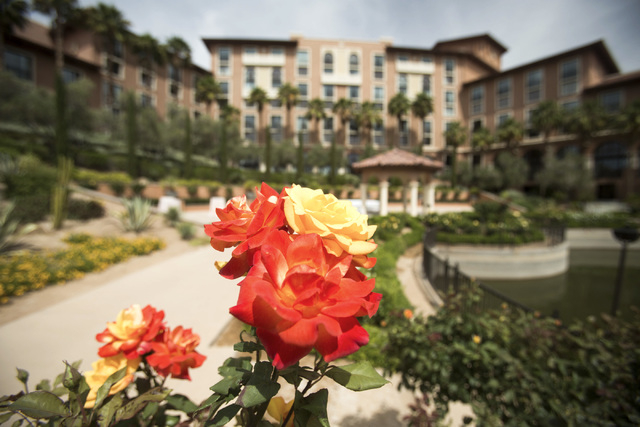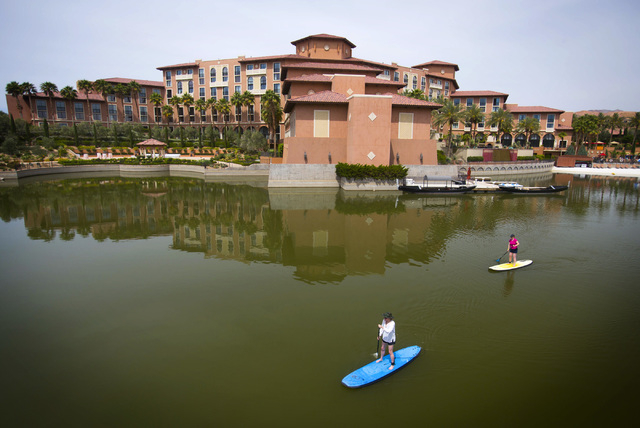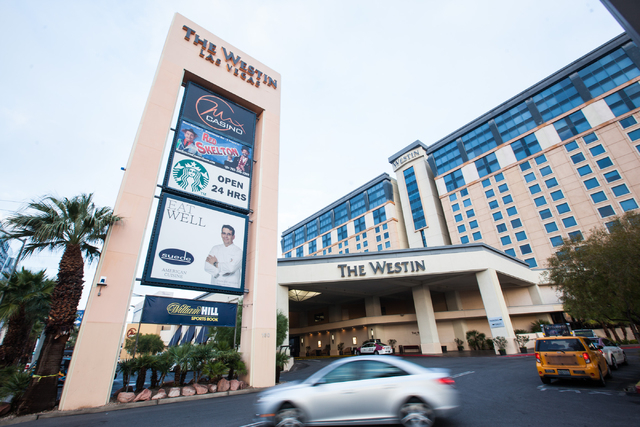 After a month of slight declines, loan delinquencies involving local commercial properties ticked up slightly in the first month of the year.
While all signs point to a vibrant recovery in the Las Vegas commercial real estate market as a whole, some lenders are facing challenges with dozens of underperforming properties, some of which are already bank-owned and others of which are nearing foreclosure.
Some assets have been written down by many millions of dollars.
And that could spell opportunity for buyers.
The latest figures from Trepp LLC, a New York-based commercial real estate and banking research firm, show 55 commercial properties with real estate loan payments that were more than 90 days late in January.
It's still an improvement from the high in mid-2012, but that's up from 53 in December. The figures also show that 34 of those properties are listed as REO, or real estate owned, which is a class of property owned by the lender after an unsuccessful foreclosure sale.
In mid-2012, some 150 properties were listed as delinquent.
At the top of the list is Loews Lake Las Vegas, a 493-room Westin hotel located in Henderson. The property was one of two Las Vegas-area hotel loans that have seen hefty appraisal reductions in January.
The Westin in Henderson was given a $117 million appraisal reduction on its original appraisal of $181.7 million. Sean Barrie, a Trepp analyst, said the reduction values the property at $64.7 million. It averaged 54.7 percent occupancy last year.
The property was transferred to special servicing in March 2009 for imminent default and became REO in March 2012. The hotel was converted to a Westin in that same month.
"The special servicer's current strategy is to continue to add value and stabilize the hotel," according to a Trepp property report. A December Smith Travel Research report finds the property continues to underperform and its occupancy and RevPAR stood at 54.7 percent and $65.33, while the average daily rate is $119.36.
The Western Casuarina Hotel & Spa, which was the top property on the list of 90-plus-day delinquencies, has a loan of $135.9 million. Its appraised value has been reduced by more than $74 million.
The property at 160 East Flamingo Road is now valued at $61.8 million, down dramatically from its original appraisal of $240 million. According to a Trepp report, the property's financials have climbed out of the danger zone following 2013.
The property's debt service charge ratio for the first quarter of 2014 was 0.98, a far cry from 0.39 in 2013.
"Most real estate owned lenders are examining their options," Barrie said. "That's why some of these properties have been listed as REO for so long."
Barrie said most properties have recovered pretty well from the recession. "Modifying a lot of these loan makes it easier for the borrower," he said.
Another REO loan that has been on the books for some time is Sahara Pavilion North, a retail center on the northeast corner of Decatur Boulevard and Sahara Avenue.
The commercial retail development is home to TJ Maxx, Ross Dress for Less and Jack in the Box, but the former Borders Book Shop location in the mall has been vacant since it closed at the end of 2011.
While some loans have been given appraisal reductions, others have been transferred to a special servicer as they prepare to foreclosure on the properties.
Doctors Pavilion recently saw its $13.9 million loan transferred before it matured on March 1. The borrower has been unable to refinance and has requested a loan extension, according to data compiled by Trepp.
Barrie said an appraisal has been ordered on Doctors Pavilion, so the servicer will give the best guess as to how much the property is currently worth.
A Trepp property report on Doctors Pavilion says the "special servicer is engaging counsel; likely foreclosure."
Also on Trepp's list is Mission Paseo, which was transferred to the special servicer on Jan. 12 after the borrower failed to pay off the loan before it matured Jan. 1.
R&R Plaza had its $6.15 million loan transferred to special servicing on Jan. 21 because of imminent monetary default. No foreclosure has been declared yet.
But R&R Plaza's largest tenant, American Optical Services, has filed for bankruptcy and has vacated the property. American Optical Services had occupied 16,996 square feet or 31.25 percent of the leasable space.
"With loans in default, it is unlikely they will sell part of the property off," Barrie said. "The borrower will look for a modification or extension of the loan so they have more time or less money to pay off."