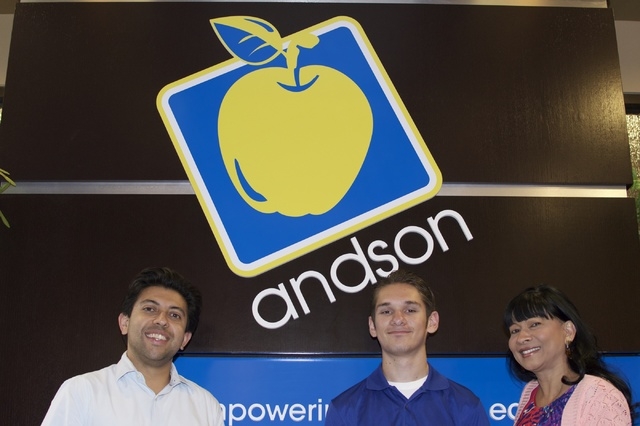 For Sonia McTaggart-Anderson, teaching young people financial literacy has become a mission.
And her son, Anthony McTaggart, has joined her in founding a nonprofit organization — Andson Inc. — that's tackling the issue head-on.
For 22 years, Anderson owned three major credit counseling companies — Credit Counseling Centers, Credit Counseling Corp. and Christian Credit Counselors. Her businesses had more than 66,000 clients and hundreds of employees. In 2008, she retired and sold those companies.
She then invested close to $6 million to start Andson.
After many years in the credit counseling business, Anderson said, she knew "none of them really lacked the money to pay their bills; they lacked the budgeting and discipline."
"It was a vicious cycle of families and generations rolling into the same thing," she said. "I thought, how can we stop this?"
That led her to found Andson.
But it became apparent financial literacy didn't exist in a vacuum. There are other learning issues, too.
"When we talk about financial education, you can't discern between how to balance a checkbook or anything like that without thinking about the basic education," McTaggart said.
"We're a fairly uneducated workforce," McTaggart said. "You can make really good money without having that education after high school."
His mother agreed. "We all know the education standards are poor here but it's not going to change unless we make a change."
As a result, the Andson mission extends to "educate and inspire children to provide a lifelong love of learning," she said.
Andson does a lot of grant writing to seek funding. The nonprofit organization applies for private, public, and government grants. Funding also comes from local and private donors which Andson aligns with individual schools.
"Some people want to fund financial literacy; some people want to fund academics," Anderson said. So Andson partners donors with schools so they can focus their efforts on specific areas of interest.
McTaggart said it is important for parents to talk to their children about financials at home. For some parents, that may be a new concept and may be uncomfortable.
Many students involved with Andson are the first or only members in their family to have a savings or bank account, McTaggart said.
Anderson wants the business community to know the importance of its involvement in literacy. She says "it takes a community to make any program successful; this community needs community involvement."
"It doesn't take very much to invest in kids," she said, "just a little bit goes a long way."
Andson has developed a curriculum that has been picked up by a number of schools and districts. McTaggart hopes to see income from his curriculum play a larger role in funding Andson and he makes it clear that all funds from the curriculum come back to help support schools in Southern Nevada.
Participants in the program show a 52 percent increase in language arts, a 70 percent improvement rate in mathematics, and experienced a 25 percent improvement in "use of money" skills and knowledge, he said.
Anderson is proud of the program and her son. "That's one thing Anthony pioneered. He developed the curriculum." She said he initially taught all the classes himself.
"We now have K-5; we have a middle school curriculum, and we have a high school curriculum that really impacts junior and senior year," McTaggart said. "Financial literacy is by far our most developed curriculum."
"Putting things in a perspective that children can actually understand" is part of the success of the Andson curriculum, he said.
Andson is about to award a $500 scholarship to Anthony Gibbs, who came to Andson as an intern from DECA. "It's like a traditional debate team but they focus on business and finance," McTaggart said.
Gibbs has completed 100 hours as an intern with Andson, "our first student to every have completed that," McTaggart said. A check presentation ceremony is being planned.