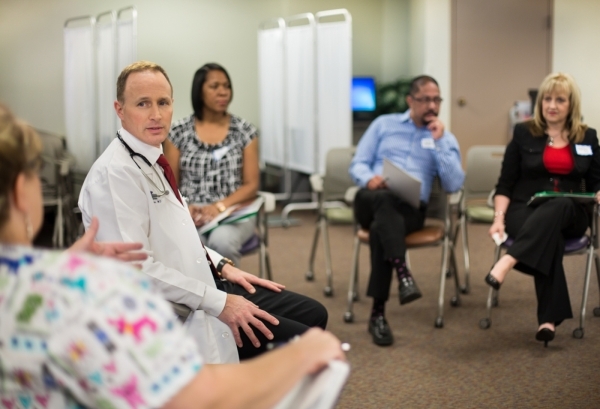 A medical concept that's been around for more than a decade — but new to the valley — may be a wave of the future when it comes to medical appointments.
The concept of shared medical appointments won't eliminate individual doctor visits, which have long been the common practice. With a shortage of physicians in Southern Nevada and patients wanting to see their doctor as soon as possible, shared visits not only help alleviate that problem but also educate patients about healthy practices.
Southwest Medical Associates, which has 22 medical health centers, paved the way in Southern Nevada when it launched its shared medical appointment program more than a year ago.
For its primary care centers that have the space, a block of 90 minutes is set aside at least once a week and sometimes more in which 15 patients see their doctor simultaneously in a group setting. Some of Southwest's specialists who deal with diabetes, arthritis and other conditions are in the process of implementing or have implemented the concept at their offices, too.
Here's how it works:
When patients have an appointment at a set time, there's no sitting in the waiting room. When seeing their primary care doctor, 15 of them will enter a large room and each one will be taken aside in that room or an exam room to check blood pressure and other vital signs and measurements.
With the patients returning and sitting together, the doctor will go down the line individually and treat each patient for about six minutes.
In between those visits, when the doctor is going through charts and inputting information, a nurse will facilitate a discussion about diet, exercise and other pertinent health issues, especially if it pertains to the patient just seen.
Patients can ask questions or talk about their experiences and even give advice on how they dealt with the condition. If they want, they can sit quietly and absorb the information that can be helpful to them.
Las Vegas resident Susan Sprada had no idea what to expect when she made a shared medical appointment last year, but that's all she'll schedule now. Sprada said she was suffering from psoriasis and a bad back but learned it would take a month and a half to get an appointment and didn't want to wait that long. She reluctantly agreed to a shared medical appointment that would allow her to see the doctor within a week.
"I wasn't sure what it would be like," Sprada said. "I wasn't sure if I wanted to do that. I almost canceled, but I am so glad I didn't. Once I got in there, I relaxed, and I started to hear other people speak. It was great because they had brought up stuff I had thought about a week or two previously and just forgot about it."
Laurine Tibaldi, chief medical officer at UnitedHealthcare Nevada, says even though shared medical appointments have been around for about 20 years, the concept is starting to be used more in markets that have problems with access to health care because there are not enough doctors.
Since Nevada ranks near the bottom in physicians per capita in the U.S., she said she believes groups other than Southwest Medical Associates will implement shared appointments.
"I think more practices, especially the bigger group practices, will catch on to this," Tibaldi said. "As we add more patients into the system (because of the Affordable Care Act), the access gets tougher and tougher. We have to be innovative so we can address everyone's concerns. If you have a chronic condition that requires multiple visits, this is definitely a way to get more face time with your primary care physician. You're going to spend less time in the waiting room, and they will have more support from other people in the room and maybe get tips in how to deal with their disease process."
Southwest Associates tried implementing shared medical appointments about five years ago, but the concept lasted only a few months, said Linda Johnson, Southwest's senior medical director of primary care. It learned from its mistakes and last year went to the Cleveland Clinic, where shared appointments have been in operation for a decade to make sure it would be successful this time.
"What we didn't do well the first time is train all of the participants," Johnson said. "You have to have facilitators to move it along and have to be very well organized of the procedures and the standard of work of the visits and help the call center schedule into it. We hadn't done all of those preliminaries the first time."
Johnson, who does shared medical appointments herself, said the room consists of the 15 patients sitting in a semicircle, a medical assistant using a computer doing referrals and prescriptions. A scribe is inputting notes during the exam, and Johnson said she uses a computer to look up lab work and do charting. The nurse facilitator welcomes the group and tells the participants about the process and gets them to sign privacy agreements so they don't share information about other patients. That person also leads the discussions.
"If I saw someone with knee pain, and I was teaching them some exercises, they will carry on that education and whoever is interested will get handouts," Johnson said. "The patients get to see me interacting with the patients and learning what I'm telling that patient, and they get to learn from the facilitator. They can ask questions and speak up at that time, and if they had that same issue and had success with something, they are encouraged to chime in and share that with other patients in the room. It becomes interactive in that regard and the patients will support each other and give each other tips."
Johnson said patients are made aware when they make the shared appointment of what it is. Even if they are unsure when they arrive and feel intimidated, many people who thought they wouldn't like it change their mind when it's over, she said.
A survey to get feedback showed that many people thought it would be more like a psychotherapy group, and Johnson said that's why they use the phrase "shared medical appointments" instead of "group appointments."
"They thought they had to share feelings and all that type of stuff," Johnson said. "That's not what it is at all. They are having their regular appointment with a doctor. It's just that other people are watching. Once people have been in there and stayed, they rave they had no idea on how much they're going to learn and really like this. I have patients who have been in there seven or eight times since I started this in June 2014. They like seeing me in a group rather than one on one because they learn so much more."
The pluses include people getting an appointment sooner and that there is no time wasted in waiting to see the doctor in the lobby, Johnson said. People don't have to stay the whole time in the shared setting if they have to leave early, but they're encouraged to stay until the end to foster dialogue and support among patients, she said.
As a doctor of 30 years, Johnson said she looks forward to her days with shared medical appointments. She said she likes that she gets to spend time with patients while other staff members deal with paperwork.
"I feel like I'm making a difference because I'm helping that patient," Johnson said. "I get to be a doctor and don't do all of the other things. I get to spend time with them."
In the 90-minute period she sees patients, Johnson said that in one-on-one appointments, she would handle six or seven people rather than the 15 in the shared setting. She said there's no difference in the level of care provided except that it's more efficient.
"We're all in the same room together, and I don't have to get up and leave and go to another room," Johnson said. "There's a waste that happens when you have to go from room to room to room. Maybe I sacrifice a little of the one-on-one, but they get more out of it because their questions are being answered by what they hear me tell the other patients."
Having patients in the room with each other has made a difference. If the discussion turns to flu shots and whether everyone has had one, those who have urge those who haven't to get one as a form of positive peer pressure, she said.
If a patient wants some personal time to talk to the doctor or have something examined behind closed doors, that happens at the end of the appointment, Johnson said. That may want to talk about depression, for example, but it's not uncommon for people to become comfortable and talk about it in their shared appointment.
"I've had people talk about depression or anxiety and men wanting their Viagra prescription," Johnson said. "The patients become comfortable because we want it to feel like a safe environment for them."
Despite that success, there are patients who left the minute they came and saw they were in a group room, Johnson said. That happens once every three weeks, she said, but typically 14 of 15 people surveyed loved it. The 15th said it was all right, but it wasn't for them going forward, she said.
"Unfortunately, we have had some people who see the group room and they're intimidated right off the bat," Johnson said. "If you're a shy person or don't do well with crowds, this wouldn't be good for you. We recognize this isn't for everybody, but there are patients who thrive with this type of visit. One of the things we hear from patients is, 'I thought I had it bad until I listened to other people.' It's grounding for the patient. They realize whatever their journey may be, they're not alone and other people had to deal with that and the support that comes from that."