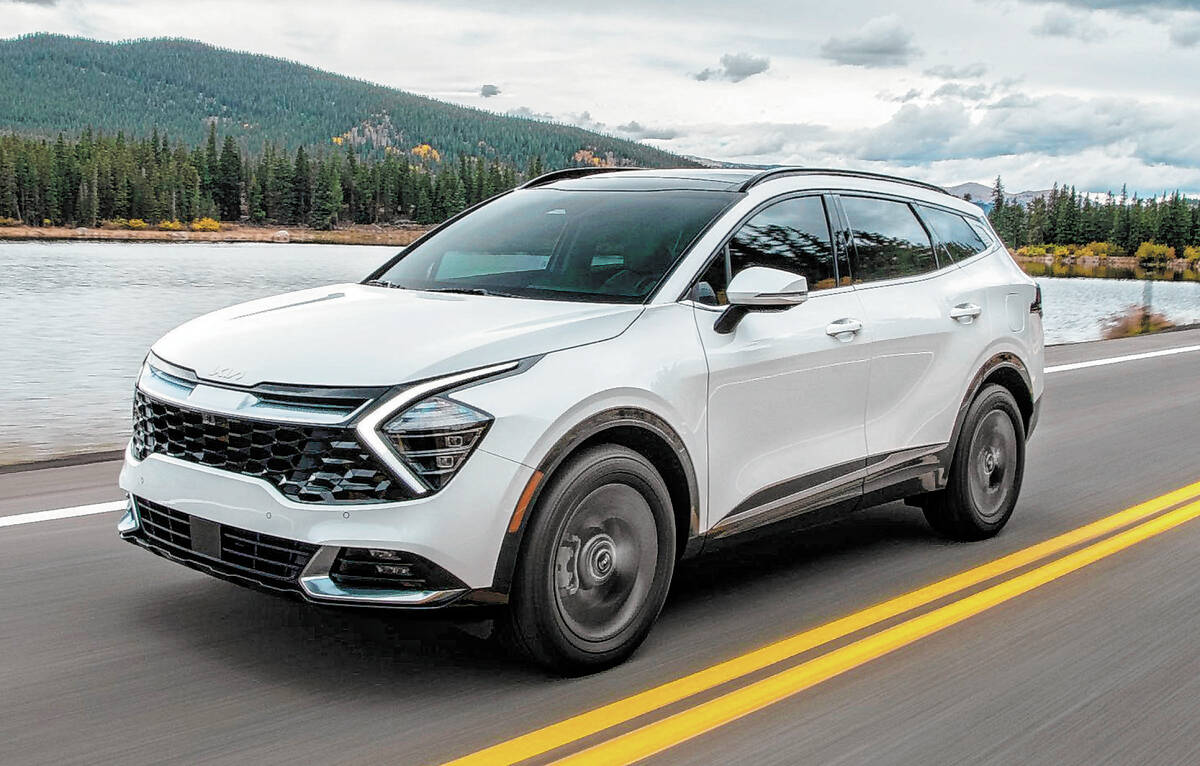 For this vehicle and others, visit Findlay Automotive Group's expansive inventory here.
What vehicle type is all the rage? Aside from pickups, the standard answer is the compact utility vehicle.
Everywhere you look, it seems, there are scores of Honda CR-Vs, Toyota RAV4s, Ford Escapes, Hyundai Tucsons and others. The Kia Sportage is also part of the mix and with significant changes becomes more competitive.
For 2023, Kia extended the length by more than 7 inches and the distance between the front and rear wheels by nearly 3.5 inches. The width and height were also increased marginally.
Along with greater passenger room, the Sportage's cargo volume with the rear seat in place or folded flat has been increased (23 and 29 percent, respectively).
Despite the upsize, the 2023 Sportage weighs only 70 pounds more than the 2022 model, base trim to base trim.
The Sportage's new and stiffer platform is also used by the larger Kia Sorento. It comes with added insulation to help keep outside road noises at bay.
Overall, the new bodywork manages to look sleeker but also more aggressive. The upper portion of the "tiger nose" grille is split by a longitudinal bar, which helps make the front end look less stout. The cats-eye-style headlights surrounded by boomerang-shaped trim appear to be menacingly scanning the road ahead.
The interior redesign puts the gauge package and a 12.2-inch touch screen within a horizontal panel. A traditional lever shifter and a drive-mode selector are located on an enlarged floor console.
For 2023, the Sportage's base engine is a 2.5-liter four-cylinder that produces 187 horsepower and 178 pound-feet of torque. The 2022-model-year 2.4-liter four-cylinder made 181/175.
The formerly optional turbocharged 240-horsepower 2.0-liter four-cylinder has been dropped. Instead, there are two available hybrid systems, starting with a turbocharged 1.6-liter four-cylinder that combines with an electric motor to produce a net 227 horsepower and 258 pound-feet.
The plug-in hybrid version (PHEV) uses the same turbo engine but a more powerful electric motor and a larger battery pack. Output increases to 261 horsepower.
According to Kia, the PHEV will provide up to 33 miles of range on a full charge. Replenishing the battery using a 240-volt Level 2 home charger takes a claimed two hours and 45 minutes.
The base four-cylinder is paired with an eight-speed automatic transmission, while both hybrids are linked to six-speed automatics.
All-wheel drive is available with the gasoline-only powertrain but is standard with the plug-in hybrid. AWD is not offered with the standard hybrid.
Base fuel economy is pegged at 25 mpg in the city, 32 on the highway and 28 combined. The hybrid is rated at 43 mpg in combined city/highway driving, while the PHEV is rated at 84 mpg, combined, when assisted by the electric motor.
Sportage pricing starts at $27,600, including destination charges for the LX, which is one of six trims fitted with the base four-cylinder. The top two trims — X-Pro and X-Pro Prestige — are designed for more rugged off-road travel and come with AWD that has selectable Normal, Sport and Snow modes. They also have power-adjustable front seats, projector-style LED fog lights and headlights plus all-terrain tires mounted on black 17-inch wheels.
The Prestige differentiates itself with LED headlights, solar windshield, ventilated front seats with power passenger seat and parking distance control.
All Sportages, regardless of trim level, come with a good assortment of active-safety technologies such as forward collision avoidance, lane-keeping/following assist, pedestrian detection and backup alert. Blind-spot monitoring and rear cross-traffic alert are optional.
With its increased dimensions, the Sportage is in a far better position to compete in the compact utility segment and in some cases — passenger and cargo space, for example,is superior. Dial in the available hybrid alternatives and this Kia becomes an even more attractive proposition.