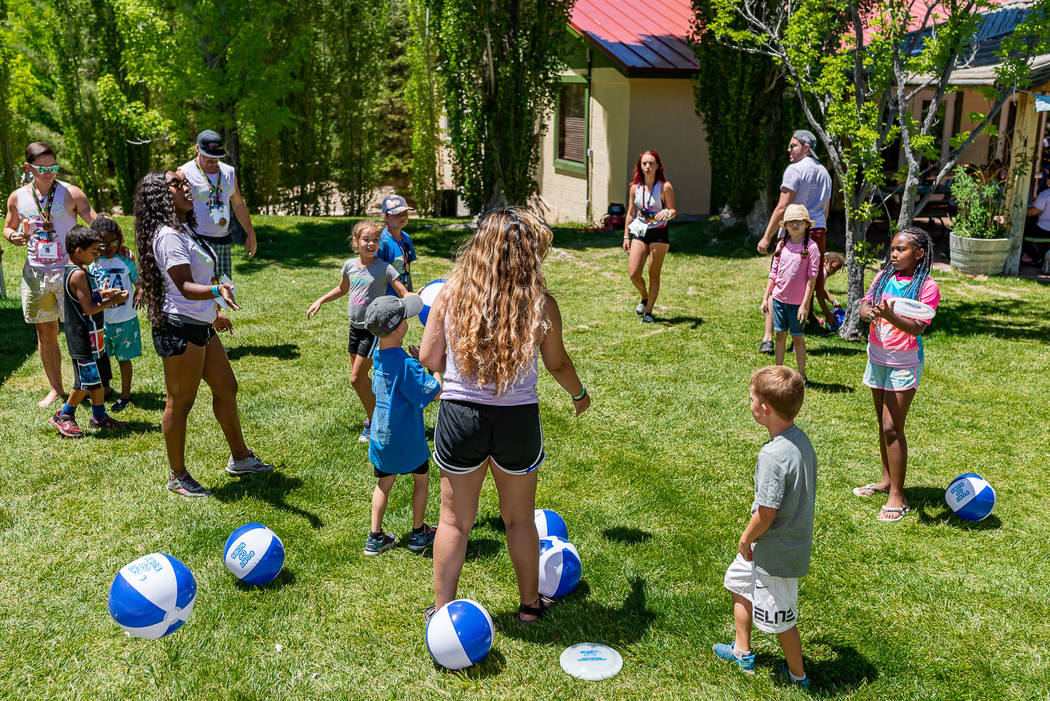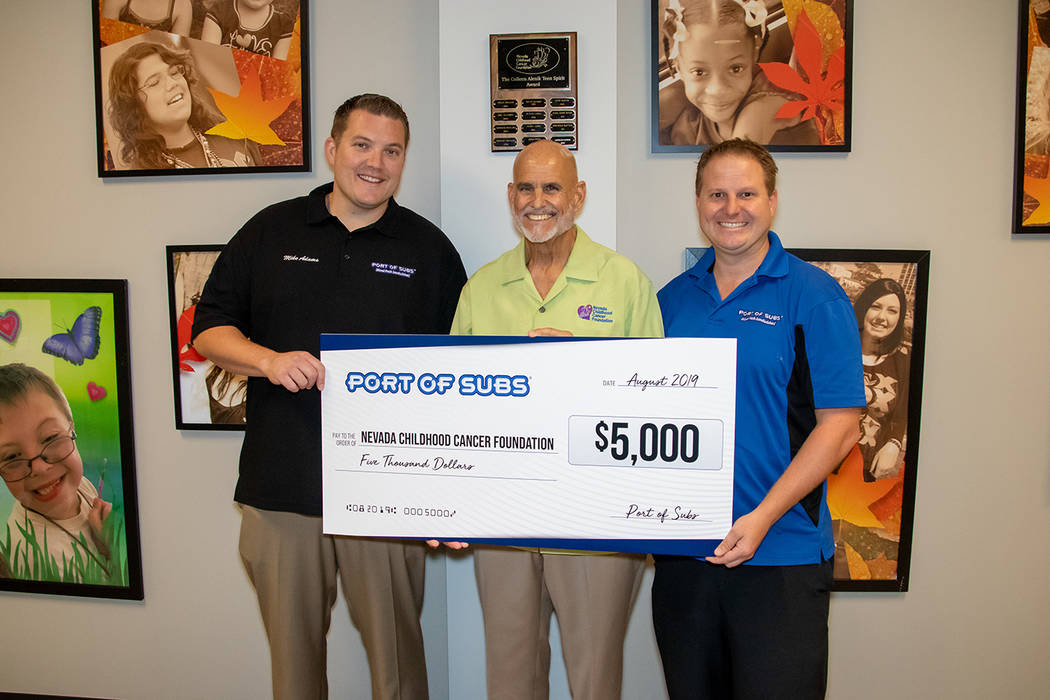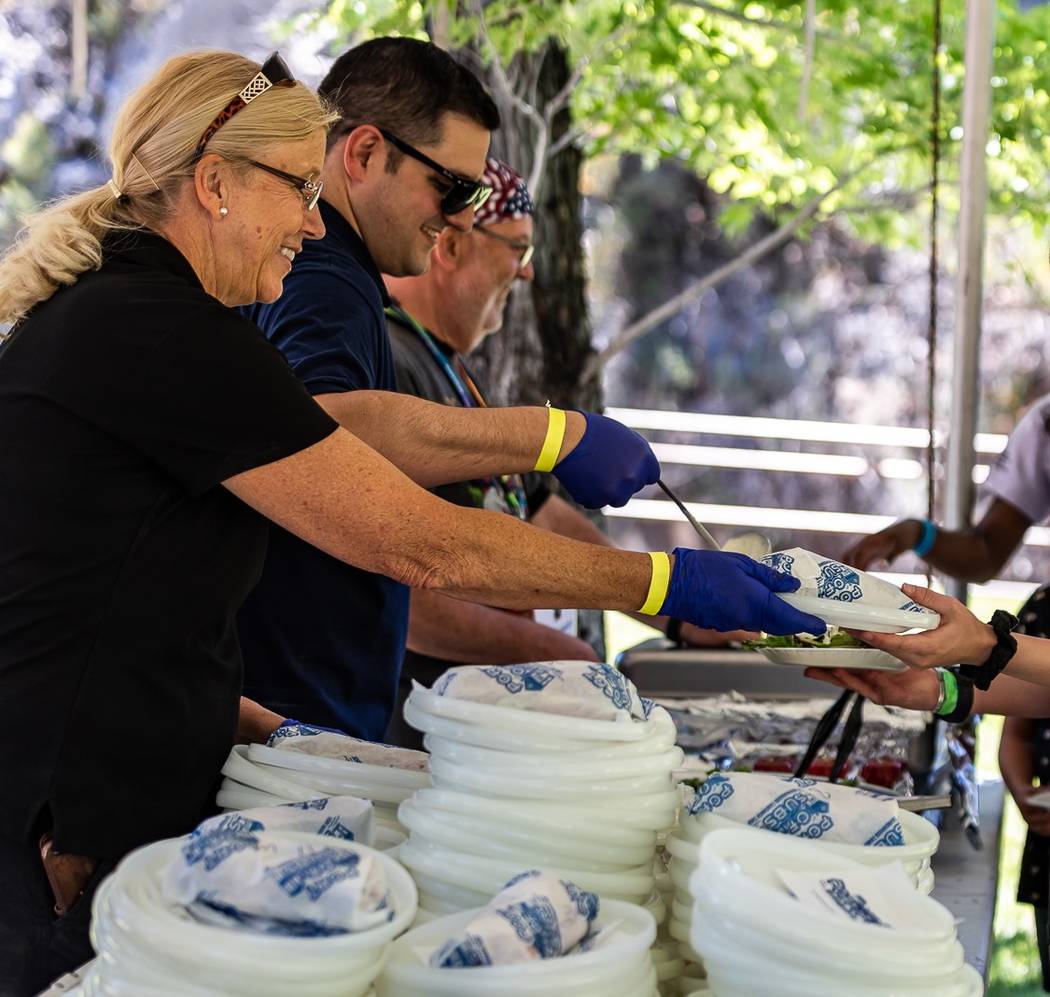 Port of Subs presented the Nevada Childhood Cancer Foundation's (NVCCF) Camp Cartwheel Summer Camp with a $5,000 donation. Camp Cartwheel at Torino Ranch provides a 24-hour medically supervised outdoor and overnight camp experience for children diagnosed with cancer or other life-threatening illnesses. The three-day camp is designed to help critically ill children and their siblings overcome the physical, mental and emotional obstacles posed by childhood disease.
Port of Subs partnered with Lotus Broadcasting radio stations KXNT and KOMP to promote awareness and raise funds for Camp Cartwheel by having each station's morning show hosts choose their favorite sandwiches; Port of Subs customers voted for their favorite jocks by purchasing designated sandwiches. A portion of all sandwich sales was designated for the donation to NVCCF's Camp Cartwheel.
"The radio promotion was a lot of fun and big thanks goes out to KXNT's Foxx & Mackenzie and KOMP's B.S. in the Morning crews, but the clear winner was Camp Cartwheel." said Michael Adams, regional marketing consultant for Port of Subs. "Port of Subs Neighborhood Sandwich Shops are committed to our communities and Camp Cartwheel is such a magical place for these kids who face daily challenges that most of us can't even imagine."
In addition to the $5,000 donation, Port of Subs provided sandwiches and fun for campers during both camp weekends.
"We're proud to have made the donation, but being there to serve lunch, play with the kids, and be a part of their experience was something special," said Bryan Martin, president of the Port of Subs Las Vegas Co-op.
"We're so thankful for Port of Subs' very generous donation," said Jeff Gordon, Nevada Childhood Cancer Foundation CEO. "Thanks goes out to the Port of Subs Las Vegas owners and their teams for the delicious food and for everything they provided to this year's campers."
Port of Subs' partnership with NVCCF's Camp Cartwheel began in 2016 and will continue into the 2020 summer season. For more information on Camp Cartwheel or to make a donation, visit https://nvccf.org/camp-cartwheel/.
Customers have been enjoying the great taste of Port of Subs sandwiches for 45 years. Originally founded in Sparks, Nevada in 1972, Port of Subs has grown to more than 140 units open in seven Western states. The Port of Subs brand has become synonymous with quality sandwich making and superior customer service. Port of Subs made-fresh-to-order sandwiches are prepared while the customer looks on. The unique taste comes from freshly sliced, top quality meats and cheeses, freshly baked breads and zesty dressings and spices. Port of Subs also offers breakfast grillers, Sliced Fresh Grillers, fresh salads, chips, an extensive line of party trays, desserts and a variety of beverages.
Nevada Childhood Cancer Foundation is a nonprofit organization established in 1993 that offers more than 40 programs and services including a variety of educational services, financial support and counseling for critically ill children and their families living in Southern Nevada, as well as adults diagnosed with cancer. The foundation's mission is to work side by side with the medical community to provide social, emotional, educational, financial and psychological support services and programs to families of all children diagnosed with a life-threatening or critical illness such as cancer, HIV/AIDS, sickle cell, renal disorders, blood and immunologic diseases, as well as to adults touched by cancer. In 2011, NVCCF incorporated The Caring Place into its programming, which provides emotional, mental and healing arts therapies for adults diagnosed with cancer. Contact the Nevada Childhood Cancer Foundation at 702-735-8434 or visit them at nvccf.org.