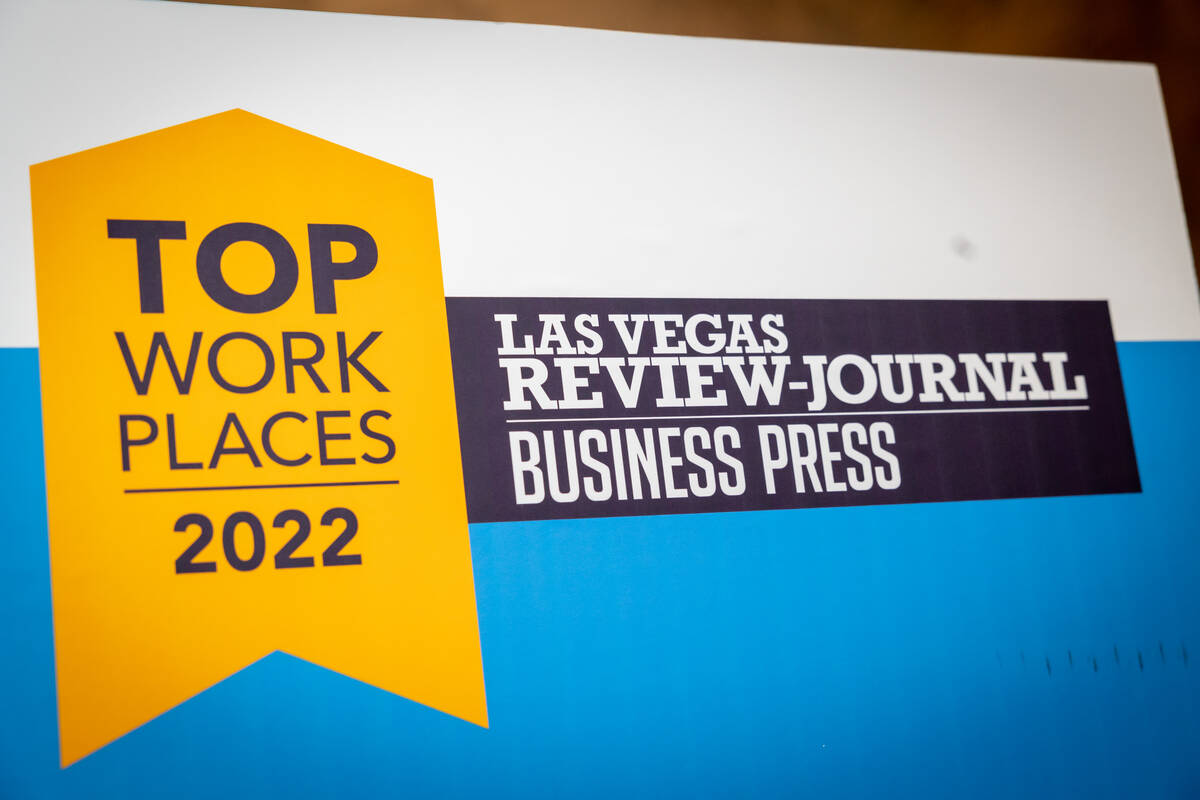 In the competition for employment, Top Workplaces celebrates the companies that are getting it right.
The awards program that honors quality workplace culture is underway for the fourth year in Nevada. Any organization with 35 or more employees in the state is eligible to compete for 2023 Top Workplaces recognition.
Recruiting and retaining talent is at the heart of the Nevada Top Workplaces program. Workplaces are evaluated by employees using a short 24-question survey that takes about five minutes to complete. Companies in Nevada will be surveyed from October to January.
There is no fee to participate in the survey, and winners will earn the coveted gold Top Workplaces badge to tout their achievement. The campaign results will be published in 2023, and winners will be invited to a celebration event.
"We are honored and excited to be launching our fourth Nevada Top Workplaces campaign," said Tom Heaton, senior director of advertising for the Las Vegas Review-Journal. "We look forward to another amazing awards ceremony next fall."
Chase Rankin, senior vice president of advertising for the Las Vegas Review-Journal welcomed nearly 260 business leaders at the 2022 awards ceremony for the Nevada Top Workplaces Sept. 28 at Palace Station.
Tina Quigley, Las Vegas Global Economic Alliance CEO, was the keynote speaker.
Paul Stowell, Nevada regional executive for City National Bank, led a panel discussion on employee retention. The panel included Aaron Hirschi, division president for KB Home; Sean C. Combs, CEO, Steelhead Productions; and Michael Quinn, manager and organizational development and culture, Everi Holdings, Inc.
Renee Summerour, Las Vegas-Review Journal 7@7 digital anchor, was emcee for the event. John Di Domenico, actor, writer and comedian, was the awards presenter.
Details for the 2023 awards ceremony will be announced later this year.
"Smart companies listen to their employees and then adjust as needed," said Bob Helbig, media partnership director with Energage, a Philadelphia-based research company. "The employees are on the front line. They know what's going on and when things are working well and when they are not. Top workplaces value that and capture that. There are other employers who don't want to hear it. They just want people to do their work and be nice and quiet. That's not how really strong companies adjust to challenges. Sometimes, work can get messy, but the really good companies can collaborate and adjust and work through those challenges. An environment where people feel safe to fully discuss issues, where they are valued for what they bring and appreciated for what they do — those are the big differences."
Energage conducts Top Workplaces surveys for media in 61 markets nationwide and surveyed more than 2 million employees at more than 8,000 organizations in the past year.
The nomination deadline is Dec. 4. Anyone can nominate any organization, whether it is public, private, nonprofit, school or even a government agency. To nominate an employer, just go to topworkplaces.com/nominate/nevada or call 702-608-4829.
For 2022, 56 companies were featured as Top Workplaces in the Las Vegas Review-Journal and Business Press. Surveys went out to nearly 27,000 employees in the region, and 13,898 responded.