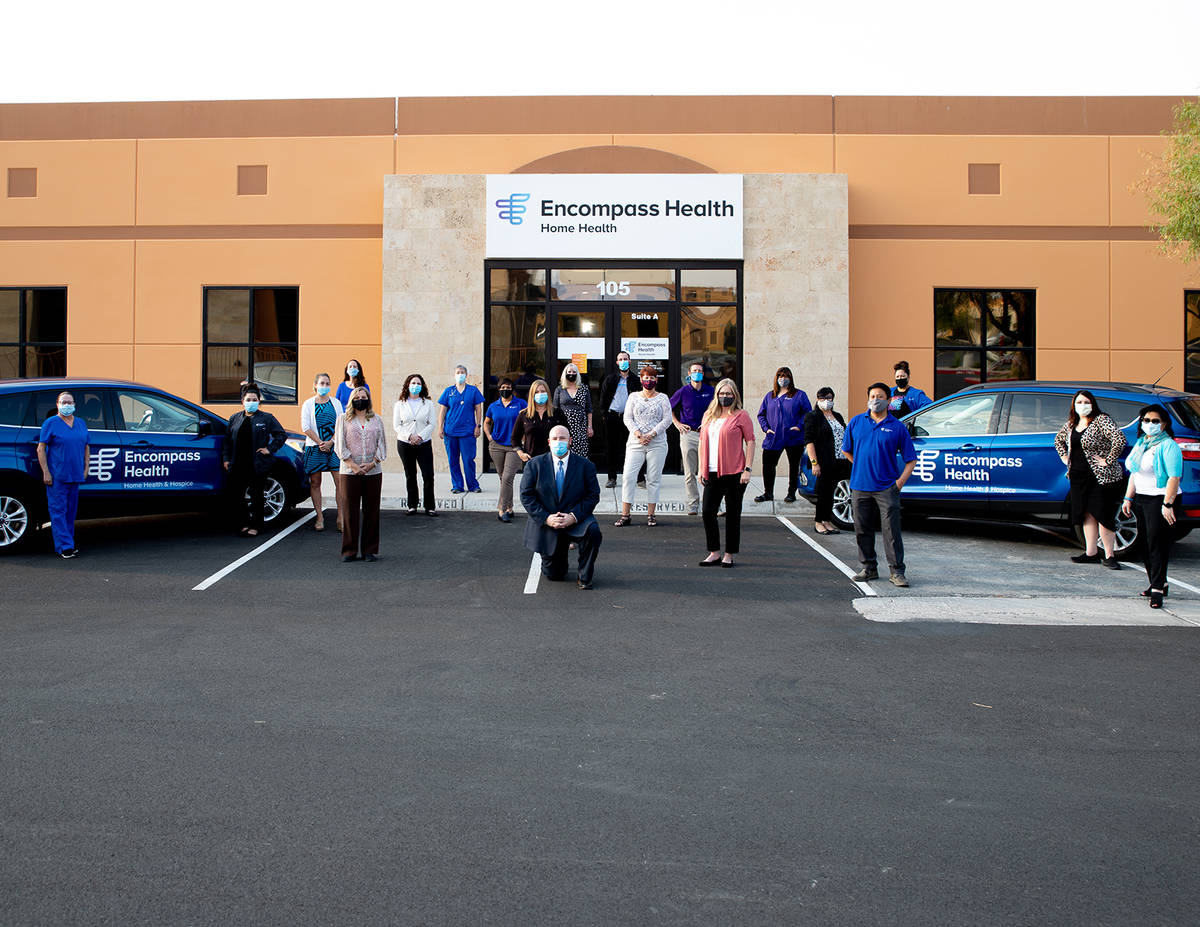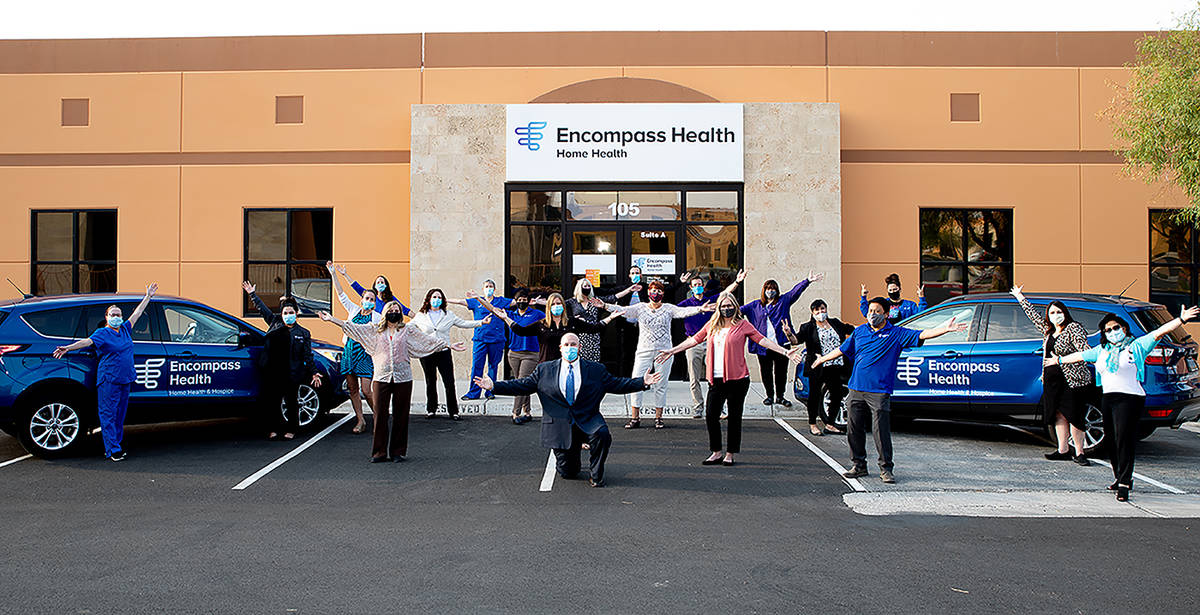 No industry has faced a tougher challenge during COVID-19 than health care, and Encompass Health — Home Health & Hospice took home the top honors as the top workplace for midsize companies in Nevada.
Encompass operates three in-patient rehabilitation hospitals in Nevada, a hospice division and a home-health division comprising three Southern Nevada offices that serve Clark and Nye counties.
Encompass, which is headquartered in Dallas, has more than 12,000 nationwide with more than 333 branch offices providing skilled nursing, physical therapy, occupational therapy and speech therapy.
Jay Heiseler, the regional director of operations, said the top workplaces competition involved the hospice and home-health divisions that have about 150 employees.
The three home health branches are located in Pahrump, Las Vegas and Henderson.
Heiseler said the company culture is why Encompass is a top workplace in Nevada.
"I have never been part of an organization that has such a laser focus on the quality of our culture," Heiseler said. "It's something we talk about on a daily basis. It is exemplified by our executive leadership all the way down to our newest employee hired a week ago.
"What we focus on is hiring people that fit the fabric of our culture. That's somebody who is energetic and dynamic and has a heart for people and patients. It's someone who is caring and compassionate but also driven and somebody who wants to do the right thing."
Heiseler said the company wants team members to have fun as much as possible in a professional environment. There is a culture committee in every branch made up of various disciplines who come together to work on projects to give back to the community.
"We live out our culture on a daily basis," Heiseler said. "There are so many employees who come to me and say this place is different than anything I have ever been a part of. You can't explain it, but you can feel it."
Professional development is an important part of the company that may not be available in other organizations, Heiseler said.
He admits 2020 has been a challenging year in dealing with COVID-19 and the pandemic. It has created a substantial amount of barriers and obstacles that they have ever faced, he added.
"There wasn't a script written or a protocol policy in place to deal with this pandemic," Heiseler said. "Our executive team created a COVID task force almost immediately that all of our branches have been able to rely on. Daily and sometimes multiple times a day changes in policy and procedures have been communicated to the branch level."
The teams have also "gone out of their way" during the pandemic to acquire personal protective equipment when it was scarce to obtain in March, April and May, he said.
"Asking a clinician to go treat a COVID-positive patient or someone suspected with COVID and not protected completely, you can't do that," Heiseler said. "Our front-line clinicians who were asked to treat patients with this disease they never experienced before scared many of us.
"I can't be more proud and in admiration (of people) who on a daily basis put themselves in position to care for these folks and help them get better — knowing they had to take off their PPE (personal protection equipment) and go treat other patients and then go home to their families and do the same thing to make sure they were protected. All of us were successful because of our home office."
Heiseler said it was challenging from a staffing standpoint because some employees became infected and others were exposed and needed to be quarantined. Staffing was never in jeopardy, but it added hours and stress to others to fill the void in the field, he said.
"What they have done in the last six months, I have never seen anything like it," Heiseler said. "It was so impressive."
When the company relies on its core value, it enables hugging a clinician when they need to be hugged; listen with empathy; focus on the positive; and to be stronger together and wrap our arms around each other to show they are a team, he said.
"When we utilized those core values, that helped us remain or stay or be a top workplace of Nevada from that standpoint," Heiseler said. "It has been a pretty challenging year."
The company has a close affiliation with Encompass Cares, a nonprofit organization supported by Encompass employees and other donors. This organization supports medical mission trips, community activities and employee emergencies.
It has supported local community service campaigns such as Habitat for Humanity, local fan drives, blanket drives, March of Dimes, Cancer Foundation, Diabetes Foundation and others.
Last year companywide, it helped more than 300 employees with employee assistant grants, 190 community assistant grants and over 300 employees received grants to go on medical mission trips.
An internal job posting program advertises leadership position opportunities to all employees and allows them to apply for the position in advance of external applicants. Some 74 percent of supervisory positions were filled last year by existing employees.
Encompass has created a professional development/educational facility called the Encompass Development Center at the home office, which conducts new employee orientation courses, supervisory/leadership training and development courses.
It uses a preceptorship program that provides a mentoring/job shadowing/training environment to new clinical field employees, and the program helps develop the preceptors into future supervisors for the company.
The company has a compliance program and provides annual training, and a hotline phone number encouraging employees to notify the compliance officer about questions or concerns regarding compliance in all aspects of the company's operation.
Encompass has a car program in which all employees can earn a company car. There are about a dozen employees driving them in Las Vegas, and the cars are marked with the company name.
"There are three factors that go into that opportunity to earn a company car (a blue Ford Focus) for all business-related miles. Their gas and maintenance are all paid for by the organization. We are in-home health so we are traveling to those patients' homes on a constant basis and the wear-and-tear on people's private vehicles can be taxing."
The vehicles also can be driven for personal use as long as they are not driven on vacation.
The company offers scholarships for employees, their children and grandchildren.