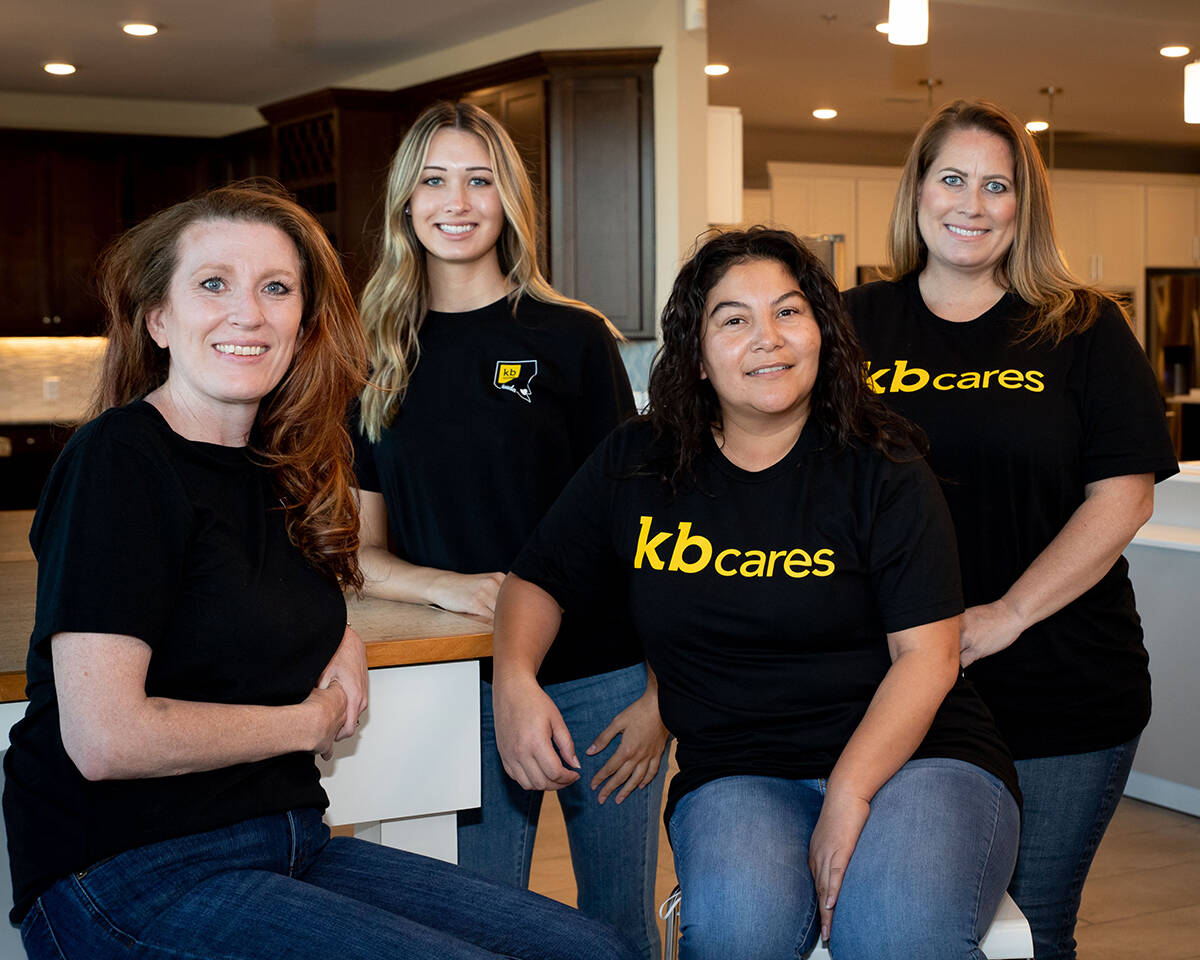 KB Home was named Nevada's top midsize workplace for 2021.
The category covers companies ranging in size from 150 to 499 employees. KB has about 150 employees in Nevada.
"It starts nationally with the culture of the company," said Brian Kunec, regional general manager with KB Home on why the homebuilder is one of the top workplaces in the region. "We just got named on Forbes' 2021 list as one of America's best midsize companies. We're the only national homebuilder to receive that distinction. It's now a prestigious honor to be one of the top workplaces (here in Nevada)."
KB Home has the tagline of being built on relationships, and that not only relates to how they treat homebuyers but treat employees as well, Kunec said.
"I think one of the things we have been most successful at locally is treating everybody like family," Kunec said. "We have tons of people — 20, 30 to 40 — (who) have worked for KB over 15 years. It's because of its culture and because it's a family environment. We understand there needs to be a work/life balance and frankly we want all of our employees to have a good balance on that side so they can spend time with their family. We value family health and home, which is one of our mottos at KB Home."
KB has quarterly team-building events, which includes spouses and family members.
Kunec said KB Home gets praise from its Las Vegas employees because the workplace focuses on developing them. In many places, a person is known as Employee A where you do your job, go home and come back to work.
"We want our employees to be successful so we invest a lot of time and money in their growth and development whether that's going outside and getting some additional education or just development in teaching them about our industry and business."
Kunec said KB, as the largest homebuilder in Las Vegas by volume, creates opportunities for growth within the division. That results in better titles and higher compensation.
"We take a vested interest in making sure people are successful in their job," Kunec said. "That's giving them the tools they need to be successful and tools they need to grow and move up the ladder."
There's tuition for education reimbursement that KB offers in Las Vegas.
"If you are in finance or accounting with KB and have all the qualifications to be a CPA, but you haven't taken the test, we'll allow you time to study and pay for the exams,"
Kunec said. "That is one of many. We have employees that have a two-year college degree but want to go school on nights or weekends and get a four-year degree. We will be supportive with time and money to make that happen for them."
As for benefits, KB Home pays the full cost of an employee's coverage under the basic life, long-term disability and business travel accident plans, as well as the employee assistance program. Employees and KB Home share the cost of their medical, dental and short-term disability coverage. Employees pay the full cost of any vision, supplemental life insurance, supplemental accidental death and dismemberment insurance or voluntary benefits coverage elected for themselves or their dependents.
"Our benefits stand out," Kunec said. "I have worked for other national builders and not all of them have offered (what we do). Benefits are nice, but the reason they come back to work everyday is because they like the people they're working with and enjoy the job they do and they like their bosses. I think we made the list because wefoster that culture that people enjoy coming to work."
KB Home's charitable program KB Cares completes a variety of projects nationwide that focuses on building relationships with local communities, as well as different nonprofit organizations.
"They take pride in this," Kunec said. "A lot of our employees enjoy getting involved with the community and giving back."
Kunec said KB likes to focus on such issues as people having a roof over their head whether helping with Habitat for Humanity or various housing and shelter programs. KB works with schools and focuses on helping people develop skills for construction jobs.