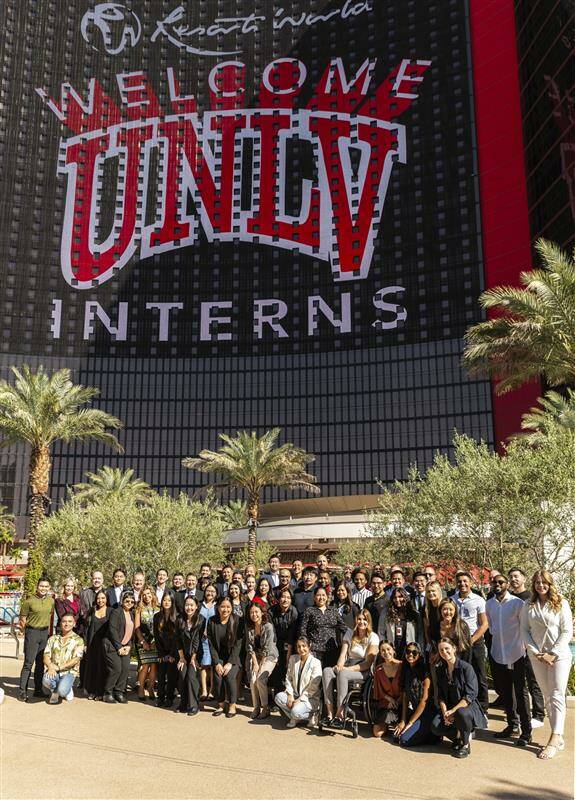 Resorts World Las Vegas is known for elevating guest expectations with unforgettable experiences, and we don't limit those experiences to our guests. We know that our Team Members are the ones who make that happen. Through our company efforts, we have created multiple initiatives and programs to support our team.
Since the opening of Resorts World, our goal has been to welcome the next generation of hospitality leaders. In partnership with UNLV since 2021, we have developed an internship program to foster and provide the university's young professionals an opportunity to intern and shadow in different areas of the resort, giving them the experience to learn and grow alongside our team. We take great pride in this partnership and through that collaboration have been able to place 58 percent of our interns after their internship has ended. We recently welcomed our sixth group of interns with 21 UNLV student and are looking forward to recruiting for our spring session in November.
With Las Vegas being one of the most diverse cities in the country, we are grateful to have an amazing team that reflects that diversity and consider the U.S. their home. In partnership with The Immigrant Home Foundation/Fundación Casa del Inmigrante (IHF), Resorts World Las Vegas created our Pathway to Citizenship program to help Team Members on their journey to becoming a U.S. citizen. Our goal is to support our Team Members from start to finish. We assist through providing education and financially supporting Team Members through the process. We are proud to share that over the past year, 13 of our team members have become U.S. citizens.
To further assist young professionals in our community, we have created Resorts World Las Vegas' Scholarship Program. We wouldn't have this opportunity without the collaboration with the Public Education Foundation (PEF), a nonprofit organization based in Las Vegas that works collaboratively with individuals, businesses, the Clark County School District and local governments to create initiatives that solves challenges of educating a growing and diverse Southern Nevada population. With these scholarships, we have been able to further our team members and their dependent's education.
At Resorts World Las Vegas, we take great pride in our all our Team Members and everything they do to make our resort a truly incredible destination on the Las Vegas Strip. If these opportunities interest you and you are looking to advance or enhance your career, please visit careers.rwlasvegas.com.