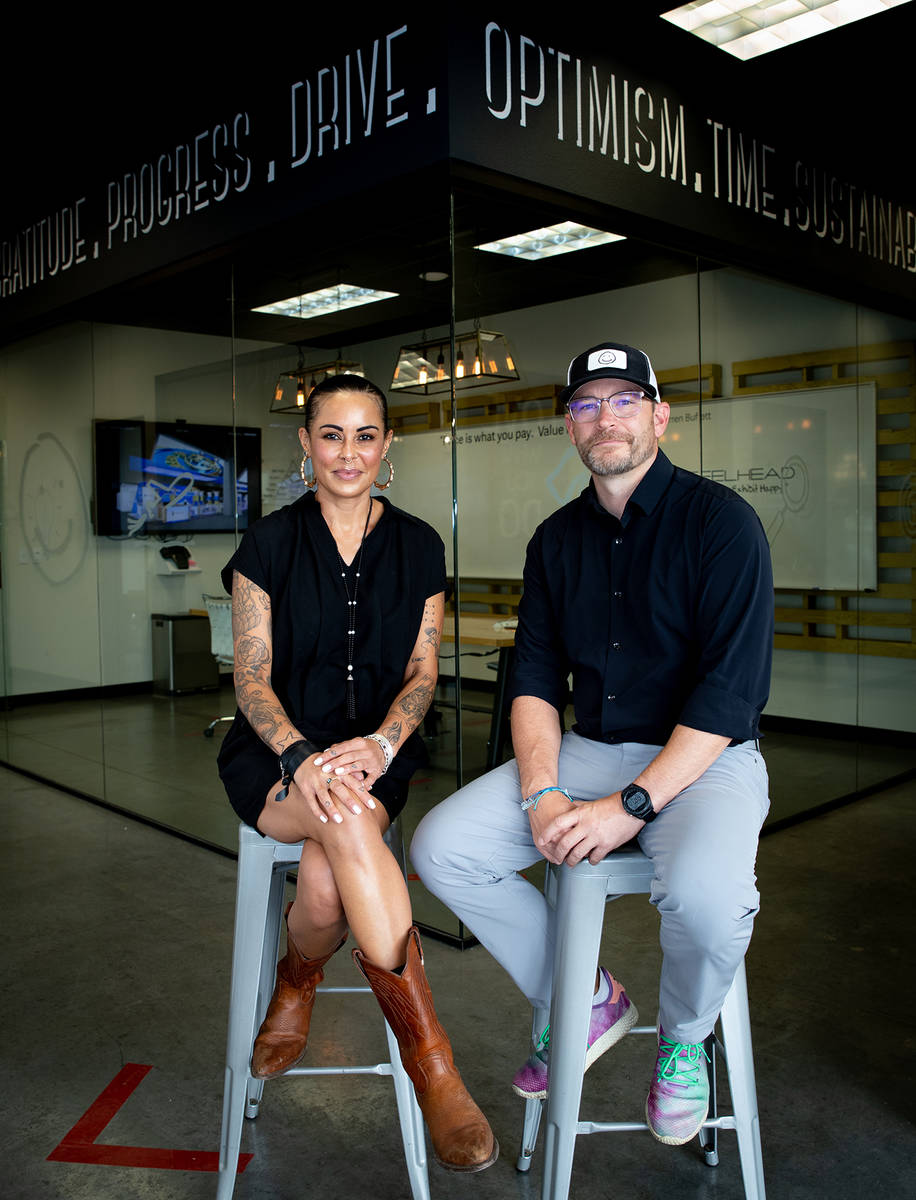 No industry has taken a bigger hit from COVID-19 than the convention business, and trade show design firm Steelhead Productions has emerged and adapted as the in-person meeting business remains on hold for months to come.
The Las Vegas company founded has been named as the top workplace for small businesses with 149 and fewer employees.
Steelhead designs and produces branded environments for trade shows and other temporary marketing environments across North America. It designs and builds trade show exhibits that companies can rent for such events as the Consumer Electronics Show. That includes not only installation of the booth but lighting and graphics.
The company was founded in the Seattle area in 1996 by Jim Andersen, a former executive in the trade show and events industry.
His daughter, Rhiannon Andersen, is the chief marketing officer and co-owner. The CEO, president and co-owner is Sean Combs. They relocated the core part of the business to Las Vegas because it was the trade show capital of the world, in 2007. It was a way to take the company to the next level only to be hit by the Great Recession.
That happened again with the onset of COVID-19 when the company was having one of its best quarters in history and had 69 employees only to have the industry shutdown because states and cities aren't allowing mass gatherings.
"Our industry has been devastated by COVID-19, and now we are sitting at 19 full-time employees," Combs said. "In February, we had the greatest revenue month in our nearly 25-year history. We had momentum at our back planning and preparing for that and then COVID-19 happened. What is good about it is our leadership team feels like we have been here before. The circumstances are different (from the Great Recession), but we have seen this play out once before."
The company, even though it's down to 19 employees at this time, is offering brands virtual solutions, Combs said.
It has retained a majority of its marketing, sales and creative team but has scaled down its business and let production and other staff go for now.
"Events will come back, and we have customers," Combs said. "I keep reminding our team we haven't lost any of our customers. They're just not doing events."
CES has cancelled for 2021 and shows in the first and second quarter have rescheduled, Combs said.
"I use the analogy to the team that it's just like in the recession," Combs said. "We came here to grow, and the recession happens. You tear down the company a little bit, but you don't necessarily rebuild the company with the same pile of bricks. The world has changed, and our job as leaders is to recognize what change has occurred and put the company back together that meets the moment."
Andersen said the industry will return to the trade show floor slowly, and it's not expected to be back closer to normal until the third quarter of 2021. Some trade shows have already taken place in Asia and Europe and are successful with safety precautions in place. Success in the U.S. will depend on the availability of a vaccine, she said.
"We are seeing virtual as being part of the mix somehow but there's a lot of online fatigue happening," Combs said. "It won't replace face-to-face marketing."
Combs said what makes Steelhead a top workplace is that it's a value-driven company that's clear on its purpose. All companies say they have values and a mission statement, but Steelhead uses that as a constant filter for decision-making, he said.
"We find employees want the excitement of company growth and individual growth, but they don't want to be jerked around like the decision-making is erratic," Combs said. "When you constantly refer to how a decision is supported by values and a purpose, it makes for a safe place for workers to do their absolute best. What COVID has done is reinforce our values. We haven't generated a half a percent of our typical revenue and yet we just participated in a Make-A-Wish Foundation event with our team a couple of weeks ago. We give the employees' purpose."
Combs said it's important to communicate to employees and other companies make a mistake by not doing so.
Everyone in the company knows where things stand, he added.
Andersen said regardless of the number of employees, the DNA of the organization remains the same. What has contributed to Steelhead's growth in the last decade and being recognized in the past by Inc. magazine for its growth is how it works as an organization and commitment to one another, she said.
"The rebuild of the organization will be on top of our values," Andersen said. "That is what we know works."
Anderson said when they can support employees' minds, bodies and spirits when they come to work they will be able to do their best if they feel supported.
The benefits the company offers from health and 401(k) are standard, but Combs said people are needed to grow the organization. Half of people's waking hours are spent with co-workers, and Combs said that isn't lost on them. They want to hang out with open-minded, striving and ambitious people.
Steelhead has a book club among employees because those who read and learn are able to excel, Anderson said. In their most recent read, they even had the author join their Zoom meeting.
Steelhead has a wellness program in which it brings in meditation coaches, massage therapists, money coaches and life and personal development coaches.
Steelhead has a snack program in which it provides employees healthy snacks for free on a daily basis. That includes fresh fruit, nuts, jerky and granola bars. The office also has a full kitchen where people can prepare their lunches. They even brought in a nutritionist and chef to help show employees how to do that.
"Too many employers see the labor force as an expense, and they see all of the things we have mentioned as expenses," Combs said. "Our view is the inverse. We think they're all assets and that the people are assets to the company. The way we make these investments is that we don't view them as your typical expense to be managed. When we look at reputation and retention, I think we're getting a wonderful return."