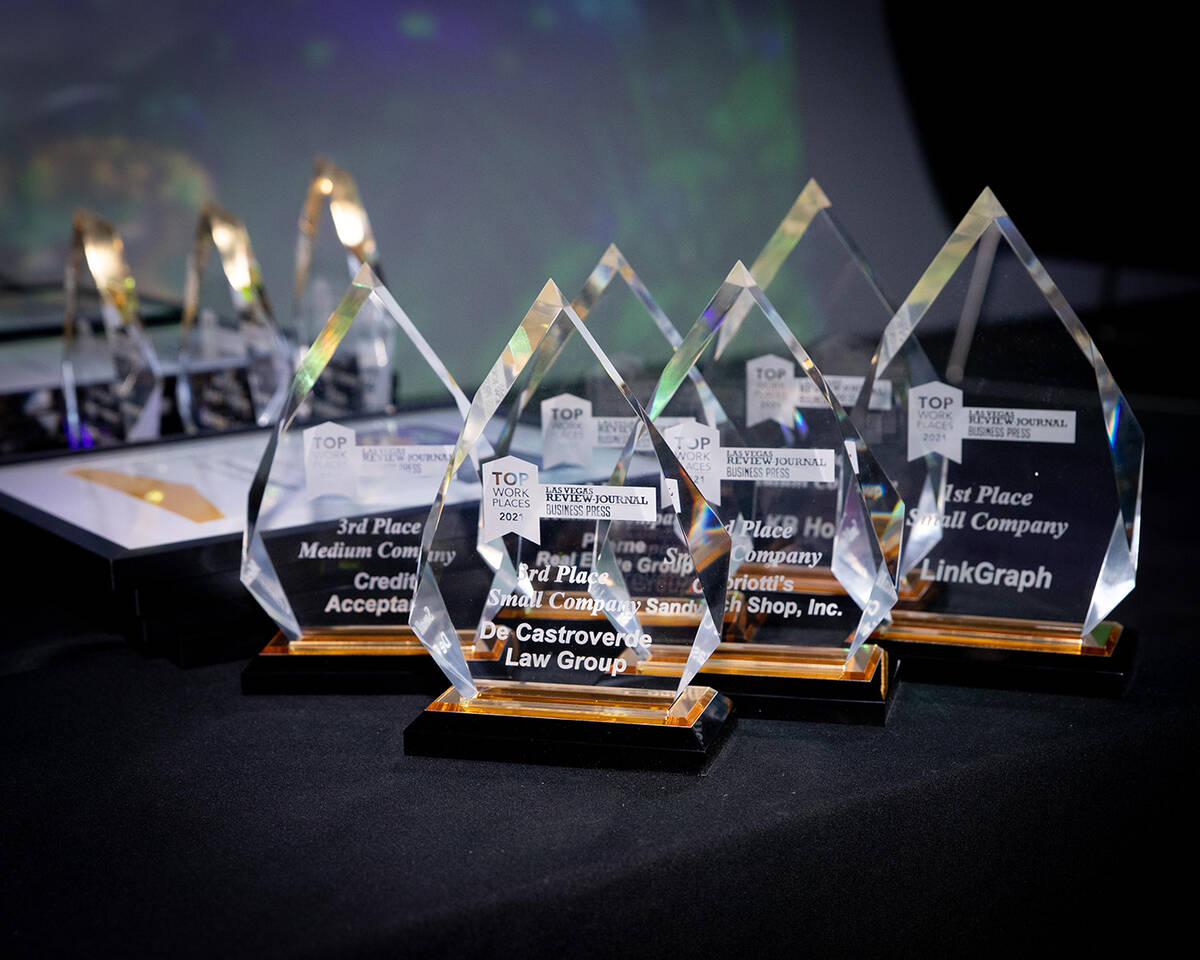 Nevada Top Workplaces will hold its awards ceremony Sept. 28 at Palace Station, 2411 W. Sahara Ave.
Event ticket packages are still available. Early bird special runs through Aug. 31. To purchase, visit reviewjournal.com/topworkplaces, email recruitment@reviewjournal.com or call 702-380-4549.
"We expect a record number of businesses to attend this year's awards ceremony," said Tom Heaton, senior director of advertising. "This year, we have had such a positive response from our business owners from nearly every industry to Nevada Top Workplaces. I believe it's an indicator that our state's business community wants to connect for information, education and exchange of ideas. Nevada has always been resilient, innovative and respectful of our leaders' knowledge. We are on course to make this event the best ever."
The winners have been announced. The specific rankings for small, midsize and large companies and individual leadership awards will be announced at the awards ceremony.
This year, 56 companies were chosen by their employees as Nevada Top Workplaces. That's 14 more companies than last year, a record number for this campaign.
Energage, a Philadelphia-based research company, conducted an extensive employee survey process on 91 companies out of the 1,532, which were invited to participate in the process. That also was a record high for Nevada Top Workplaces. Energage calculated the winners based solely on employee feedback. Each participating company received a free overview of its survey results. The surveyed companies employ more than 28,600 Nevada workers.
This year, there are 29 newcomers to the winners list. Some include Clark County Credit Union, DraftKings Inc. and YMCA of Southern Nevada.
Top Workplaces Nevada has four divisions: large, 500 or more employees; midsize, 150-499 employees; and small, 149 or fewer employees in the region.
For 2022, there were four winners out of six participants in the large category. In the midsize division, there were 15, out of 23 participants. In the small company category, there were 36 winners out of 63 participants.