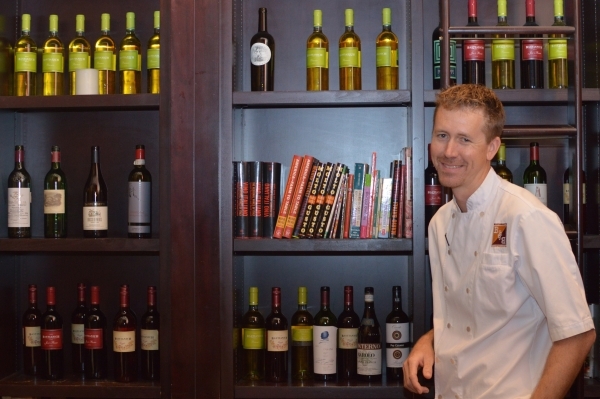 The Variety Early Learning Center on D Street has a new library, thanks to the Mario Batali Foundation and Books for Kids
Chef Jason Neve, co-head director for hospitality and the face of Batali's restaurant empire in Vegas, represented Batali at the Aug. 24 opening by reading the traditional library opening book, Green Eggs and Ham.
Batali started the tradition by reading the Dr. Suess classic at the first opening of a Mario Batali Foundation library. The D Street branch is the 10th for the foundation and second in Las Vegas.
The Mario Batali Foundation is working in collaboration with Books for Kids and others to provide libraries and books for children in low-income areas.
"Basically,'" Neve explained, "they came together in, I think, 2011, in New York City. They've opened a bunch of libraries there."
"Two years ago, Mario came out to Vegas for his celebrity golf tournament, which is a fundraiser for the foundation. That was the first time they did it in Las Vegas and because we did the whole fundraiser out here, he wanted to keep the funds we raised in Las Vegas."
"The first library they opened outside of New York, and the city, was actually here in Las Vegas last year at the Acelero Learning Center. Again this year we had the tournament; again everybody coming out. It's a great weekend and so once again, we're opening another library."
Batali opened his foundation in 2008 and its focus has been on issues about which he feels passionate — books for kids; hunger relief and research into children's diseases.
Batali, who is on vacation with his family, sent a message for the opening: "Every child deserves a safe, engaging and welcoming place where they can learn, explore and dream (BIG)! We're so excited to continue to help provide this gift to the children of Las Vegas."
Neve explained the process for opening a library this way: the Mario Batali Foundation and Books for Kids "come into these learning centers and preschools and basically take a room and renovate it into a ready to go lending library for these kids."
"I run Mario's restaurants," Neve said, "and we like to support other things besides just ourselves. Mario has a great passion for kids — father of two, pretty much his full-time job in addition to running restaurants all over the world right now. So, it's a way for us to give back."
Mario Batali's restaurant selections in Las Vegas range from B&B Burger & Beer, to Otto and Carnevino, and the upscale B&B Ristorante.
"I love these centers," Neve said. "Most of these kids are living with aid or under the poverty line."
The libraries – and their collection of donated books — help where schools can't.
"When the funds start to go away, you see books go away, and you see a huge drop off" in literacy rates, he said. "The cognitive ability in being able to understand those words or how many words they know, is a huge discrepancy" which makes the Batali libraries vital.
Neve said the Mario Batali Foundation believes in the libraries because "It's just a great way for them [children] to have access to books they might not have access to."
Books for Kids also has a mission to promote literacy to all children but their emphasis is on low-income and at-risk children.