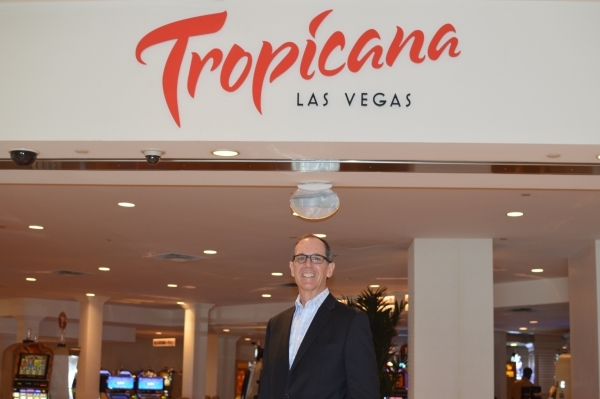 Bob Sheldon grew up in the Philadelphia area. As a young man, he started working in restaurants and hotels. He came to UNLV to earn a degree in hospitality management.
Sheldon's first job while attending UNLV was at the Las Vegas Hilton. He spent 13 years working at various Hilton properties in Nevada and nationwide. He eventually moved to the Waldorf-Astoria hotel in New York, serving as resident manager — a role he also played at the Beverly Hills Hilton.
"I always wanted to get back to gaming," Sheldon said. So when Steve Wynn began planning the Mirage, Sheldon returned to Las Vegas and joined the team at the Golden Nugget just before the opening of the Mirage. He spent 11 years with Mirage Resorts and became president of the Golden Nugget.
"I can't tell you how often I go into a casino or hotel operation and I see someone I worked with during my time with Mirage Resorts," he said. "It was an incredible story and an incredible opportunity for me to spend that much time as we grew the company and developed all the properties that you see now on the Strip."
When MGM purchased Mirage Resorts, Sheldon left Las Vegas to be chief operating officer at Foxwoods Resort and Casino in Connecticut, a tribal gaming operation which at the time was the largest casino in the world. Sheldon spent more than six years there and calls the experience "very rewarding."
Sheldon has been with Penn National Gaming approximately five years and took over as head of Las Vegas operations in July. Before returning to Las Vegas, Sheldon was in Kansas City, working on a joint venture project with International Speedway Corp. to open the Hollywood Casino at Kansas Speedway. "It's a full-fledged casino operation" which overlooks the NASCAR speedway, Sheldon said.
Q. What are the main Penn National Gaming properties in Las Vegas?
A. The Tropicana is really the first Penn property that's here on the Strip. We do own and operate the M Resort, which is actually on Las Vegas Boulevard but it's about 11 miles down the street. Very lovely property, very successful now, and it's really a jewel of a property. That's part of my responsibilities as well; overseeing the M Resort team there in addition to the Tropicana.
Penn is one of the largest gaming operators in the country. We've got 27 properties that we operate in 17 jurisdictions around the country. Very large operator; very successful in these regional gaming operations. We never really had that presence on the Las Vegas Strip and we think that's something that's very desirous of our regional gaming customers. So many of them come to Las Vegas now. It's an opportunity for us to establish a presence here on the Las Vegas Strip.
Q. What is your strategy to drive growth?
A. To drive growth here at the Tropicana, that strategy involves taking advantage of the database of customers we have nationwide. And it's an advantage we have that the prior ownership didn't have. They were a single-property company here in Las Vegas. We've got a database of about 3 million avid gaming customers. We have the ability to market to those customers. We know that probably 60 percent of them come to Las Vegas already one to two times and maybe three times a year, but right now most of them aren't staying at the Tropicana. We have the ability to direct market to those folks, to offer them joint marketing opportunities.
We have Penn National's loyalty club; it's called Marquee Rewards. In every Penn property across the country, you have a Marquee Rewards card which can be used at any Penn Gaming property to earn comps or points and other rewards. Now our plan is to be able to have folks use that card here at the Tropicana as well and redeem their points and comps and things they earn around the country. So it's a great reward for existing Penn customers and will prove rewarding for the Tropicana team as we start to get those folks from around the country just to visit and stay at the Tropicana.
Q. How do you plan for long-term success?
A. Long-term success is to continue our regional businesses and also expand. Our company's been successful in new green-field casino development. Over the last five years, we've had very significant developments opening a property in the Kansas City area, for properties in Ohio. We just opened the first casino in the state of Massachusetts, and there's more to come. We have a property under development in the San Diego area — the Jamul Indian Village. It will become the Hollywood Casino Jamul. It will be a very exciting project; it will have great synergies with the Tropicana and the M Resort here. So much of our customer base in Las Vegas is from Southern California. That's part of that key growth that it's developing. But then here at the Tropicana, it's how we further developed a property and what we put into improving the product offerings.
Q. What is happening as far as construction at the Tropicana?
A. When we made the deal to acquire the Tropicana property, we also set aside $20 million to spend on some infrastructure improvement. We're going to improve the selection of slot machines on the gaming floor. We've also got some back-of-house work that needs to be done. In order to connect the Tropicana's customers with the rest of Penn National's gaming customers, we have to purchase a new slot marketing system. So, we're in the process of doing that.
As well, we've got to replace our cabling and low-voltage wiring that connects all the slot machines so that we can use that card system. Longer term, we have significant capital investment dollars that we plan to put into the property as we take a look at how we can expand the property and improve it.
Q. In your opinion, has the gaming industry fully recovered from the recession?
A. I don't think it's recovered fully. We've certainly made great steps toward recovery. Certainly, in Las Vegas, there's been an improvement, especially when you look at the local properties that are doing much better. That's really a sign that the economy's getting better along with the improvement along the Strip as well. You see hotel occupancies, conventions picking up; bookings are significantly increased over recent years. That's a true sign the economy's picking up and helping the gaming industry.