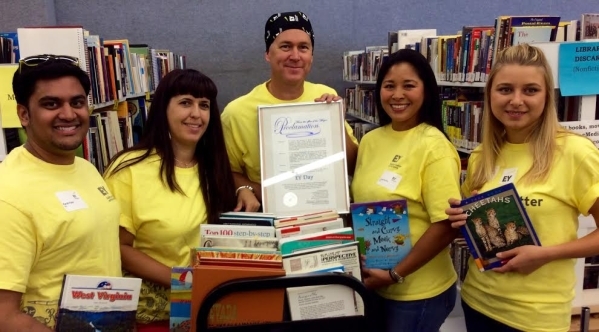 Nevada Assistive Technology Empowerment, an Easter Seals Nevada program to assist individuals with disabilities, officially launched this month, bringing a one-stop resource to Nevadans with disabilities to help them acquire assistive technology. Easter Seals Nevada kicked off the NATE Project's assistive technology drive at the Southern Nevada Centers for Independent Living 24th annual Disability Awareness Day on Oct. 17, at the East Las Vegas Community Center, 250 N. Eastern Ave. Donations can still be made to Easter Seals Nevada. Easter Seals Nevada is in need of power chairs, GPS navigation systems, CCTV, digital recording devices, scanners, hearing amplifiers, flat screen monitors, electronic magnifiers, Braille displays and embossers, access switches, CPAP machines and computers with Windows 7 or newer. Easter Seals Nevada is unable to accept tube monitors or televisions due to recycling capabilities. Easter Seals Nevada has a limited need for manual wheelchairs, walkers, bathtub chairs and canes. Call 702-870-7050 to ensure there is a need for these items prior to donation.
Boyd Gaming donates $20,000 to Three Square Food Bank
Boyd Gaming presented $20,000 to Three Square Food Bank to help fight hunger in Southern Nevada. Marianne Johnson, Boyd Gaming vice chairman, executive vice president, chief diversity officer and Three Square board member, presented the check to Three Square President and CEO Brian Burton. In celebration of its 40th anniversary, Boyd Gaming partnered with Three Square by donating a portion of the proceeds from its dinner buffets on Saturdays in August at several of its Las Vegas properties.
Salvation Army announces 16th annual Coats for Kids drive
The Salvation Army's 16th annual Coats for Kids "Sweet 16" drive began Oct. 1 and continues through Nov. 2. Clark County School District enrollment has climbed to nearly 320,000 students, and the number of homeless students is estimated to be 11,000. New or gently used coats may be dropped off at any Albertson's store in Las Vegas or Henderson, and the coats will be distributed through Salvation Army Family Services. ARAmark Uniform and Career Apparel will transport donated coats to Al Phillips – The Cleaner for laundering. For more information, contact Harriet Bernard at 702-233-2417.
Helping Hands of Vegas Valley's annual gala supports seniors
The Helping Hands of Vegas Valley's fifth annual Hearts and Hands Gala will be Oct. 22 from 6 to 9 p.m. at the Keep Memory Alive Event Center. Proceeds will benefit essential programs to assist local senior citizens. Guests will be transported back to the golden era of Las Vegas, with entertainment, music and hors d'oeuvres. Commemorating 15 years of service, Helping Hands of Vegas Valley feeds more than 500 low-income seniors each month with home-delivered groceries, provides more than 9,000 rides to medical appointments each year and helps more than 500 seniors remain at home with family through the distribution of respite-care vouchers. Gala tickets are $150, and may be purchased online at hhovv.org, under the events page.
City National donates to management program
City National donated $1,500 to West Career and Technical Academy's Business Management Program, continuing the parties' six-year partnership. Paul Stowell, senior vice president for City National, has servied on the advisory council of WCTA's High School of Business program and FBLA Career and Technical Student organization since the school opened in 2009.
Station Casinos hosts Project Pink benefit
For the sixth year in a row, Station Casinos is hosting Project Pink to raise funds during National Breast Cancer Awareness Month. Proceeds benefit Susan G. Komen of Southern Nevada and the American Cancer Society's Making Strides Against Breast Cancer campaign. Since its inception, Project Pink has raised more than $286,000. Throughout October, most Station properties and venues, including restaurants, bingo rooms and spas as well as designated blackjack and poker tables, will be pink. Red Rock Resort will host the American Cancer Society's 5K Making Strides against Breast Cancer walk Oct. 25 at 7:30 a.m. To sign up, visit MakingStridesWalk.org/LasVegasNV.
Westcare Nevada's Halloween drive to benefit campus
WestCare Nevada is partnering with ATI Physical Therapy for a Haunted Halloween Haul Drive during ctober to benefit the Women and Children's Campus. The campus is a 33,453 square-foot facility that provides clients emergency shelter, food, employment assistance, case management, education and other supportive services. The drive ends Oct. 28. Donations of new toys, blankets and clothing are requested, as well as women's clothing and new toiletries, Halloween costumes and unopened bags of candy. Items can be dropped off at donation boxes located inside ATI Physical Therapy locations.
Knicks' Anthony participates in youth basketball clinic
A partnership between Sands Cares and Jerome Williams' JYD Project created a basketball clinic for local youth to meet New York Knicks star Carmelo Anthony. He recently visited the Valley View Recreation Center for the clinic, where 50 participants worked on various basketball techniques. Anthony stopped by each clinic station, offering tips and answering questions about reaching the professional level and playing on the 2008 U.S. Olympic team.
America First Credit Union launches annual food drive
America First Credit Union is holding its 11th annual food drive, which runs through Oct. 24 at all Southern Nevada locations. Branches are accepting donations of nonperishable food items to distribute through local pantries and food banks, including Three Square Food Bank. About 16 percent of Nevada households are regarded as "food insecure" by the U.S. Department of Agriculture. Since 2004, the credit union has collected more than 115,500 pounds of food.
Rogers Foundation offers $100k in scholarships
The Rogers Foundation is offering $100,000 in scholarships on an annual basis to graduating seniors of Clark County School District. The scholarships are for students attending any institution of higher education, including vocational or technical schools, community colleges or state universities. The prestigious Achiever Scholarship will be awarded to a CCSD graduate who has excelled in academics and community involvement. At least one scholarship will be worth $25,000, which may be used toward tuition or fees, and there are multiple $10,000 and $5,000 annual scholarships. Applications for TRF Achiever Scholarships for the 2016-17 academic year opened Oct. 1. For application criteria, visit therogers.foundation/applicants/students.html.
Mary Kay Foundation helps Safe Nest
The Mary Kay Foundation donated a $20,000 grant to Safe Nest, TADC, in advance of Domestic Violence Awareness Month in October. The Foundation awarded $20,000 grants to 150 domestic violence shelters in all 50 states. Safe Nest will use the funding to provide critical support for its confidentially located shelter. Since 2000, the Mary Kay Foundation has donated $35.6 million to domestic violence organizations.
Walmart Foundation funds training
Walmart executives and members of the Retail Association of Nevada recently toured the Engelstad campus of Opportunity Village before presenting the nonprofit with a $50,000 grant for its culinary training program. The grant will provide the opportunity for people to learn up-to-date food preparation, basic cooking and baking skills, banquet setup and breakdown, line service, and banquet service.