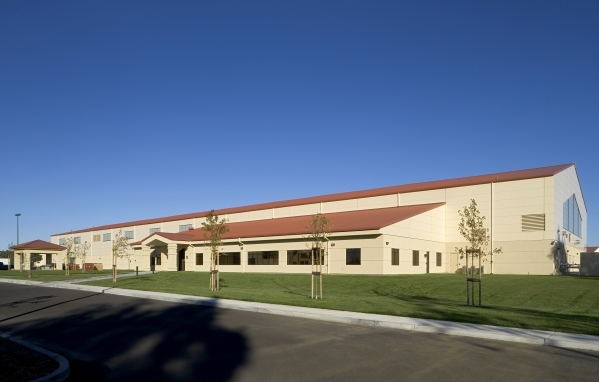 Marapharm Inc., a British Columbia-based company that focuses on investments, acquisitions and start-up ventures in the medical and recreational marijuana space industry in North America, will soon call Las Vegas home.
The company purchased 5.9 acres of land in May at the Apex Industrial Park, which sits along the Interstate 15 corridor in North Las Vegas, and is expected to break ground within a matter of weeks on a 5,000-square-foot medical marijuana complex.
Linda Sampson, president of Marapharm Inc., said the 5,000-square-foot building will house production and employee training while the company builds an 80,000-square-foot main cultivation facility to provide product to local dispensaries.
"We wanted to construct a smaller building so we can get started with something," she said. "We're anticipating it will take between six to eight weeks for construction before we outfit it with our equipment and the shortest cycle for product is eight weeks so we could have product as early as 16 weeks after we start construction, however, it will most likely take about 20 weeks."
According to Marapharm Inc., cultivation from the complex will produce an estimated $3.5 million in revenue and a net profit of $2.3 million.
Sampson said the company will initially hire 10 to 12 people for the smaller facility before eventually employing 50 to 75 people for the larger cultivation facility.
"We'll be bringing good quality jobs to the market," she said.
Marapharm Inc., Sampson said, will be following Canadian standards of producing marijuana, which include producing a pharmaceutical grade product, operating a clean facility that is sanitized between each grow and not using contaminants.
"We're the kind of people who strive for perfection, so I think that what we'll end up doing is producing a great product and looking for expansion opportunities in the future," she said. "Legalization of recreational marijuana is on the ballot in 2016, so we will definitely be looking to the recreational market if and when it opens up."
Sampson said the company is also exploring the possibility of obtaining a production license to create various edible products and oils.
"If we branch into production we'll need another license and will have to hire more people depending on what we do," she said. "Hopefully by the time we have our facility up and running, we can show the standard at which we operate at so it won't be too hard to get that license."
The company also has plans to continue its application in Canada while looking at additional projects in Colorado and Washington.
"Population and laws are big factors and we feel that as the United States, Canada and other countries look at legalization, there will be a lot of opportunities for growth in cultivation," she said. "It's exciting to be right on the edge of this whole new market."