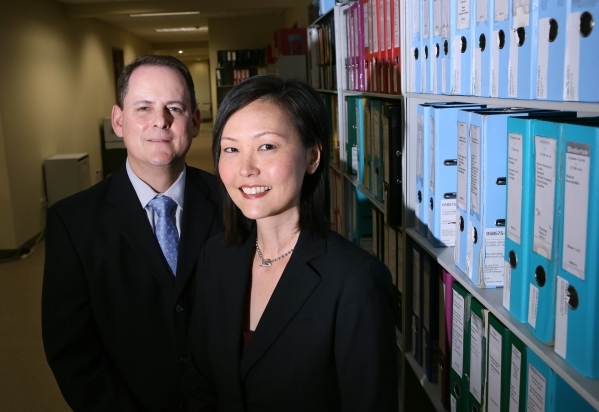 Many athletes, entertainers, musicians and other celebrities are making their home in Southern Nevada, but if the NHL awards a franchise to Las Vegas, that number could grow exponentially.
The Dickinson Wright law firm is ready to help those athletes better protect their intellectual property, images, likeness, trademarks and just about anything else they will need.
Michael N. Feder and Jennifer Ko Craft lead the firm's Media, Sports and Entertainment division, and John E. Dawson assists the division with trusts, estates and asset protection. He also has clients in the sports world, helping them with estate planning and asset protection issues.
If the NHL decides to have a team in Las Vegas, it will definitely bring more professional athletes to the area, who will be looking to protect their image.
Feder said it wouldn't be just hockey players moving to the area. He imagines Southern Nevada will become an ideal place for more athletes and celebrities to call home. Something similar happened in Phoenix when pro sports first started coming to that area.
"If we can get a major team into the city, it would change the dynamics of the city as a whole, especially if it succeeds," Feder said. "The worst thing that could happen is to get a team and have it not supported by the fan base. If it comes in and does well, it will change our city completely in terms of becoming a much more metropolitan city as opposed to be just being what it is right now from a gaming side.
"A lot more athletes will come here and realize this is a nice place to live. A lot of people who do relocate here for the favorable trust or tax reasons, they realize its really nice place to live. It's what happened to Phoenix. … We can do same thing here. We have the more favorable tax aspects, which can lead to more business with certain athletes and talent who are looking to retire here and they need someone more local to assist with their legal needs."
Craft and Feder are also excited about the volume of work a NHL team could bring to Dickinson Wright.
"A good example is if they play here, they'll make appearances here, and someone has to write those contracts," Craft explained. "Happily, I would love that to be me. If someone infringes on their name, image and likeness, we are there to help them to go after and bring it down. The stadium will need to be called something, so let's trademark that."
Along with Nevada not having a state income tax, the state also has favorable trust laws, which in itself can be a powerful draw.
"I would think more it's probably the no state income tax, but the favorable trust law is a huge benefit we can find for people," Dawson said. "I can create trusts here that provide anonymity. We can create companies here, and we don't have to disclose who the ownership of the company is. We can create trusts that actually act as managers of the companies so the client can have anonymity.
"Other states require disclosure of who the owner of the LLC is. It is not that they are trying to hide anything. They just want to keep their lives private."
Being the 'bad guys'
When protecting the interests of their high-profile clients, many times Craft, Dawson and Feder end up playing the bad guys.
Feder encourages his clients to be aggressive in protecting their intellectual property.
"Once one person does it, it will continue," he said. "I believe you have to be extremely aggressive with all intellectual property. We've had clients who did not want to take an aggressive approach come back and say we should have listened and done it. Policing and protecting your intellectual property is extremely important, and its one of those things that is very difficult to fix if you don't do it correctly from the onset."
Craft believes in a more finesse approach. She likes to work out solutions that can benefit her client. Dawson added that sometimes all it takes is a small change in the use of the client's intellectual property to make it work for both entities.
"I've had my letters posted on websites saying so and so is trying to stop my small business," Craft said. "You have to take a very delicate approach at times. It really depends on the infringement, who's infringing and why."
Dawson also works to protect the assets of his celebrity clients. He recounts one situation with a pro athlete who was approached about a deal where his client would put up a large sum of money and the promoter didn't invest anything. If the project worked, profits would be split. If it failed, Dawson's client would take 100 percent of the loss.
"I've seen situations where Uncle Al comes in and has a sure-fire deal for the athlete," he said. "The athlete doesn't want to tell Uncle Al I don't want to do that deal, so the lawyers can be the bad guy. The athlete can tell Uncle Al the lawyer is telling me I cannot do this deal. 'Why don't you call the lawyers?' Lawyers can be useful in being the bad guy in stopping some of the things that go down."
Challenges, benefits of social media
Social media is one of the biggest challenges facing entertainers in this highly technical age, Feder said. The medium is constantly pushing the envelope on the use of an entertainer's intellectual property and use of their likeness, and he added that it is sometimes difficult to know it is out there and where to go to get certain violations of a client's intellectual property removed from a social media site.
Craft added that protecting intellectual property rights overseas can also be challenging as the laws differ between nations.
"Now days, the violation can be instantaneous," she said. "Someone at a concert has their Periscope app opened and they record the show. That is infringement. You have to be constantly vigilant about policing and protecting your intellectual property.
"In addition to social media, and for me I see it more and more, talent and athletes cannot just focus on the United States. If they are making an appearing in Australia, they have to be mindful of copyright laws in Australia. Is their name protected? Is it registered there? For me, it's not only social media and enforcement, it's also about protecting their rights globally."
Of course, social media has its upside for talent. Craft said the more social media followers a celebrity has, the easier it is to get a favorable deal done.
"If I have a household name I am representing on a deal, the deal is so much easier," Craft said. "It's a push-and-pull; the more leverage you have, the more you can pull. We've done them so often, we know the areas they can push back on or pull at. We know what the issues are for our clients and what issues are important to them. For me, doing a deal for the Kardashians is much easier than for someone who is not a household name."
Dickinson Wright's Media, Sports and Entertainment division was created to help the firm better represent its high-profile clientele of athletes, entertainers and other celebrities.

Michael Feder represents celebrity clients in commercial and business litigation matters involving contracts, copyright infringement, patent infringement, trademark infringement and other matters, according to his profile on Dickinson Wright's website.
Feder had dreams of playing Major League Baseball until he tore his rotator cuff. His third-grade teacher recommended that he go to law school because of his propensity to question things going on in class.
And while that planted the seed in his head, he eventually went to law school at Temple University after a Wall Street colleague suggested he get his law degree instead of his master's in business administration to differentiate himself from other investment bankers.
After law school, he practiced in Philadelphia at a full-service law firm. It was there that Feder started representing celebrities in rights of publicity cases.
"When I moved to Las Vegas, one of the things I noticed was there was not a lot of people doing IP litigations," Feder said. "There was a niche here where a certain number of people were doing it. Myself and a few other people I used to work with started to focus on sports and entertainment on the litigation side. So, we started doing more of the copyright and trademark litigation, and that was when I started getting more involved in it."
Jennifer Ko Craft knew from an early age she wanted to be a lawyer. Craft's practice in Dickinson Wright's Media, Sports and Entertainment division consists of intellectual property and entertainment.
She also negotiates deals anytime a sports figure or entertainer wants to endorse a product or is asked to make an appearance. On the trademark side, she helps celebrities register their names, nicknames, logos or anything associated with the talent that they want to protect – both nationally and internationally.
"I don't know how anyone does anything else other than practice law," she said. "You can help people, and … it's fun … you get to rub elbows with people who are fun and interesting. It's not so dry as some areas of law can be. It's new and different every time and every day. …
"When I went into law school, I took every single IP class they offered. It was just so interesting. When I got a job offer to go in-house for Andre Agassi and Shaquille O 'Neal. It pretty much cemented my passion for it. I really enjoyed it … and one of the reasons why I ended up leaving in-house was so I could really specialize in it. When you are in-house, a lot of the fun projects get sent to outside counsel, and I wanted to do it. So, I ended up going into private practice and specializing in IP and sports management."
John E. Dawson majored in accounting, but he had every expectation of going back to work on the family farm. He decided to go to law school because he had brothers who were lawyers, and he didn't want to have any regrets in life. However, he never thought he'd be a practicing attorney.
"I got to law school, and I enjoyed estate and gift tax," he said. "I got a job while in law school working in a law firm that specialized in asset protection for high net worth individuals. And so, it kind of led me on to my career, and with the demise of family farming, I decided I had to do something different. I ended up moving to Las Vegas and started a career in estate and gift tax 28 years ago."